The Field Crops Field Day held on June 30 at the Farm Hub, drew more than 30 farmers along with bakers and agricultural scholars from around the region. Some traveled from out of state including Vermont and Massachusetts to attend. Many were keen on learning more about the use of farm equipment in growing grains.
At the event, the field crops production team presented on the use of no-till tools and planting tools and discussed their connection with building soil health. Other highlights included a `share and tell' on a variety of farm equipment and their uses as related to tillage, no-till, planting, and cultivating. Presentations were interspersed with demos of equipment, including the roller crimper, rotary hoe, grain drill, and Zone Builder, conducted on small rows of crops that were planted specifically for the demonstrations.
A high point for many attendees was a chance to get up close to the equipment to see how the machines operate.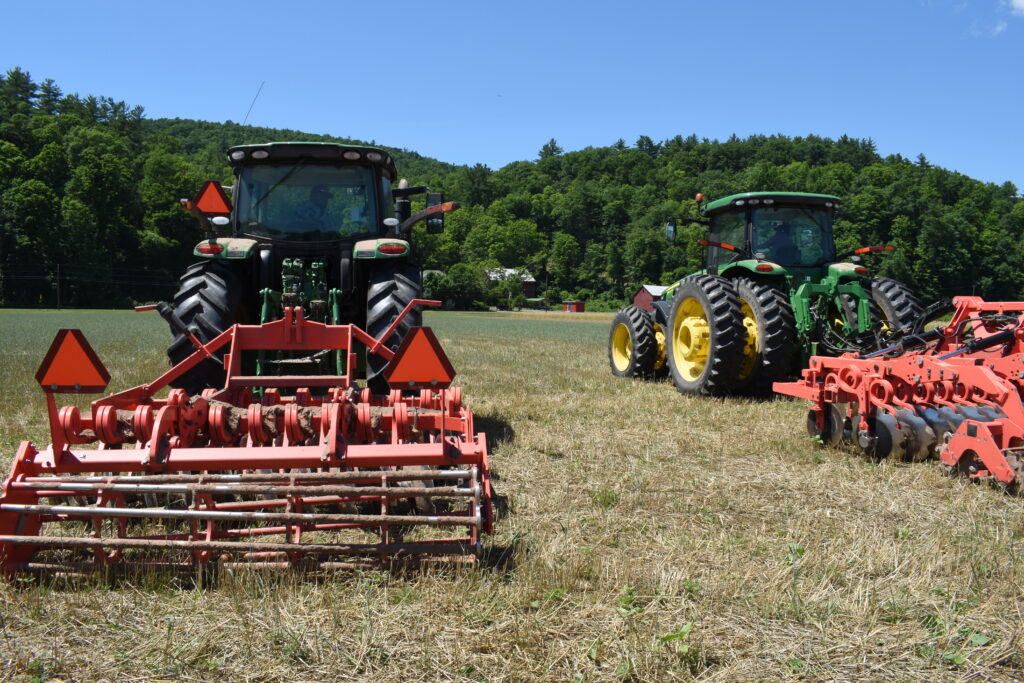 "Every machine has its own personality.  The Field Day was helpful to understand the conditions where the various machines work and do not work," says Aaron Gabriel an agronomy educator at Cornell Cooperative Extension in Hudson Falls.
The roller crimper, used to flatten and kill cover crops and as part of no-till systems, was a favorite with attendees.
"It was good to learn about the roller crimper as an alternative to tilling because tilling leads to a lot of soil erosion," says Piyush Labhsetwar a research affiliate at Smith College who focuses on perennial wheat.
Many growers and bakers who attended noted that grain production has considerable potential in the Hudson Valley considering the climate, and the growing population of consumers and bakers who seek access to local grains.
Dakota Miller who co-runs Row by Row an organic farm with his wife Mira, says his farm produces a small amount of grain mostly to rotate with their vegetable crops. "It (grains) is something that we are trying to grow more of…It's helpful to have the Farm Hub invest in this equipment and be open to sharing how it works," says Miller.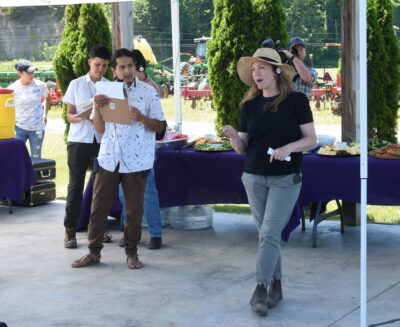 Timing and inspiration
During the event, Sarah Brannen, director of regional and community food initiatives, welcomed attendees and offered insight on Farm Hub's efforts to produce more grains as part of supplying nutritious foods to the community. In past years the Farm Hub has held small grains field days as part of knowledge building and information exchange.
The inspiration for Field Crops Field Day was sparked at a casual meeting with farmers last summer where farmers shared their own experiences growing grain and offered ideas on how the Farm Hub can support them.
"One of the requests from those farmers was to demo some equipment," says Brannen. "These educational events are an opportunity for us to share helpful information with regional farmers about growing grains- whether about variety selection or production methods.  The Farm Hub has plans to create more educational opportunities for growers in the future.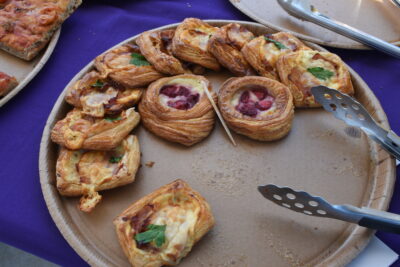 Field Crops Field Day 2022 was jointly organized by the Community Food, Field Crops, and the Language Justice Programs. Staff from the Language Justice team provided simultaneous Spanish-English translation for the event. Kingston Bread + Bar baked an assortment of desserts including croissants and cookies made from Farm Hub flour that were featured at the event.
–Amy Wu
Click here to view the June 30, 2022 event brochure, whichincludes a list of equipment demoed.


To learn more about the grains research and growing initiatives at the Farm Hub view the short film "Growing With the Grains."