FINDINGS ON CROP PERFORMANCE AND IMPACTS FROM WILDFLOWER PLANTINGS SHARED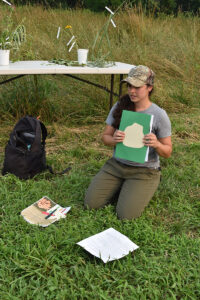 Now into its fifth year, the Native Meadow Trial at the Farm Hub serves as a platform to explore how meadows intersect with insects, soil, water, and crops. At the annual Native Meadow Trial Twilight Meeting held earlier this week the Farm Hub's Anne Bloomfield and Conrad Vispo and Claudia Knab-Vispo of the Farmscape Ecology Program Hawthorne Valley Farm shared some key takeaways from the project as follows:
Wildflower plantings increased native flower diversity and attracted a higher number and diversity of bees and butterflies.
In planting butternut squash adjacent to the plots, there tends to be more and larger butternut squash next to the fallow plots; the harvest was 40% higher to the fallows than the ones next to the wildflowers.
The plantings provide a home for insects, other invertebrates, and also for birds and mammals.
At least 22 species of birds have been observed in the plots, some of them using the meadows as a habitat over the winter.
Farmers, ecologists, and land managers from the region were attracted to the event–keen on strategies they could use for their own meadows.
"We've done some meadow seedings, would love to do more, and are really interested to find out how it is done here," says Avalon Bunge, a farmer in Elizaville, NY who manages 250 acres of pasture forest. Avalon is interested in invasive species management and native species reestablishment. She also sought tips on mowing. "How do we keep the meadows from turning into a forest without mowing it into a lawn…I learned a lot about staggering mowing."
Of the Meadow at the Farm Hub she says, "It's so beautiful. This looks like it has taken off in a really great way."
Click here for the handouts from the 2021 Native Meadow Trial.