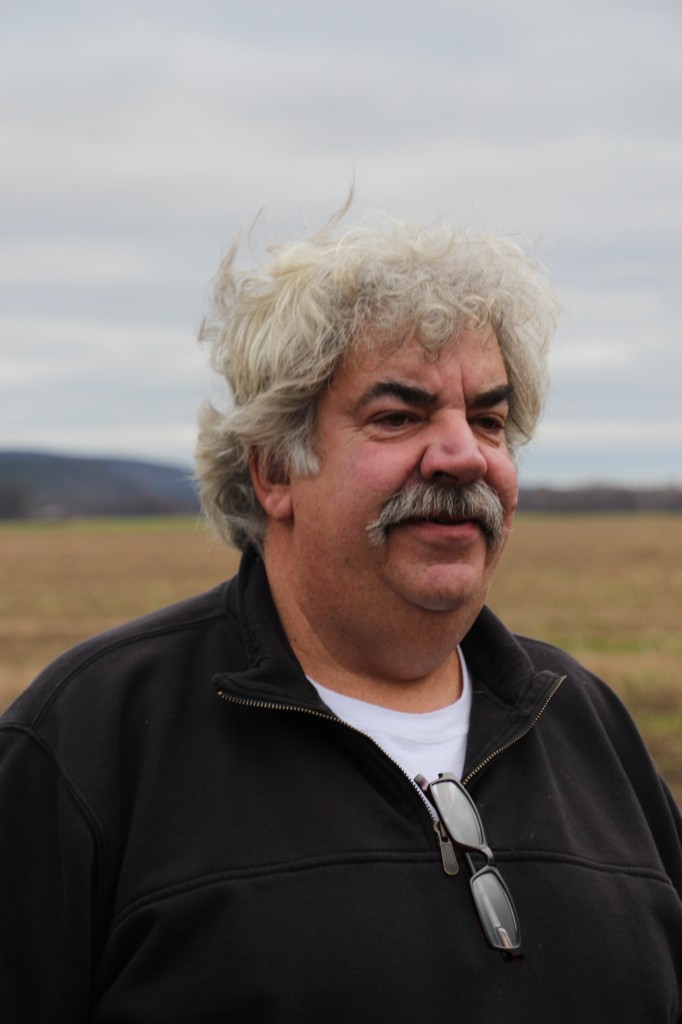 By John Gill (former owner of Gill Farms)
My grandfather, John Gill, moved to Hurley with his partner Henry Paul, Sr. and they named their business "Paul and Gill Farm." They grew sweet corn, tomatoes, and cabbage and would sell their crops in New York City at the Water Street Market. After two years the partnership broke up, and in 1940 my grandfather bought the Rowe Farm (the main farm where all the buildings are today) and started to grow sweet corn and cabbage on his own. After a few years, he stopped growing cabbage and just grew sweet corn.
In my grandfather's time, everything was done by hand and all tillage was done by mules, horses, and eventually tractors. My father, Jack A. Gill, worked side by side with my grandfather, and as time went on they rented and bought more farmland. My father joined the Marines and was in the Fifth Division during WW II.  He returned home after the war and went back to farming with my grandfather. He then started raising grain corn to make some extra money. They continued to rent and purchase more land as it became available. In 1957 my grandfather passed away, and my father took over the farm. I started working on the farm almost from the time I could walk. I was always with my father doing something around the farm.
Unlike today, we had to plant the corn and then hoe it to get the proper spacing between the plants within the rows. The planters were not as accurate as modern vacuum planters. We would also have to sucker the corn when it was about knee high. By suckering it, we would remove the side shoots which took away from the productivity of main stalk. All this was done by hand.
In 1971, my dad built the packing house and put in the packing line. This was the first one in New York State. He also bought two Boots Mechanical Sweet Corn Harvesters. These were also the first ones in the State. This allowed us to harvest all our corn by machine instead of by hand.
I returned home from college in 1977 and went back to farming with my father. I also married Loretta that fall. This is when we started to expand the farm once again. Over time, we purchased more land which brought our farm to 1200 acres owned and 400 rented.
During the mid-1960s my mother started selling sweet corn in front of our house on Hurley Mountain Road. This was the start of our farm market. She had a small table out front that was self-serve, and on the honor system. In the spring of 1978, we built the farm market on Route 209. This came out of a project I had in my Ag Business class at SUNY Cobleskill, in which we had to design an on-farm business. My parents liked what I proposed, so we built it. I had been raising mixed vegetables on 12 acres in front of my parents' house for the small wagon stand in front of their house, but with the addition of the new market we had to expand this to 20 acres.
When we expanded our garden, I put up a small homemade greenhouse that was built off the back of our equipment repair shop. Over time it grew to five growing houses, plus a gutter-connected retail display house at the farm market. Loretta and I grew annuals, perennials, hanging baskets, container gardens, vegetable and flower transplants, which we sold at the farm market. We expanded the garden to 60 acres of mixed vegetables and pumpkins. We grew all different kinds of tomatoes, peppers, eggplant, beans, cole crops, squash, herbs, spinach, asparagus, melons, cucumbers, pickles, winter squash, ornamental corn, popcorn, and pumpkins.
In 1995 we purchased a hydro-cooler and built the loading dock to quickly cool palletized sweet corn and then load it on the trucks with forklifts instead of by hand. In 1995 we purchased our first Pixall 4-row corn puller, and we purchased a second one in 1996. In 1997, we built the cold room, which can hold 9,000 crates of corn. That year, we also purchased our Semco ice maker which can make 10 tons of ice a day and store 20 tons. Both of these additions saved time and money by streamlining the way we stored the corn and iced the loaded trucks, and we delivered a better product to our customers.
The Farm Hub is a new chapter for the farm, and for my family. It's good to be a part of it, and I'm honored to be working with others who love the land as much as I do.
June 13, 2014
*Header photo: John Gill's father,  Jack Gill,  former owner of Gill Farms. Photo taken circa 1955.