The Farm Hub's farming practices stem from a holistic approach.
Our practices include crop rotation, cover cropping, monitoring soil health, reduced tillage/no-till, collaborative, on-farm research, and organic pest management. We do not use synthetic pesticides, herbicides, or potentially harmful fertilizers. All fields and greenhouses are certified organic by the United States Department of Agriculture (USDA).
At the Farm Hub, we believe agriculture is a dance between what the land can provide for us and what we can provide for the land. Numerous soil health enhancing initiatives, a program devoted to increasing on-farm biodiversity, and researching ways agriculture can become more resilient in the face of an ever-changing climate, are just a few of the ways we are working to ensure that our land and its resources are preserved and protected for generations to come.
Healthy soil produces healthy food. It is a living, breathing, complex organism that is capable of enriching not only the food that is grown upon it, but also the ecosystems around it and the Earth itself. Healthy soil can provide nutrients without depleting the soil, can hold water to prevent run off and erosion, and contains good bacteria that helps crops fight disease. At the Farm Hub, intensive multi-species cover cropping, thoughtful crop rotation, hearty compost amendments, reduced tillage, and soil carbon mapping are some methods we are trying to nurture, improve, and better understand our soil and its interactions with our crops and the environment around us.
Cover cropping, or the practice of growing a crop primarily to improve the soil, is one of the most critical productions strategies we employ at the Farm Hub. A long-term investment, cover crops add and conserve nutrients in the soil, stimulate soil biology, build organic matter, prevent erosion, conserve water, break compaction, smother weeds, store carbon, and much more—the benefits are numerous and widespread.
In any given growing season, each of the production fields will experience a multi-species cover crop at least once and normally will be planted using no-till techniques that further enhance the benefits of the cover crops.
Cover crops established at the Farm Hub include bromegrass, Timothy grass, alfalfa, peas, clover, sunflowers, Sunn hemp, triticale, radish, vetch, buckwheat, and mustard.
Crop Rotation is the practice of systematically growing different crops on a piece of land over a span of several growing seasons. Without crop rotation, pests and disease build up, nutrients are depleted, organic matter is lost, and more and more inputs are required to sustain healthy crops. Conversely, a well-designed crop rotation ensures a balanced, resilient soil that is capable of regenerating its structure, chemistry, and microbiome.
At the Farm Hub, one strategy we practice moves vegetables, cover crops, and small grains across 100 acres of our most productive land in a 3-year cycle. The 100 acres is divided into three roughly 30-acre fields. Each season one of those 30-acre fields will grow a mixed vegetable crop, one will grow a cover crop mix, and one will grow a small grain. The three treatments rotate across the three pieces of land each year and on the fourth year the rotation begins anew.
When it comes to field crops, the corn, soybeans and wheat are raised in a four-year rotation that allows a season of rest through soil-improving cover crops.
Reducing tillage is another important technique for improving soil and mitigating climate change. Soil expert Kris Nichols explains that there is no single definition of no-till or reduced till and that it varies for each farm depending on their particular goals. At the Farm Hub, our goal is to improve soil quality, reduce erosion, and increase biodiversity of microorganisms in the soil. The primary technique we use involves planting our crops into roller crimped cover crops.
The roller crimper is a drum with chevron-patterned blades filled with water that attaches to the front of a tractor. The roller crimper flattens the cover crops down so they are terminated. The cover crop remains on the ground and forms a mulch that suffocates weeds and protects the soil. Implements on the rear of the tractor then part the cover crop mat, drop in seeds of the cash crop, and cover them up to ensure soil contact. It happens in a single pass, which saves time and energy for farmers. The planted cash crop then grows through the cover crop mulch.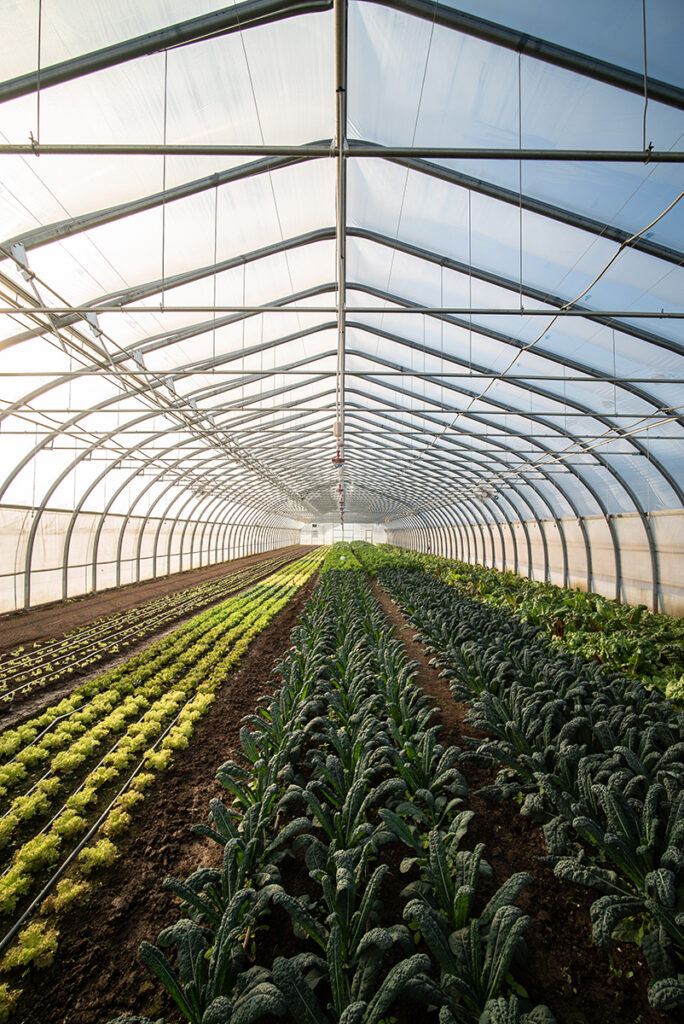 At the Farm Hub, we currently operate 5 greenhouse and high tunnel structures encompassing 24,000 square feet of growing space. These structures are producing crops 12 months a year and are deeply intertwined with the Farm Hub's mission to support our community – both the community around us with nutritious food all year long and also the people who depend on the farm for their livelihood by providing a means for year-round employment.
At first glance, these greenhouses look a little different than expected. That's because each greenhouse is trialing innovative new systems that can be used by farmers to reduce energy costs, improve crop rotations, increase profitability, and benefit the environment when
compared to traditional greenhouse structures. Two are completely passive, there is no electricity or fossil fuel required to operate them, and they are fully mobile, so can be easily moved from place to place on the farm. Three of the greenhouses are covered with a unique material that improves upon many of the qualities of traditional greenhouse plastic and will last 5 times as long. Two of the greenhouses can be monitored and operated remotely via the cloud and one is using an in-floor radiant heating system. All five greenhouses are in year-round production.
During the summer months the greenhouses are used to grow seasonal greenhouse crops such as tomatoes and peppers, while in the wintertime – using either no heat or minimal heat – they are used to produce a diverse assortment of cold hearty greens such as spinach, kale, and lettuces that are harvested from November into early spring. Cover crops are also an integral part of each structure's rotation, just as they are on the rest of the farm. Utilizing a variety of innovative practices, the Farm Hub is working to develop practical greenhouse systems that will address not only the needs of farmers, but also consumers and the environment.
Both what we grow and how we grow are equally important in terms of how we steward the land and serve the community. Through research, educational programming and habitat management the farm hub explores, shares and implements ecological farming practices that encourage biodiversity.
A key question we explore in our work is, "How do we produce food and still maintain a livelihood for farmers, while respecting the needs of other organisms with which we share the land?" Recent biodiversity decline can be partially attributed to the impacts of farming, including habitat loss, fragmentation and degradation; pesticide-related plant and animal mortality; and the effects of a changing climate on wildlife, plants, soil and water quality. One of our initiatives, the Applied Farmscape Ecology Research Collaborative, is a community-oriented approach to studying and sharing information about ecological farming practices. The collaborative conducts research across disciplines with the goal of using what is learned to help serve the land, the people and wild creatures who rely on it.
Our work on ecological farming practices is shared through regional conferences, film, on-farm events, online resources and other avenues. Some examples of our work include, on-farm mowing strategies for turtles and grassland birds, long-term monitoring of the soil, water, plants and animals and an annual on-farm event on native meadow establishment and their potential services to crop production.