Last Winter Market at Kingston YMCA
Market closes with majority of vegetables sold out
Valentine's Day was somewhat bittersweet with the closing of the Farm Hub's winter market.
The market, held weekly in the lobby of the Kingston YMCA on Thursdays, launched last November and offered a wide array of vegetables including kale, collard greens, spinach, salad mix, carrots, parsnip, garlic and Murasaki and Covington sweet potatoes.

The market was popular with locals, many from Kingston, who came week after week to buy their greens. Over the course of the market, sales increased with many of the produce selling out. In total the market drew nearly 665 customers and sold 2,464 individual items of produce. The final market alone drew some 75 customers alone with many asking whether the market would reopen next winter.


Market loyalists included Alex Bildsoe and Cat Morgan of Kingston, who on the last day bought six bags of spinach to freeze, have been coming weekly.

"We buy all of our vegetables on Thursday here, all of the food is really high quality and accessible," says Bildsoe, who discovered the market after she joined the Y.

The market was "a great opportunity to extend the growing season and offer people fresh local food," says Susan Hereth, the Kingston YMCA Farm Project education director.
"Everyone's loving the greens!" Hereth laughed. "When the kale and collards were here they were flying out the door!"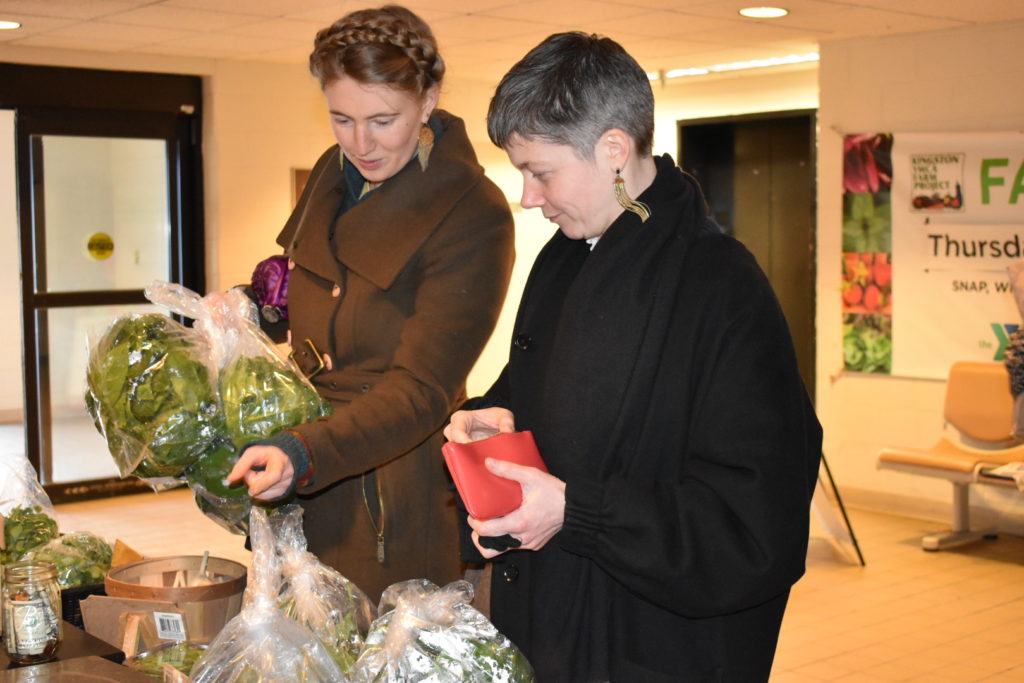 The winter market also gave youth the opportunity to work the stand and learn more about customer service. A portion of sales are donated to the Kingston YMCA Farm Project, and also provided a stipend to pay the student workers.

Kyrell Brown, an 11th grader at Kingston High School, one of the student workers calls his experience "good," and said he's learned a lot about "business and helping people."

Jeff Scott, the Farm Hub's marketing and logistics coordinator who has been working the market every week, says one of his favorite memories of the market came during the final day.

"A young boy, probably around 7 or 8 years old, came in with a fist full of singles and bought a couple of bags of collards, some kale, and some cabbage and said that his mom had sent him to pick this stuff up because she had to work and wouldn't make it in time," Scott recalls. "I don't know why that stuck with me so much, but watching him try to cram all of this fresh food into his little backpack made me feel really fulfilled.

Of this year's winter market Farm Hub Director Brooke Pickering-Cole says, "It's been a lovely partnership with the YMCA Farm Project, and we've received a great deal of positive feedback and gratitude from people who have stopped by."

Will there be another winter market next year? Stay tuned for now.

–Amy Wu
Featured image above: Ani Castillo, a student worker, Susan Hereth of the Kingston YMCA, Kyrell Brown, a student worker, and the Farm Hub's Jeff Scott