By Teresa Dorado, Applied Farmscape Ecology Program Coordinator
On an August day with record high temperatures, researchers and community members came together at the Farm Hub for the Farmscape Ecology Field Day. On most days, researchers come to the farm to collect data but on Wednesday August 10, they came with folding tables, research equipment, and an eagerness to share their work. 
The Applied Farmscape Ecology Research Collaborative (AFERC) was created in 2019 as a partnership between the Applied Farmscape Ecology Program at the Farm Hub and the Hawthorne Valley Farmscape Ecology Program. Researchers and scientists who are a part of AFERC work together across disciplines to better understand the interactions between farming and nature with a key goal of sharing information and resources with farmers in the region.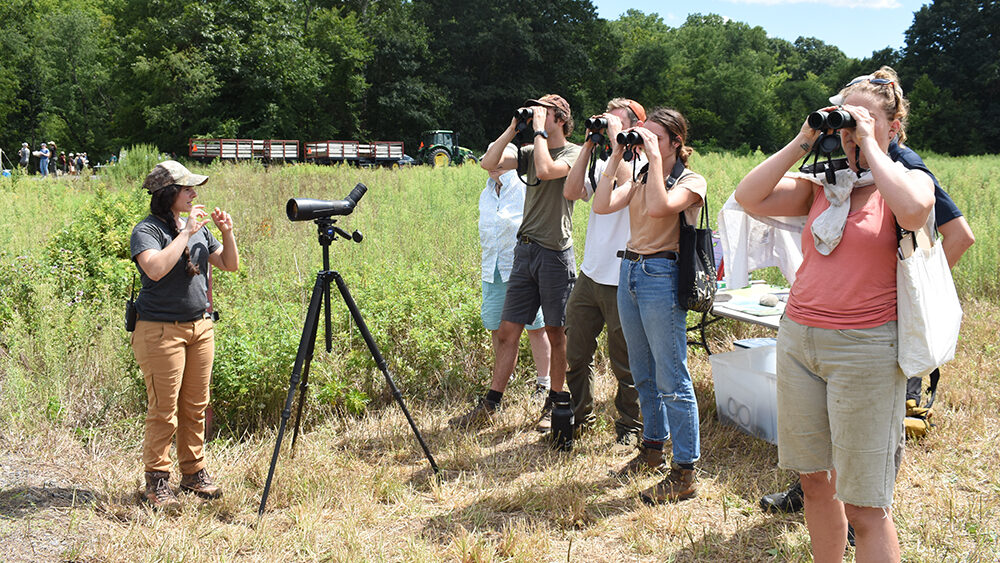 On this day, seven AFERC partners were stationed along a field near the Esopus Creek and the Native Meadow Trials (NMT) to highlight aspects of their research through demonstration and presentations. Partners explained current results, shared their research goals for the future, and answered questions from the public. Event participants visited each station for ten minutes to learn about the projects and ask questions centered around land management methods with a focus on fostering biodiversity. Stations were heavily interactive. Attendees received lessons on how to use binoculars to spot common birds at the Farm Hub, how to sample and examine macroinvertebrates, and strategies on insect collection using a sweep net.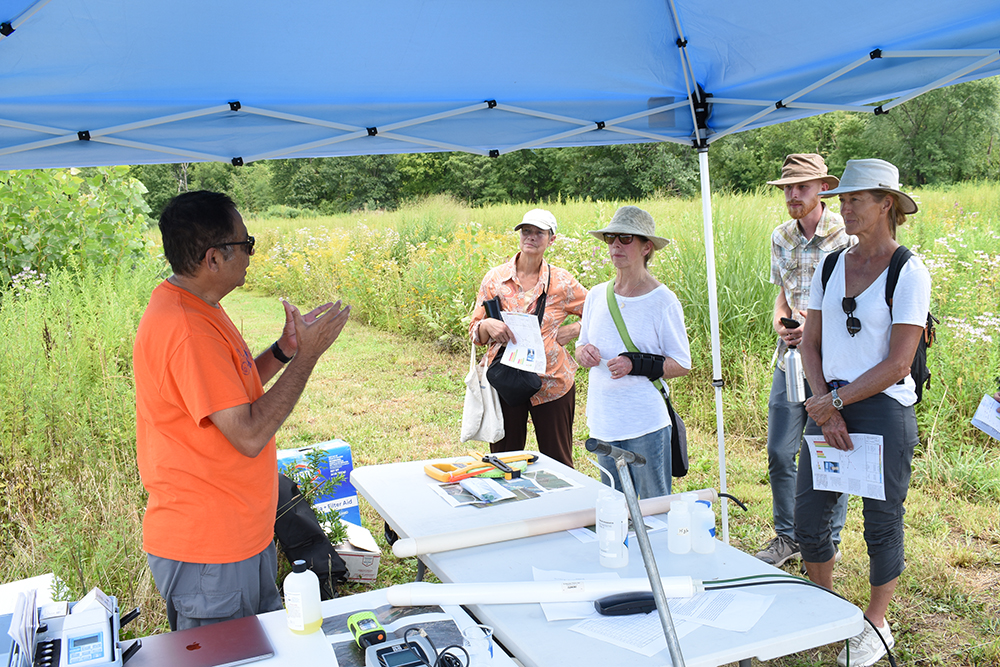 One of the goals of the Farmscape Ecology Field Day was to have student researchers connect with one another and for staff at the Farm Hub to get more information about the ecological studies at the farm. Most of the research partners work with interns and students who expressed interest in learning about other projects in the collaborative. 
Another goal for this event was for farmers, conservation professionals, land managers and others interested in on-farm ecology to learn about the research projects, and for AFERC research partners to receive feedback on the needs of the public. AFERC seeks to answer questions relating to the dynamic between farming and nature. Specifically, how farm management can support biodiversity and how such biodiversity can help enhance farm production.
Attendees said they learned a great deal form attending the event. Shafiul Chowdhury, professor at SUNY New Paltz and a hydrogeologist, highlighted his research on water quality of the Esopus Creek, differences in soil erosion between tilled and non-tilled crops, and water infiltration in crop fields. "The work of [Shafiul Chowdhury] is a study that I hope could be attached to the wet rice field… because wet rice fields are tilled," said Orion Russell Blake, an independent upland rice grower in Orange County. He is also interested in the insect research conducted by Conrad Vispo of the Hawthorne Valley Farmscape Ecology Program and a research partner with AFERC. "It would be interesting to see the kind of differentiation in species between wetlands manually constructed versus tilled dry fields," Blake said.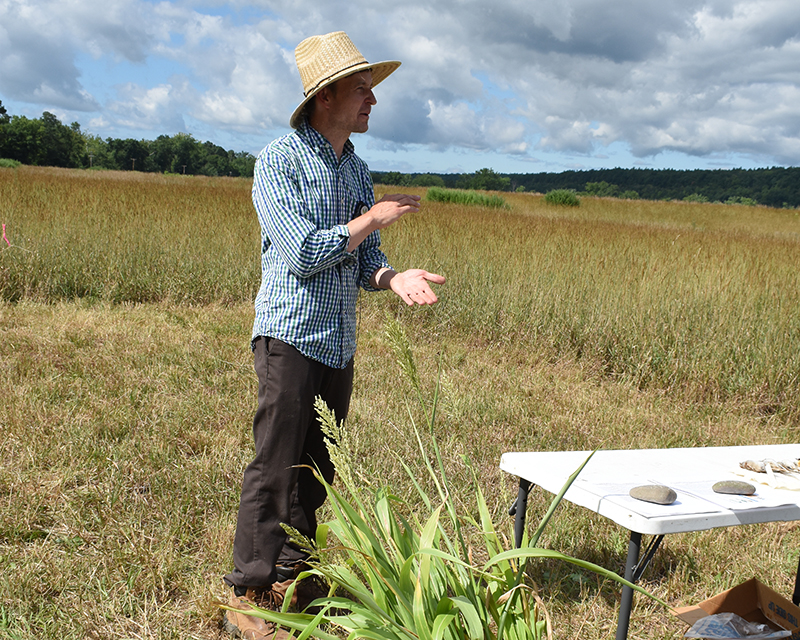 "I am impressed by the diversity of attendees, good questions, good management focused questions, on how they can practically increase bird habitat, in either their own community or their own property," expressed Will Yandik, presenter and member of AFERC, fourth generation farmer with Green Acres Farm. He carefully placed a bird nest, on loan from the Columbia-Greene Community College Natural History Museum, in the field near his station as an example of grassland bird habitat.
"With Sorghum-sudangrass it is common and cheap, it has all of these additional benefits for carbon sequestration and creating better water retention in your soil… it's a real world example of these intersections between doing things for the land that are good for producing crops, doing things for the land that are good for climate change fight, and doing good for the wildlife that have existed for thousands and thousands of years that need room within our landscape to feed and do their own thing."
Community input and better understanding the needs of farmers and land managers is crucial to inform the research of the collaborative going forward. Between hydrating breaks and moments cooling off under the shade, there were important conversations between researchers and attendees about how to work together to manage land while considering biodiversity.   
Enjoy the photo slideshow below that highlights the various research initiatives.
–Amy Wu contributed to this report