Beetle Bank
New research project examines the balance between insects and adjacent crops.
By Amy Wu
T
he beetle bank on the farm is sprouting wildflowers and weeds. This past spring the bank – a 1000-foot unplowed strip that cuts across the width of a crop field which rotates through corn, soybeans, and small grains — was started on the farm. The bank was seeded with native bunch grasses, such as Indian Grass, Little Bluestem, and Big Bluestem, and a variety of native wildflowers.
Over the coming years, these perennial plants should replace the annual weeds which thrive in tilled soil. Beetle banks are meant to provide year-round habitat for beneficial ground beetles; these beetles might then disperse out into adjacent crops where they could help control weeds and are a form of organic pest management. Farmers can receive USDA cost-sharing for the installation of beetle banks. Conrad Vispo and Claudia Knab-Vispo, researchers with the Hawthorne Valley Farmscape Ecology Program and co-coordinators of the Farm Hub's Applied Farmscape Ecology Research Collaborative, are leading the new research project. Jess Furlong of SUNY Cobleskill is also a collaborator on the project where she plans to examine above ground insects and spiders using sweep netting and visual surveys.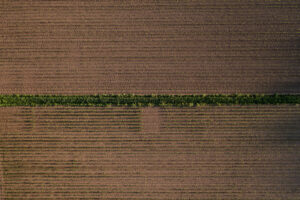 "The idea is if this (beetle bank) stays unplowed and you have plowed the land on either side of it, then in the spring those creatures that have overwintered in the beetle bank may move out into the adjacent fields and provide their services to the farmer," Knab-Vispo explains.
She continues: "Aside from perhaps providing agronomic benefits, these banks might also help support on-farm insect, bird and plant biodiversity. Nonetheless, such banks can also harbor farm pests, including groundhog. We hope this work lets us better understand their net effects, not only on above-ground organisms but also on soil quality. The concept of beetle banks originated in Great Britain, and we don't yet understand how useful they are here in the Hudson Valley. We hope our work contributes to an understanding of their regional utility." Vispo expects data sets will be made available in three to five years.
Anne Bloomfield, manager of the Applied Farmscape Ecology Program, says that corn often faces pest and weed issues and thus serves as a good gauge in exploring the connection between the beetle bank and threats of pest and disease. She notes, "the idea is to study if trying to create habitat for beneficial beetles would both bring them and result in them possibly consuming weed seeds and pests."
As autumn moves closer researchers will decide whether any mowing and weeding are needed, otherwise, we just hope the beetle bank sleeps peacefully," she says.
An evolving landscape
With the arrival of autumn, the beetle bank was blanketed with a thick cover of vegetation, a matrix of perennial native plants that had been earlier seeded and non-native annual weeds.
"We hope the over the next few years, the perennial native plants will assert themselves and the annual weeds will diminish," says Knab-Vispo.
Over the next year the researchers will continue their monitoring process of 24-hour pit trapping using randomly-placed pits to examine how to beetle community has changed within the banks and the adjacent fields. Furlong engages in sweep netting, the process of catching insects and other invertebrates in tall grass using nets. Twice a month the researchers document the amount and the presence of all species in sample plots of a square foot randomly placed along the beetle bank.
Knab-Vispo says she us especially interested in the amount of activity by the ground-dwelling spiders and insects along with the diversity and abundance of plants. As of early fall, she observed that the vegetation development was similar to other areas that are seeded with native perennials.
"In the first year, annual weeds are tall and most visible, while the seedlings of the native perennials seem to be quietly establishing themselves underneath the weeds," she says.
With the arrival of autumn, they needed to decide whether any mowing and weeding are needed, "otherwise, we just hope the beetle bank sleeps peacefully," she says.
For more information about beetle banks:
Make A Beetle Bank
Building Beetle Banks