An update on ProFarmer projects
As the year winds down, three ProFarmers reflect on their 2018 crop projects.
NAILAH MARIE ELLIS – Adventures in Strawberries
When it came to choosing a crop for her project, Nailah Marie Ellis picked strawberries because of her passion for small fruit, and because they are perennial. Ellis says the perennial nature of the fruit would allow her to keep the plants for several seasons.
"I wanted a fruit crop which I could easily harvest in the coming seasons so I could see results in the same year," Ellis says.
And while this year's harvest encountered more fungal and biological setbacks than Ellis had hoped, she says growing strawberries taught her priceless lessons in farming.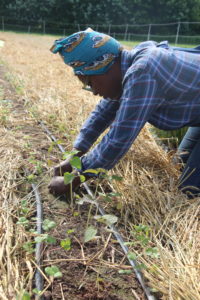 An ambitious aspect of the project was intercropping, which involves planting complementary plant species in close proximity with one another for a synergistic effect. While more challenging to conduct, "it mimics nature more in the scope of diversity that is represented," Ellis says. "I chose intercropping because I wanted to see if the intercropped plants would bring any benefits to the strawberries, like drawing in beneficial insects and helping with pest pressure."
The project was two-fold, with half of the field mono-cropped and the other half intercropped with flowers, culinary herbs, and medicinal herbs. Both sides of the field were planted into a rolled and crimped cover crop mix which promotes soil health and helps to retain moisture in the summer heat.
Ellis seeded the cover crop so that cereal winter rye was planted in the walking paths, and tillage radish and hairy vetch were planted in the zone where the strawberries would be planted. Then in the early summer, after the cover crop was successfully killed, Nailah transplanted both sides of the field with strawberry plugs. On the intercropped side, she also direct-seeded borage and transplanted marigolds, thyme, sage, feverfew, and anise hyssop.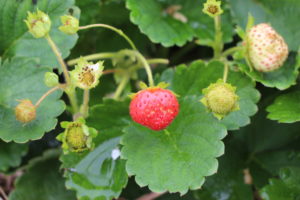 She set out to observe whether the proximity of different species near the strawberry plants would reduce pathogen pressure, attract more beneficial insects, and kill pests.
The result of splitting the field was that the mono-cropped portion of the field yielded a mix of beautiful bushy strawberry plants, while the intercropped side was less successful – with strawberries shaded by plants such as borage and marigolds. The greater variety of species also attracted a larger number of pests. The Japanese beetles flocked to the intercropped side, decimating many of the marigolds and causing minor damage to the strawberry plant leaves.
While there were challenges, Ellis isn't ruling out using intercropping in future projects. Next time, she says, for example, she would leave more space so the intercropped plants such as marigolds don't shade out the strawberries.
She is still excited to learn about small fruits and developing systems where they can thrive. However, in 2019, Ellis hopes to work with another kind of fruiting body – mushrooms.
ANDREW CASNER – Focus on Winter Squash
Andrew Casner has always had a fascination with the Black Futsu, a traditional Japanese variety of winter squash with a chestnut aroma.
"It's relatively resistant to disease and pest pressure, and it's a delicious squash that stores for many months," he says, noting he planted a similar variety at Project EATS in New York City where he worked before joining the ProFarmer program.
The squash also served as a platform to learn more about seed production and prompted Casner to produce a crop specifically to harvest the seeds.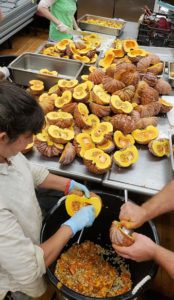 "Winter squash seed is harvested when the flesh is at peak ripeness. This means that it can be sold or donated (and enjoyed) even though it is being grown for the seed, "says Casner, who worked with Farm Hub partners UlsterCorps, Kingston Community Action, the Hudson Valley Seed Company, and Kingston YMCA Farm Project to cut, cook, and bag the squash, and save the seeds. The bagged squash was then frozen for distribution by UlsterCorps.
As of September, 13,000 pounds of Black Futsu was harvested from two-thirds of an acre. In collaboration with the Hudson Valley Seed Company, Casner sorted out the highest quality Black Futsu and processed them for seed.
The project also allowed the ProFarmer to put his composting passion to work by incorporating compost tea practices into the Farm Hub's fertility management program. Casner created aerated compost tea and applied the compost brew to a segment of his squash crop.
Using a testing method designed to quantify soil micro-organisms developed by Elaine Ingham, founder and director of Soil FoodWeb Inc., Casner sent compost, compost tea, and farm soil to be analyzed. For soil analysis, Casner also worked with Todd Harrington, owner of a Connecticut-based soil food laboratory that provided analysis.
More experimentation is needed to understand the effect compost tea has on seed production. However, Casner still considers his experience this season a significant step forward in learning to make and apply compost tea.
"The project was mostly an experiment to observe any effects compost tea might have on the crop," says Casner. An important lesson Casner took away from his discussion with Harrington, and the experience of brewing eight batches of compost tea was to maximize the diversity of microbes by combining compost from multiple sources from which to make tea.
Casner anticipates a busy 2019 both personally and professionally. He and his wife Sara Katz (the Farm Hub's associate manager for education programs) are expecting their first child. When it comes to the Farm Hub, he plans to extend the compost production system on the farm, including creating compost extracts and applying them to cover crops. He will also continue to explore cover crop management and reduced tillage practices on the vegetable fields.
While Casner is working on crop planning for next season, he is also thinking ahead to what he'll be growing at home.
"I plan to grow Black Futsu in my own in the garden. I like to have squash and store it up in the winter," he says.
JAYNE HENSON- Hops Dreams
This year, Jayne Henson grew six varieties of hops for medicinal and brewing purposes on one-acre.
"I originally got interested in hops because I started doing home brewing, and around that same time I was trying to move out of the city and get back into agriculture, and I found out about the farm brewing bill," says Henson referring to the New York Farm Brewery Law that passed in 2013. The bill incentivizes the use of New York-grown products and aims to foster the local brewing industry. Since the bill was signed, there has been an uptick of farmers in the Hudson Valley region keen on getting into growing products for the brewing industry.
"Hearing about that (bill) piqued my interest – it was connecting brewing and farming – two things that I'm really passionate about," Henson says.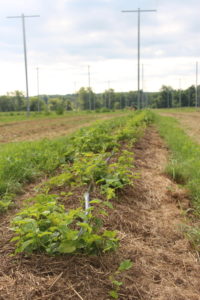 Over this past season, she focused on Cascade, Chinook, Newport, Magnum, Teamaker, and Sorachi Ace. In late September she harvested, processed, and dried her first round of hops, and has sent samples of her yield out to an analytics company to be tested for overall quality.
"Each variety has its own flavor profiles and almost its own personality. They grow in different ways and they have different chemical makeups," she says, adding she loves that the plants are "both really fragile and super prolific at the same time." The perennial vines can grow up to a foot a day during peak growing season.
That said, one of the biggest threats to hops is downy mildew, which proliferates with moisture.
Henson's strategy for tackling downy mildew included choosing varieties that are more resistant to it, and spacing rows wide enough to increase air circulation and to allow more sunlight so the leaves dry out faster. She watched the weather vigilantly and sprayed the plants with organic fungicides to prevent infection.
"I looked for times when there were going to be back-to-back rain events, and evening temperatures between 60 and 70 degrees, so I can make sure to take the right interventions before the plants get infected," Henson says. Upon reflection, "I was really happy with the overall plant health. My harvesting and drying systems worked really well."
The plants did, however, hit an unexpected curveball over the past season when she discovered European corn borer, a common pest that mainly threatens sweet corn varieties, in many of the hops.
"I really wasn't expecting it at all, I was scouting for things like two-spotted spider mite, and potato leafhopper. The European corn borer was kind of a surprise," she says.
Her goal for 2019 is to have healthy, disease-free plants and to focus on nutrient and pest management. Her action plan for the European corn borer (ECB) includes monitoring traps for ECB activity (similar to monitoring sweet corn) and employing the aid of parasitic wasps. If needed, Henson will bring in organic pesticides.
Next steps for Henson involve working more closely with local breweries and testing future harvests in test batches to look at flavor profiles and marketability.
Brewers and growers need to form strong bonds to help this burgeoning enterprise succeed in the Hudson Valley, and it's exciting to see brewers and growers working together, she says.