In Brief: The latest at the Farm Hub
In November, we were honored to co-host the event "The Ins-and-Outs of School Nutrition & Farm to School" with Live Well Kingston, Farm to Institution New York State (FINYS), and Cornell Cooperative Extension Ulster County. Sarah Brannen, the Farm Hub's associate director of programs, kicked off the convening by highlighting the importance of school meals in alleviating hunger and improving academic performance. Stephanie Hsu, representing FINYS, a collaborative initiative of American Farmland Trust – New York, gave an engaging presentation on the foundation of school meal requirements, procurement and menu planning strategies, and highlighted current farm to school trends in our state. The event, which drew a full house, was attended by school administrators, parents, community members and farmers. A special thank you to Cornell Cooperative Extension Ulster County for hosting the gathering at their office in Kingston, and for their ongoing partnership.
Read more in this article: https://knowwhereyourfoodcomesfrom.com/2019/11/13/nationwide-farm-to-school-movement-taking-root-in-new-york-state/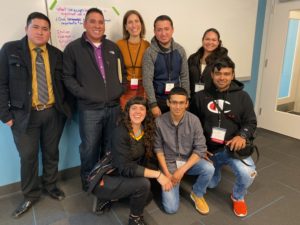 Language Justice Presents at NESAWG
On November 8 the Language Justice team presented two sessions at this year's NESAWG (Northeast Sustainable Agriculture Working Group) "It Takes a Region Conference" that will be held at New Jersey City University in Jersey City, NJ. During the interactive sessions, attendees learned about and experience how `language justice' works at the Farm Hub. Attendees were also presented concrete tools to conduct a LJ assessment of their project and create actionable next steps. Click here to view more photos.
Cultural Heritage and Cooking With Chicken
Eustacio Mill Quino and Jaime A. Cardoso, members of our production staff, attended the Spanish language BIPOC FIRE (Black-Indigenous-People-of-Color Farming in Relationship with Earth) Farmers Immersion week at Soul Fire Farm. The program is designed to teach beginner and intermediate farmers skills in regenerative farming and food preparation. Eustacio led two workshops including a hands-on tortilla making session with the addition of edible flowers and herbs. In a second workshop "Cooking with Chicken Organs," he taught participants to make a variety of dishes including puchero de pollo, an organ-rich dish, with chicken remains including the feet, gizzards, heart, liver, and neck. Eustacio attended the BIPOC immersion week in 2018, but this was the first time he led a workshop. "He returned in a leadership role to share his expertise on Mexican cooking and to share knowledge so participants feel empowered to make some new dishes. It was also about celebrating the connection between food and cultural heritage," says Adriana Pericchi language justice coordinator at the Farm Hub.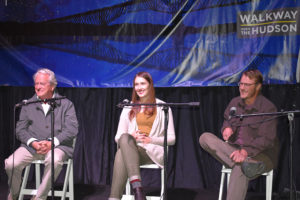 Growing With the Grain Screens
The Farm Hub and Oceans 8 Films screened Growing With the Grain and A Living River as part of the celebration of the 10th anniversary of the opening of the Walkway Over the Hudson. The event "Bread and Water" was held at the Walkway's Ulster Welcome Center Plaza in Highland. Growing With the Grain is a short film on the small grains research trials, a collaboration between the Farm Hub, Cornell University and Cornell Cooperative Extension of Ulster County to gather data on grains and share findings with area farmers who are interested in boosting the local grain economy. The film screened alongside A Living River, a new short film by Oceans 8 that looks at efforts to restore life within the Hudson River. Following the screening Sarah Brannen, the Farm Hub's associate director of programs, moderated a discussion with panelists including Jay Goldmark, field crops manager, Jon Bowermaster of Oceans 8 Films, and Riverkeeper's Jen Benson. Jay, who grew up on his family's farm in eastern Washington, shared his experience farming in Washington State and compared it to farming in Hudson Valley. He also discussed the field crops team's cover cropping and no-till initiatives. Walkway Over the Hudson State Historic Park hosted the event and Bread Alone Bakery provided refreshments.
Highlighting Corn at Kingston City School District
The Farm Hub grows some 170 acres of grain corn. Sweet corn is also grown at the farm, the majority of which is donated through local emergency feeding system networks. Earlier this year, students at Kingston City School District's summer school enjoyed a special visit from Farm Hub staff who gave a presentation about corn. Sarah Brannen, associate director of programs, and Jeff Scott marketing and logistics coordinator, offered a rundown of corn from the varieties, such as sweet corn vs. grain corn, to the many ways it can be cooked and eaten (cornbread, muffins, and tortillas). Jeff Arnold, the vegetable production manager, explained the anatomy of corn from kernel to husk. The students shucked corn and later enjoyed eating corn on the cob at the at Edson Elementary School cafeteria.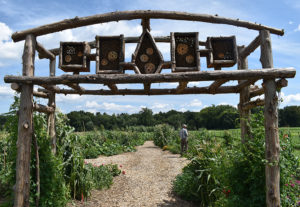 Seed Sanctuary Blossoms
The Native American Seed Sanctuary completed its fourth season at the Farm Hub with a bountiful harvest. Seedshed staff, farm crew, and volunteers have harvested 18 varieties of beans, 3,690 pounds of Buffalo Creek Squash, 1,551 pounds Crookneck Squash and harvested Six Nations Blue corn with leaders from Akwesasne. This year's grow-out once again included the majestic Onondaga sunflowers. Inside the one-acre plot, there were also new varieties of corn and beans, including Six Nations Blue Corn and Mother Earth Bean. A Bee Habitat Arbor acted as a gateway to the Sanctuary. The arbor, installed by the Hudson Valley Bee Habitat and co-created with Akwesasne Seed Sanctuary leader Mary Arquette, was designed as a Wampum belt, symbolizing peace among the Haudenosaunee nations. The "amazing jungle of the buffalo creek" includes squash that can weigh in as much as 40 pounds. Each year, all of the seeds and food produced are cooperatively harvested and taken back to the Akwesasne Mohawk community.
Farm to School
This past summer the Farm Hub was pleased to participate in the launch of the Farm-to-School Institute, part of the Farm-to-Institution New York State (FINYS) initiative led by American Farmland Trust. As participants in this year's program, six New York school districts created an actionable plan for each of their districts to get healthy and fresh food into school cafeterias. We were also honored to host a visit from the Farm-to-School institute here at the farm. The participants enjoyed a tour of the Farm Hub during which they were given a rundown of this year's crop plan, learned about the wash and pack facility, and witnessed simultaneous interpretation by our Language Justice team in action. Sarah Brannen, associate director for programs, is a founding member of FINYS and sits on their steering committee.
Exploring Herbs
Jess Clancy, a member of our ProFarmer training program, participated in this year's International Herb Symposium, one of the largest annual gatherings for herb growers globally. Jess said she was drawn to the event by the opportunity to gain the latest information and connect with those who have a similar passion for growing herbs. Jess says some of her favorite symposium workshops were: "Propagating and Growing our Native Medicinals with Ed Fletcher," "Hedgerow Medicine with Deb Soule" and "Planting, Harvesting, Medicine Making with Sun and Moon with Julia Graves." Since joining the Farm Hub in 2016, Jess has established an herb garden here at the farm. She has been harvesting the medicinal roots including Ashwagandha and Marshmallow, and is collecting yield data on the roots. To learn more about Jess and her herb garden, click on the link below for a short video portrait: https://vimeo.com/352115830
Learning about mushrooms
ProFarmer Nailah Marie Ellis attended the New Moon Mycology Summit to connect with mycological enthusiasts from the Northeast and beyond. The Summit, held in the Adirondacks, included academic sessions, mushroom papermaking and dyeing, as well as sessions connecting the cultural significance of mushrooms in ceremonies. Nailah says a highlight was hearing William Padilla-Brown, a mycologist and contributing editor of FUNGI Magazine, speak at the conference.
Receive updates from the Farm Hub by following our Facebook page and by signing up for our newsletter.