(Spanish translation to follow/traducción en español abajo)
Of all vegetable crops, corn has long been the one most associated with the Hurley Flats.  Sweet corn, enjoyed fresh in summer and once produced across hundreds of acres by the Gill Farms, remains a staple of the Farm Hub's annual vegetable production and is now grown using organic methods.  The majority of the corn grown at the Farm Hub, however, is grain corn – also known as field corn.  Produced widely across the United States, this type of corn is grown primarily for ethanol or animal feed, rather than for human consumption.
With the exception of select Native American varieties grown for the Farm Hub's Seed Sanctuary, the Farm Hub's grain corn is produced at scale and sold for use in "transitional" (organically grown but not certified) feed rations. It is also an important crop for planting in combination with cover crops as part of the farm's ongoing experimentation with minimum-till methods such as roller crimping and interseeding.
Starting this year, the Farm Hub will no longer be growing grain corn solely for the feed market.   In late May, the Farm Hub planted eight types of grain corn as part of a new project involving heritage varieties for food products.  In addition, the Farm Hub is enthusiastic about corn as a link to cultural heritage, particularly given that many of the Farm Hub's staff are of Mexican descent.  A staple food in many South and Central American countries, corn is originally from Mexico.  All modern varieties can be traced back 8,000 years to when corn was first cultivated. At the Farm Hub now, the focus is on finding varieties suitable for making tortillas.
The project was launched by Sarah Brannen, associate director of programs, who is partnering with production staff and language justice team members.  She explains that the Farm Hub is keen on learning more about the varieties.
"Grain corn is an important part of a diversified crop rotation and we are excited to learn from this year's informal trial which varieties can be grown for food, rather than feed," says Brannen. "Corn has a deep connection to the history of farming across the world and different cultures and corn as food can help us transition to a more plant-based system, which is good for the health of people and the planet."
Cultural connector
The project was initially inspired by Farm Hub staff members like Jaime Cardoso, who a few years ago made corn his focus in his plot in the Farm Hub's staff garden.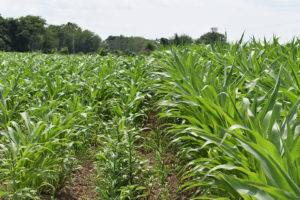 He asked his mother to share her peanut seeds, and she did, along with squash and corn seeds of blue and white varieties. Cardoso has devoted his garden to growing corn over the past three years, finding it both a challenge and an opportunity. One year the corn stalks were too high and yielded a single ear, for example.  He is excited about the trial and the prospect of growing these types of corn to eat.
"We use it for tortillas, it's an important food source," says Cardoso, noting his uncle in Mexico continues to grow corn for family meals. Corn is considered an essential part of the Mexican diet and appears in almost every meal in Mexico from (grain) corn tortillas to sweet corn cake.
There are almost 500 varieties of corn in Mexico including both sweet corn and grain corn.  Accordingly, there are 15 ways to say "corn" in Spanish, while there are only two in English, says Gaby Pereyra, a program coordinator at the non-profit GrowNYC.  She grew up eating a lot of corn in her native Venezuela and has a passion for researching corn. Earlier this year Pereyra came to the Farm Hub to speak about the history of corn in the U.S. and globally.  She held a separate workshop on landrace corn, also known as heritage corn.
Corn also tends to transcend cultures as it is one of the most commonly grown grains in the world. It is farmed on every continent except Antarctica, Pereyra notes.
"The first inhabitants of Mexico started cultivating corn so it's closely tied to our culture," says Agustin, a farmer in Staten Island who co-facilitated a workshop at the Farm Hub with Pereyra about landrace corn. "In my country, we don't know the specific names that define corn. We know they are white, yellow, blue and red, but we are intimately connected to corn because that's how we make tortillas and we always have."
Seeking corn
To jumpstart the project, Jay Goldmark, fields crops production manager, began researching potential varieties by connecting with representatives at seed companies including Blue River Organic Seed. He also consulted with members of his team – many of them experienced with growing corn. Varieties were selected for their overall food-grade quality, day-length, and dry-down characteristics.
The corn was planted across nearly five acres along Route 209  between Hurley and Kingston. There are four white corn varieties, two yellows, and two blues, which are adapted to growing all over the U.S., as well as the one heritage Mexican variety.
Mother Nature's wet spring in the Hudson Valley set planting back by a few weeks, but if the summer season moves forward with sun and heat, the corn is slated for a late October to early November harvest, says Goldmark. The average growing time is 5.5 months, or upwards 150 days, from planting to harvest, which includes drying the corn down with grain dryers.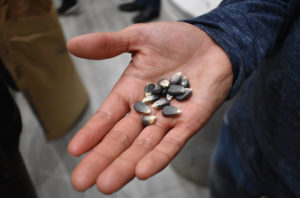 In March, Brannen led a group of staff, including production workers, on a visit to Tortilleria Nixtamal, a tortilla maker in Queens, New York that specializes in using the Nixtamal method, an ancient tortilla-making process that involves using corn that has been soaked with calcium hydroxide and warm water to create Masa dough, the foundation for tortillas.
The husband and wife team that run Nixtamal source corn from all over the country and Mexico.
"We always want to learn as much as we can about the end-user and what they need. Trips like these are really educational for us, " says Jeff Scott, marketing and logistics coordinator.
In the meantime, it is wait and see for the grain varieties planted at the Farm Hub. Will the plants yield a mosaic of blue, white and yellow? As of late June, the varieties were swiftly growing with an orchestra of emerald-colored stalks blowing in the wind.
As for Cardoso, his passion for corn as food and for growing the produce of his homeland remains strong. Corn reminds him of home. Growing up, he recalls celebrating harvests with friends and family over dinner gatherings.
"The corn looks beautiful and I want to eat tortillas," he smiles.  Maybe someday too, fresh tortillas will be available here in Kingston, he says.
— Amy Wu 
Header photo above: Heritage grain corn varieties. (Photo credit: CIMMYT)
---
Enfoque en el maíz de grano
De todos los vegetales, el maíz ha sido, por mucho tiempo, el más asociado con Hurley Flats. El maíz dulce, que se disfruta fresco en el verano y cuando se produce a lo largo de cientos de acres de Gill Farms, sigue siendo fundamental para la producción anual de vegetales de Farm Hub y, ahora, se cultiva con el uso de métodos orgánicos. La mayoría del maíz que se cultiva en Farm Hub, sin embargo, es maíz de grano – también conocido como maíz de campo. Producido ampliamente en todo Estados Unidos, este tipo de maíz se cultiva principalmente para etanol o pienso (alimento para animales), no para consumo humano.
Con la excepción de variedades indígenas específicamente cultivadas para el Santuario de Semillas de Farm Hub, el maíz de grano de Farm Hub se produce a escala y se vende para usarse en raciones alimentarias "transicionales" (cultivos orgánicos que no están certificados como tal). Además, es un cultivo importante para la siembra en combinación con otros cultivos, como parte de la continua experimentación del rancho con métodos de labranza mínima, como el rolado y la intersiembra.
A partir de este año, Farm Hub ya no cosechará maíz de grano únicamente para el mercado de pienso. A finales de mayo, Farm Hub sembró ocho tipos de maíz de grano como parte de un nuevo proyecto que implica variedades de reliquia para productos alimenticios. Además, Farm Hub siente entusiasmo por el maíz como un enlace con la herencia cultural, dado particularmente que mucho del personal de Farm Hub tiene descendencia mexicana. Un alimento básico en muchos países suramericanos y centroamericanos, el maíz es de México originalmente. Todas las variedades modernas pueden rastrearse hasta hace 8.000 años, cuando se empezó a cultivar el maíz. En Farm Hub el enfoque ahora está en buscar variedades que sirvan para hacer tortillas.
El proyecto fue lanzado por Sarah Brannen, directora asociada de Programas, quien está colaborando con el personal de Producción y miembros del Equipo de Justicia de Lenguaje. Ella explica que Farm Hub es entusiasta de aprender más acerca de las variedades.
"El maíz de grano es parte importante de una rotación de cultivos diversificados y nos emociona aprender de la prueba informal de este año que busca cosechar variedades para alimento, en lugar de pienso", dice Brannen. "El maíz tiene una conexión profunda con la historia de la agricultura alrededor del mundo y diferentes culturas, y el maíz como alimento nos puede ayudar con la transición a un sistema más basado en las plantas, lo cual es bueno para la salud de la gente y del planeta".
El conector cultural
El proyecto fue inicialmente inspirado por miembros del personal de Farm Hub como Jaime Cardoso, quien hace unos años hizo del maíz el enfoque de sus tierras en el jardín del personal de Farm Hub.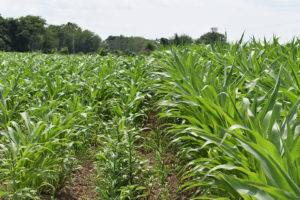 Él le pidió a su madre que compartiera sus semillas de maní, y ella lo hizo, junto con semillas de calabacín y maíz de variedades azules y blancas. Cardoso ha dedicado su jardín a cultivar maíz durante los últimos tres años, encontrando que es tanto un reto como una oportunidad. Un año, los tallos de maíz eran demasiado altos y produjeron una sola mazorca, por ejemplo. Él esta emocionado con la prueba y el prospecto de cultivar estos tipos de maíz para comer.
"Lo usamos para las tortillas, es una fuente importante de alimento", dice Cardoso, notando que su tío en México sigue cultivando maíz para comidas familiares. El maíz se considera una parte esencial de la dieta mexicana y aparece en casi todas las comidas en México, desde las tortillas de maíz (de grano) hasta el pan de maíz dulce. Hay casi 500 variedades de maíz en México, incluso el maíz dulce y el maíz de grano. A la par, hay 15 maneras de nombrar el "maíz" en español, mientras que hay solamente dos en inglés, dice Gaby Pereyra, coordinadora de Programas en la organización sin fines de lucro GrowNYC. Ella creció comiendo mucho maíz en su país de origen, Venezuela, y le apasiona investigar acerca del maíz. Anteriormente, este año, Pereyra vino a Farm Hub para hablar de la historia del maíz en Estados Unidos y a nivel mundial. Ella hizo un taller separado sobre el maíz autóctono, también conocido como maíz de reliquia. El maíz también tiende a transcender culturas, ya que es uno de los granos más comúnmente cultivados en el mundo. Se cultiva en todos los continentes, excepto Antártica, dice Pereyra.
"Los primeros habitantes de México empezaron a cultivar maíz, así que está cercanamente ligado a nuestra cultura", dice Agustín, un agricultor en Staten Island que cofacilitó un taller en Farm Hub con Pereyra acerca del maíz autóctono. "En mi país, no conocemos los nombres específicos que definen al maíz. Sabemos que hay blanco, amarillo, azul y rojo, pero estamos íntimamente conectados con el maíz porque así es como hacemos tortillas y siempre lo hemos hecho así".
Buscar maíz
Para arrancar con el proyecto, Jay Goldmark, gerente de Producción de Cultivos del Campo, empezó a investigar posibles variedades a través de conectarse con representantes en compañías de semillas, como Blue River Organic Seed. También consultó con miembros de su equipo – muchos de los cuales tenían experiencia con el cultivo del maíz. Las variedades fueron seleccionadas por sus características de calidad general de grado de alimento, duración del día y secado.
El maíz se sembró en casi cinco acres a lo largo de Route 209, entre Hurley y Kingston. Hay cuatro variedades blancas de maíz, dos amarillas y dos azules, las cuales son adaptadas al cultivo a lo largo de Estados Unidos, al igual que una variedad mexicana de reliquia.
La mojada primavera de la Madre Naturaleza en Hudson Valley atrasó el cultivo unas semanas, pero si la temporada del verano sigue soleada y acalorada, el maíz está programado para cosecharse a finales de octubre o principios de noviembre, dice Goldmark. El tiempo de crecimiento promedio es de 5,5 meses, o hasta 150 días, desde la siembra hasta la cosecha, lo cual incluye secar el maíz con secadoras de granos.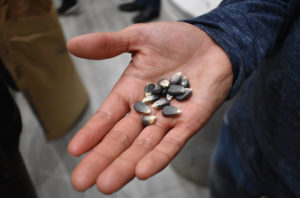 En marzo, Brannen dirigió a un grupo del personal, incluso trabajadores de producción, en una visita a la Tortillería Nixtamal, una productora de tortillas en Queens, Nueva York, que se especializa en usar el método nixtamal, un antiguo proceso para hacer tortillas que implica usar el maíz que ha estado remojado con hidróxido de calcio y agua tibia para hacer la masa, la base de las tortillas.
El equipo del esposo y la esposa que corren Nixtamal consiguen el maíz a lo largo del país y México.
"Siempre queremos aprender todo lo posible acerca del usuario final y lo que necesita. Viajes como estos son verdaderamente educativos para nosotros", dice Jeff Scott, coordinador de Mercadeo y Logística. Mientras tanto, se trata de esperar y ver qué pasa con las variedades sembradas en Farm Hub. ¿Las plantas darán un mosaico de azul, blanco y amarillo? Para finales de junio, las variedades ya crecían rápidamente en una orquestra de tallos color esmeralda que oscilaban con el viento.
En cuanto a Cardoso, su pasión por el maíz como alimento y por cultivar los vegetales de su tierra natal sigue fuerte. El maíz le recuerda a su hogar. Cuando era niño, recuerda él, celebraba las cosechas con amistades y familiares durante cenas.
"El maíz es hermoso y quiero comer tortillas", sonríe. Quizá algún día, habrá tortillas disponibles en Kingston, dice.
— Amy Wu 
Foto anterior: Variedades de reliquia del maíz en grano. (Crédito de la foto: CIMMYT)