The Farmer's Corner: Summer 2019
SUMMER 2019: ROSA VILLEGAS, GREENHOUSE ASSISTANT
(Spanish translation to follow/traducción en español abajo)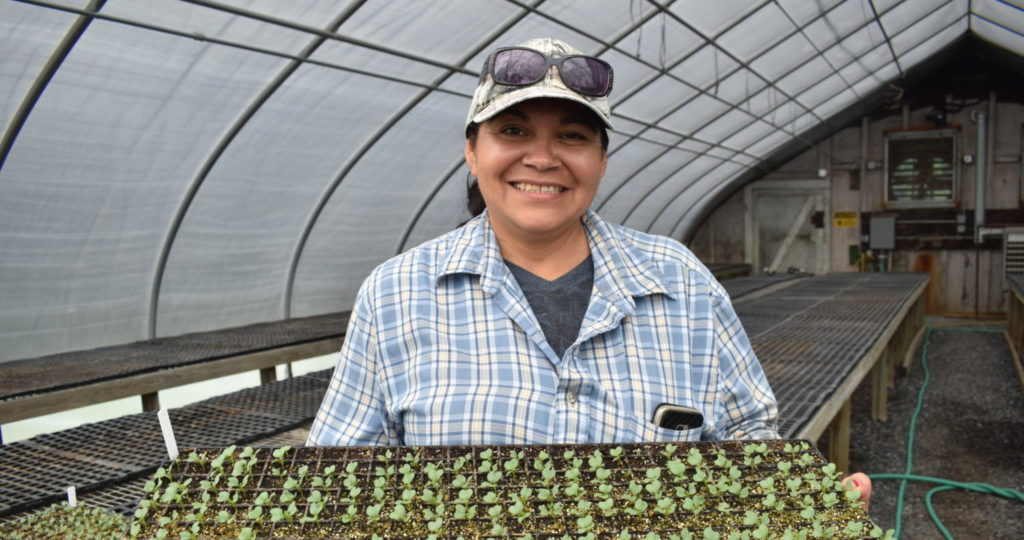 "I started working in the greenhouses in 1998 (when the farm was under different ownership). Under the Farm Hub I began working on the vegetable team and continued in the greenhouses. In 2016, I became the greenhouse assistant. We start here in the greenhouses in the middle of March to seed the broccoli, cauliflower, and corn. Every week, you are seeding and planting and getting everything ready for what is next. The part of farming I love the most is working here in the greenhouses and doing the seeding, and now I know how to work with the seeding machine. I like to work in the fields too, but I'd say my favorite are the greenhouses."
Rosa manages greenhouse production from start to finish, handles technology such as a needle seeder and flat filler, and is charged with daily watering, record keeping, and keeping the operation on schedule. Over the course of the season she oversees the production of over half a million vegetable starts.
Jeff Arnold, vegetable production manager, says "oversight of the greenhouse is one of the most important pieces of a successful vegetable operation. It all starts in the greenhouse, so transplants need to be healthy and ready to put in the ground on schedule or else all other aspects of production will be affected."
"Rosa has been working on this land and in the greenhouse for over two decades, so she brings to the table an incredible amount of production farm experience and greenhouse knowledge," Jeff says. "She is a highly skilled grower, attentive, keeps meticulous records, and is continuously checking on the plants. Rosa always has a positive attitude and is one of the most hard-working people you'll ever meet."
---
Esquina Agrícola
VERANO 2019: ROSA VILLEGAS, ASISTENTE DE INVERNADEROS
La Esquina Agrícola es un ensayo fotográfico que resalta lo que ocurre detrás de las escenas de la agricultura desde el punto de vista de los agricultores. Para esta segunda publicación, nos enfocamos en Rosa Villegas, la asistente de invernaderos del Farm Hub y miembro del equipo de producción de los vegetales.
"Comencé a trabajar en los invernaderos en el 1998 (cuando el rancho tenia otro dueño). Dentro del Farm Hub comencé a trabajar en el equipo de los vegetales y continué en los invernaderos. En 2016, me convertí en la asistente de invernaderos. Comenzamos aquí en los invernaderos a mediados de marzo para sembrar las semillas del broccoli, coliflor, y elote. Cada semana, estas semillando y plantando y preparando todo para lo que viene después. La parte de la agricultura que me gusta más es trabajar aquí en los invernaderos y plantar las semillas, y ahora ya sé cómo trabajar con la máquina semilladora. Me gusta trabajar en las parcelas también, pero diría que los invernaderos son mis favoritos.
Rosa maneja la producción de invernadero de comienzo a fin, se encarga de la tecnología como la semilladora de agujas y el llenador de bandejas, del riego diario, mantenimiento de registros, y de mantener a la operación a tiempo. A través de la temporada ella supervisa la producción de más de medio millón de trasplantes de vegetales.
Jeff Arnold, el gerente de producción de vegetales, dice "la supervisión del invernadero es una de las piezas más importantes de una operación de vegetales exitosa. Todo comienza en el invernadero, así que los trasplantes necesitan estar saludables y listos para estar en el suelo o, si no, todos los otros aspectos de producción se verán afectados.
"Rosa ha estado trabajando en esta tierra y en el invernadero por más de dos décadas, así que ella contribuye una cantidad increíble aportes sobre producción agrícola y conocimiento de invernaderos," dice Jeff. "Ella es una agricultora muy cualificada, atenta, mantiene registros meticulosos, y continuamente esta revisando las plantas. Rosa siempre tiene una actitud positiva y es una de las personas más trabajadoras que jamás conocerás,"