The Farm Hub grows an acre of garlic annually with the hope of yielding an estimated 5,000 pounds. The farm also has a specific way of curing the garlic.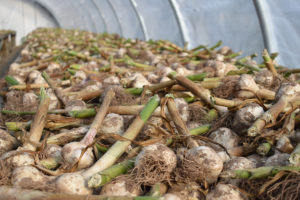 "Garlic is an important crop for us. From the yield we typically save about 1000 pounds for our own seed and the rest will be distributed into both donation and wholesale channels," says Jeff Arnold, vegetable production manager.
Here, Arnold shares more about the greenhouse curing method:
Q: How is the way we are curing garlic unique?
A: We use what is known as the high tunnel or greenhouse curing method. This involves curing the garlic inside a hoop house or greenhouse to speed the drying process and reduce post-harvest disease. A shade cloth is needed to prevent excessive heat and sun exposure, though temperatures close to 100 are desired for optimum curing time. Garlic can be cured in as little as two weeks with this method.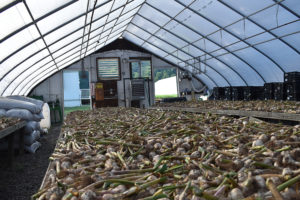 We also use a flail mower to top the garlic in the field in order to expedite the harvest and save on limited curing space inside the greenhouse. Contrary to conventional wisdom, studies have shown that topping garlic in the field does not lead to increased post-harvest disease and we have experienced this to be true.
Q: Why did you choose this method for curing?
A: This method works well for us because we grow just under an acre of garlic per year which is all hand harvested, so maximizing harvest efficiency and curing space is important. Curing in the greenhouse can also reduce post-harvest disease and the garlic is available for market sooner. But once it has been fully cured it must be moved out of the greenhouse soon after and into long-term storage or else it will become too dry.
– Amy Wu