Farm Hub ProFarmers
The ProFarmer Program is the Farm Hub's signature educational initiative. The Program is a multi-year, salaried, residential program at the Farm Hub offering classroom education and hands-on training, with an emphasis on teaching ecological farming; technical, agricultural, and mechanical know-how; and small business and leadership skills.
Our current ProFarmers include: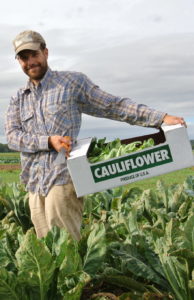 ANDREW CASNER
"To farm at a scale that makes organic regional food available to more folks at a lower cost—this is a big reason why I am where I am today, farming in the Hudson Valley."
Andrew's career in farming began in New York City, when, not long after graduating from the Rhode Island School of Design, he began working with gardeners and composters transforming neglected sites into productive green spaces for recycling waste and growing food. He worked for GrowNYC's Open Space Greening and Learn it Grow it Eat it programs, and in 2010 he joined the staff of Active Citizen Project's Project EATS program, which creates urban farms to serve working class neighborhoods throughout New York. As the farm manager, Andrew established and managed the farm at a men's shelter on Wards Island. He also trained shelter residents, volunteers, staff, and high school students in vegetable production and soil health in an urban landscape.
Andrew was most recently employed as a farm worker at Roxbury Farm in Columbia County. There, he was exposed to efficient, ecological systems of production at a larger scale. As he prepares to join the ProFarmer program, he looks forward to focusing on farming at scale and to exploring innovative approaches to food production and soil building. As for his artistic talent, he notes, "I see farming as a way to more deeply connect to the biological systems I bore witness to in painting."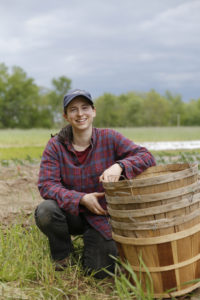 Jess Clancy
"Initially I was intrigued by farming as a way to combine my interest in plants and science with social justice and environmental goals. Then I fell in love with the work."
Jess comes to the ProFarmer program with seven years of experience in organic farming, most recently as the vegetable production manager at Fishkill Farms in Dutchess County. With a degree in environmental chemistry, Jess is interested in natural systems and ecological farming. This is one of many reasons she was attracted to the ProFarmer program's mission-driven curriculum.
At Fishkill Farms she oversaw production of organic vegetables on fifteen acres for the farm's 300-member CSA and four farmers markets. This involved extensive management responsibilities including hiring, training, and managing crew. Prior to moving to Fishkill, she worked in Massachusetts as an apprentice at Powisset Farm and as a farmers market and CSA manager at Atlas Farm in Deerfield. Originally from the Midwest (she grew up near Chicago), Jess' early farming experiences were in Wisconsin – as a farmworker at an organic farm and a student at the Michael Fields Agricultural Institute.
Jess' years as crew member, salesperson, and production and crew manager have given her a deep respect for farm work, and a solid grounding in both the practical aspects of running a farm operation and the social and economic issues that challenge the food system.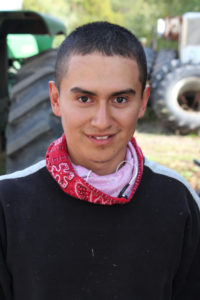 JESUS GONZALEZ
"I have a strong desire to learn everything about agriculture—I love learning new things. My ideal farm has a little of everything and makes a contribution to the community."

Jesus spent much of his youth on the Gill Farm with his father and mother, who are now members of the Farm Hub team. A graduate of Kingston High School, Jesus worked on the farm in Hurley during summers from 2008 to 2013, and worked as a forklift driver in Florida during the off-season. He is currently employed in the nut processing and packing division at Farm Bridge in Kingston.
With strong family roots in farming (his grandfather has a grain corn and sorghum farm in Mexico), Jesus is looking forward to learning more about growing crops organically and strengthening his knowledge of farm equipment. Another goal for Jesus is to acquire solid management skills. He plans to become a farm manager or farm owner. Jesus is bilingual in Spanish and English.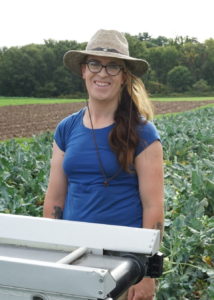 JAYNE HENSON
"I moved to the city in search of a different life but have always felt the pull of the land and the country and the addiction of my hands in the soil."
Jayne grew up on a farm in Emporia, Kansas. Her earliest memories are of family cattle drives and learning to drive a tractor on her grandfather's lap. She was a 4H participant for 11 years, and as a young adult she took on the management of the 300-acre family farm and cow/calf operation. Jayne's extensive experience includes planting and harvesting crops, maintaining farm equipment, and overseeing the care of 400 heads of cattle.
After college, Jayne left Kansas for New York City, where she worked first for GrowNYC and later for God's Love We Deliver, a food access program that delivers prepared meals to clients living with terminal illnesses. These experiences, combined with her work as a residential counselor, activated her interest in the connection between food, farming, and social issues. Now, after five years in New York, she is excited to reconnect with agriculture and to learn about diversified vegetable production and organic methods at the Farm Hub. Her vision for the future is to own a Hudson Valley farm that provides internships for LBGT youth.