Hudson Valley Farm Hub's Farm Mechanic Basics Program
Hudson Valley Farm Hub's Farm MechanicBasics Program
Our vision is to increase professional development around farm mechanization so that farmers and other agricultural workers can make their farms more efficient, scale up if desired, make expensive equipment last, be safe in a dangerous profession, and save money.
Program description:
Hudson Valley Farm Hub's Farm Mechanic Basics program offers hands-on experience with agricultural mechanics in our state-of-the-art machine shop through 10 day-long sessions intended for farmers and other agricultural workers. An in-depth look at tractors and implements, you will understand the parts and systems of tractors, and gain experience diagnosing problems, conducting maintenance and performing basic repairs on farm equipment.
Topics covered will include: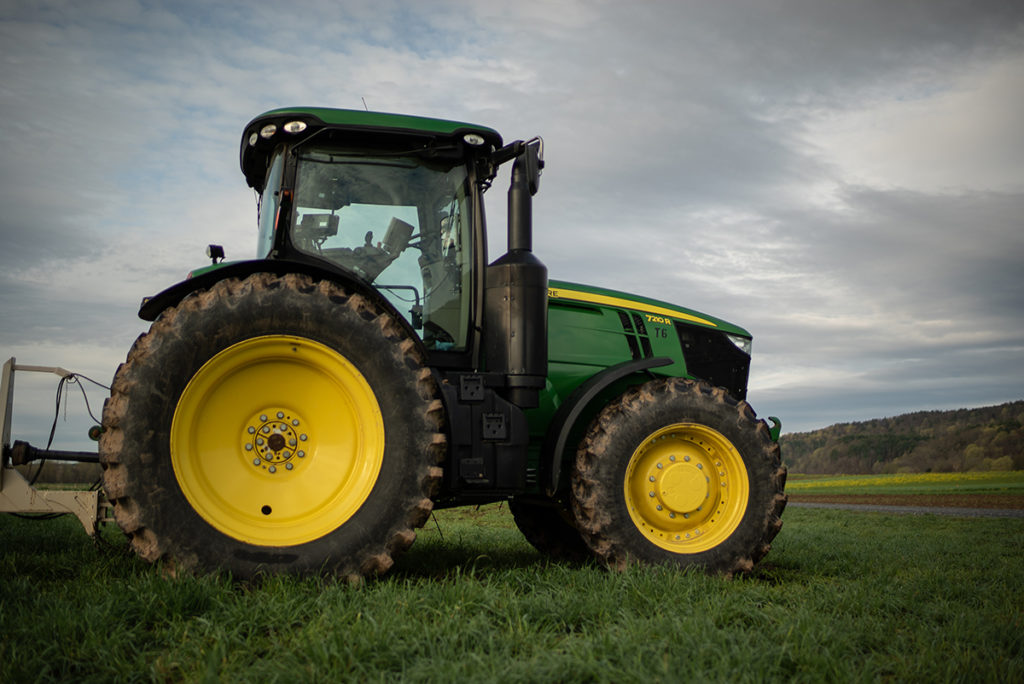 Review the basics of tractor safety, operation, and parts and have time for hands-on individual driving practice, one on one with an instructor, so that all participants are on the same basic level.
This introductory session will cover safety, PPE (personal protective equipment) and and we'll do a walk-through tour of the Shop. We'll also discuss the essentials of a farm equipment toolbox and practice using some of the tools in hands-on stations.
This session will take an in depth look at the heart of the tractor: the engine. We will cover parts of the tractor, how they function in a system, and build a tractor vocabulary together.
Understand the function, parts and maintenance of small engines (two and four stroke engines). This class will include some hands-on practice with small engines.
These two project-based sessions will rotate participants through a series of common maintenance and service tasks.  We will complete an engine oil change, fuel filter change, hydraulic filter change, as well as learn how to complete yearly maintenance on a tractor.
This project-based session will build a framework to diagnose tractor problems and provide hands-on practice with the most common fixes for tractors.
Understand the most common tractor implements, their functions, and how to service their many parts. We'll do a farm walk to look at some of the various implements at our farm for vegetable and grain production. In the afternoon, we'll service some commonly used implements in stations.
Review what you've learned by practicing services and repairs with the option of working on your own equipment. Also, learn when you need to call for help with a repair.
This program is for those who want to take steps toward mechanization or gain a basic understanding of agricultural mechanics. We have designed the program with beginning farmers, farm apprentices, and farmworkers in mind. You do not need prior experience with tractors and farm equipment to apply, though the program is intended for those looking to take steps toward mechanized farm work.
10 sessions will run from 9am-5pm each day. For session details, see topic areas above.
Tractor Intensive (optional tractor workshop and driving practice)

Shop Safety, Tools & Supplies

Systems & Parts of the Tractor

Service & Maintenance (1)

Service & Maintenance (2)

Troubleshooting & Basic Repair

Please hold for a snow cancellation make-up day
Hudson Valley Farm Hub 1875 Hurley Mountain Road Hurley, NY 12443
Attendance to the program is free, though you do need to commit to attending all sessions.  We will provide stipends to eligible participants for travel and childcare expenses.
Applications go live on October 3, 2022 and the deadline to apply is November 21, 2022. To apply, please find our application
here
. For further inquiries about Farm Mechanic Basics, please contact Sara Katz at 
skatz@hvfarmhub.org
or call 845.331.1187 x 107.