Cornell researchers share knowledge on no-till grain production at the Farm Hub
Leer en Español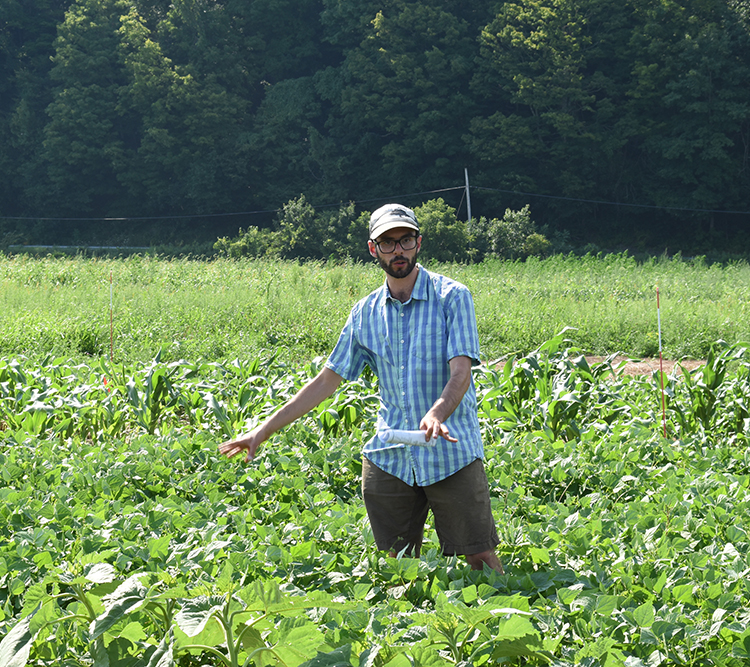 On August 4 the Farm Hub hosted a no-till research demonstration day where growers and researchers convened to share learnings in organic no-till grain production. 
Despite record high temperatures, the half-day event drew a crowd of farmers, educators, researchers, scientists, and soil health professionals from around the region who were keen on learning about no-till methods.
The field day highlighted the partnership between Cornell University's Sustainable Cropping Systems Lab and the Farm Hub, specifically the work of the "New Crops for Organic No-till" a three-year experiment hosted by the Farm Hub.
At the event, Dr. Matt Ryan and Uriel Menalled of the Cornell Sustainable Cropping Systems Lab addressed key findings from the trial, which started in 2020 (click here to read their article). It carries a goal of developing agroecological management strategies for eliminating tillage from organic grain crop production. As part of the project, ongoing field experiments were held at the Farm Hub and the Cornell Musgrave Research Farm in Cayuga County, NY. The project is timely as growers are increasingly challenged by high input and production costs, a severe labor shortage, and the realities of climate change with heavy rainfall on the East Coast.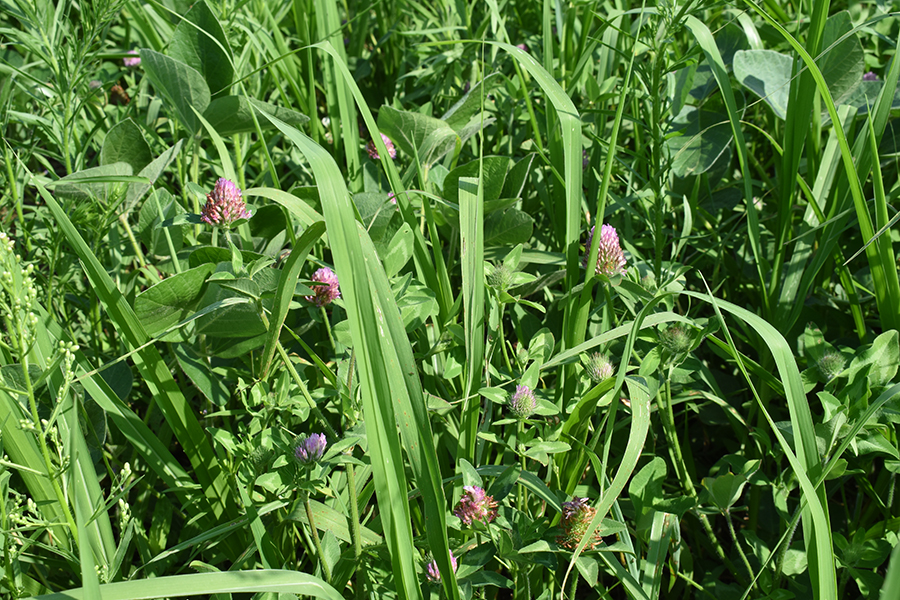 Ryan and Menalled also touched upon the benefits of no-till systems including suppressing weeds with mulch, reducing soil erosion, and building resilience to heavy precipitation events in the Northeast that have increased in frequency over the past several decades. Attendees were led on a guided tour by Menalled into the field trial plots of 16 combinations of cover crops and no-till planted cash crops. The factorial experiment included four cover treatments: 1) canola, 2) cereal rye, 3) hairy vetch, and 4) a mixture of cereal rye and hairy vetch which were mechanically terminated with a roller-crimper before being no-till planted with four cash crops: 1) sunflower, 2) dry beans, 3) soybeans, and 4) sweet corn.
"We are trying to create a successful organic no-till system," said Menalled.
"Our preliminary weed biomass and crop yield results are exciting because they suggest that farmers can successfully no-till plant a variety of organic cash crops when matched with an appropriate cover crop," wrote Menalled in the article about the trial.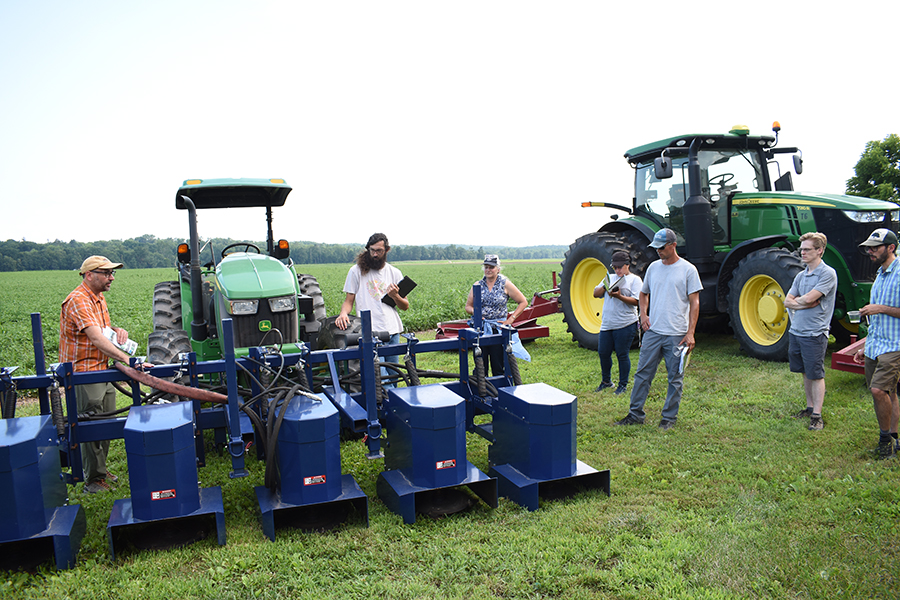 Sarah Pethybridge, an associate professor at Cornell Agritech who specializes in plant pathology, discussed root diseases in summer crops, and Annika Rowland, a PhD student at Cornell, presented on weed management in organic no-till soybeans. Attendees also had a chance to check out equipment for organic no-till such as the roller crimper and the inter-row mower.
Jeff King, a farmer at Belleville Community Farm in Orange County, NY, says the information was useful as Belleville farms with organic practices and is transitioning into no-till production.
"We believe in the benefits of no-till veggies…in looking at research you see how the soil system really benefits from not disturbing it and the microbiology of undisturbed soil basically provides all of the nutrients needed for your crop."
Attendees also said they were inspired to attend the event as they seek solutions to grow more sustainably. Jingjing Yan, with the commercial ornamental horticulture for Cornell Cooperative Extension, works closely with cut flower growers.
"They are very interested in growing cover crops for fertility for weed suppression and they are very interested in no-till as they are also trying to grow cut flowers sustainably," says Yan. "Some 90 percent of the cut flower farmers I work with use landscaping fabric so it's very expensive and second, it's not sustainable, and third with supply chain issues it's even hard for them to get it. I am trying to find a more sustainable and affordable solution for weed suppression."
Next phase
The inspiration for the event came as a way to connect researchers and scientists with farmers for exchange. "The goal is to have a two-way conversation where we discuss the challenges and solutions to organic no-till," Ryan says. In reflecting upon the field trial with the Farm Hub he says, "we've been practicing rotations for a couple of years now and the work that we are doing here has been opening up doors. We've convinced ourselves that there's enough success here that it's worth our time. Now, it's really trying to figure out the cultural practices and trying to dial in and get the details right." There is strong interest too from conventional farmers and soil health enthusiasts.
While the experiment ends with field work wrapping up in October, the researchers say this is only the start of moving towards a long-term vision of identifying successful organic no-till systems. The researchers plan to extend the study of cash crops from soybeans to a "portfolio of crops." In experimenting with mixes of cash crops and cover crops they seek to "string together a crop rotation where we can get closer to a more continuous organic no-till system as opposed to a rotational no-till system." The hope is that there will be a point "where this will be the norm that this will be the way that people grow crops in the future and especially dealing with issues with climate change."
While this was the last year of these particular trials, Menalled says it will take him several years to analyze the experiment's data and write and present papers for a handful of journals and extension outlets. The plan is to broaden knowledge and data sharing from farmers to policymakers and create space and events for exchanges and discussions.
Click here for the No-Till Soybean Guide and here for the article reviewing the "New Crops for Organic No-till" preliminary results.
-Amy Wu