A pair of cranes found a temporary home at the Farm Hub
By Anne Bloomfield, Applied Farmscape Ecology Program Manager
Featured photo by Peter Schoenberger
On the evening of July 7, two Sandhill Cranes were observed at the Farm Hub by Paige Cranfield our Assistant Farm Manager. They continued to be seen as recently as July 23. Sandhill Cranes are uncommon in our area. Even less common are birds who show up in July and are observed in one location for several weeks with fall migration typically happening in September and later in nearby portions of their range.
The cranes were mainly observed near a recently harvested wheat field as well as an irrigation pond, typical migratory and roosting habitats for this species. As omnivores, their diet consists of anything from waste grain, to plant material, small vertebrates, and invertebrates. Sandhill Cranes stay with the same mate for much of their lives – living up to 35 years old.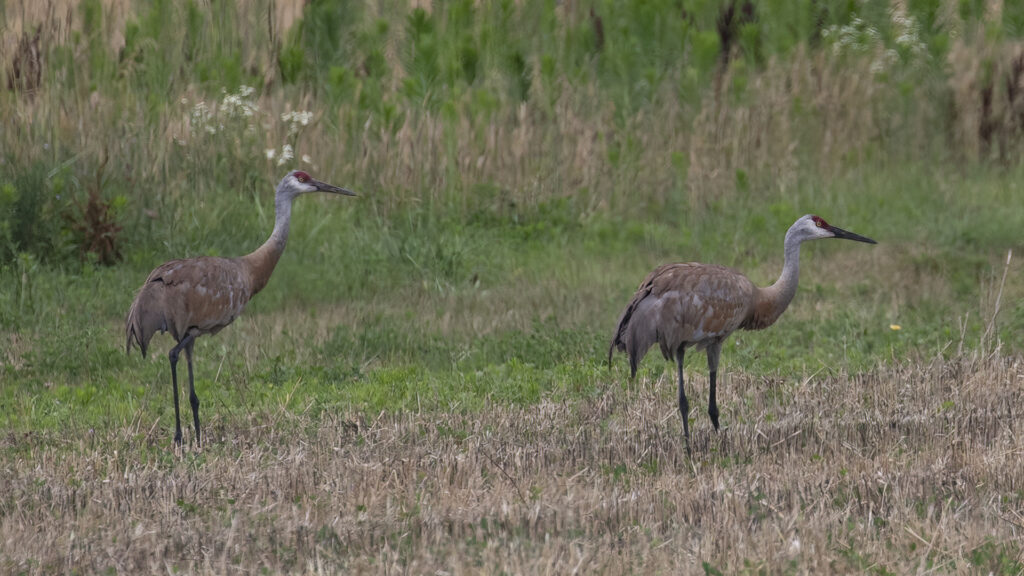 The 2000-2005 New York State Breeding Bird Atlas indicates confirmed and possible breeding by Sandhill Cranes in the central and western portions of New York State. The previous atlas from 1980-1985 indicated Sandhill Cranes did not nest in the state at that time. Habitat loss and overhunting previously resulted in declines of this species. Since the 1980's the eastern population has been increasing and most Sandhill Crane populations are stable or increasing.
The cranes at the Farm Hub continued to be seen until early August. As of the end of September, some 185 species of birds have been identified at the Farm Hub.