(Spanish translation to follow/traducción en español abajo)
By Amy Wu and Sara Katz
Sara Katz is the Agricultural Education and Training Program Manager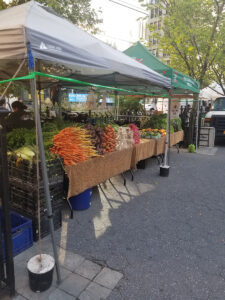 In the abundant Black Dirt soils of Orange County, New York, a few new farms took root this year, amidst a pandemic and a recession. This welcome development in a challenging period was a testament to the fortitude and commitment of these regional farmers. It also speaks to the importance of non-profit initiatives like La Nueva Siembra, a six-week business planning course for beginning farmers.
The course is part of GrowNYC's Beginner Farmer Program which has been in existence for over twenty years and serves farmers with business technical assistance and training, all part of their venerable Food Access and Agriculture program which operates over 50 greenmarkets, 15 farmstands, and eight Fresh Food Box sites in New York City.
Gabriela Pereyra, the Beginning Farmer Program Manager and facilitator of La Nueva Siembra, says the program assists beginning farmer-entrepreneurs with a focus on immigrants and farmers of color. A key goal is to develop the business planning and financial management skills they need to start farms as well as sustain their businesses in the long term.
GrowNYC previously offered farm business training for a Spanish-speaking farmer audience, but since 2011 the courses were primarily held in English to serve a broader BIPOC [black, indigenous and people of color] audience of beginning farmers.
"Two years ago we had the idea again to hold the business training in Spanish. We saw the need from the community — there are certain concepts and ideas they feel more comfortable talking about in Spanish or learning in Spanish," says Pereyra, referring to the feedback she received from farmers.
A new partnership
Through La Nueva Siembra, GrowNYC offers farm business programming to new farmers in the Hudson Valley. In addition to the course, participants receive up to two years of technical assistance in marketing and financial management, and may also work with mentors to further their agricultural production skills.
Starting in 2020, the Farm Hub's education program began hosting La Nueva Siembra.
In addition to hosting the course at the farm, the Farm Hub's Language Justice team offered interpretation and translation services to adapt content into Spanish, while the Farm Hub education team, along with GrowNYC, worked to adapt the course and workshops to best serve the participants. This year, hands-on tractor training was designed for participants looking to increase mechanization on their farms.
"Agriculture in the United States is largely performed by immigrant farmworkers who hold a wealth of production expertise and business savvy, yet are systematically denied opportunities to start their own farms. Programs like La Nueva Siembra offer language-appropriate assistance to help them get started, create equity, and exercise their independence" says Chris Wayne, the Director of GrowNYC Farmer Assistance.
In 2020, a unique land access opportunity was afforded to several experienced farmer participants through the non-profit Chester Agricultural Center (CAC). Situated on 180 acres of uniquely rich soils (up to 40% organic matter), the land was ancestral lake bottom back when glaciers covered the region. CAC's focus is on the preservation of the farmland and also the provision of affordable, long-term leases to beginning-level farmers. CAC also provides access to infrastructures such as wash and pack, cold storage, and greenhouses.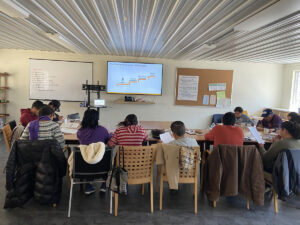 The timing was fortuitous. Four participants out of the 16 from the 2020 cohort were already planning to launch their farms. For three of them, GrowNYC's business development assistance coupled with an opportunity to lease farmland at CAC would help them to realize their plans during an unprecedented time.
After one in-person session to kick off the program back in March, the pandemic forced GrowNYC to make quick changes to the program as originally outlined.
With greenhouses full of leafy transplants and plans to sell to farmer's markets in New York City and regionally, the farmers still planned to launch their businesses this year.
GrowNYC adapted the program, largely by providing one-to-one technical assistance on topics such as marketing – helping growers to apply to sell at area farmer's markets, to develop key elements of their business plans, and to routinize essential financial record-keeping.
In many cases, Pereyra worked with the farmers individually. "That relationship-building has been key to serving the farmers as well as keep them engaged in the program," says Sara Katz, Education Program Manager at the Farm Hub.
At CAC, Grandpa Farm, led by two sisters in their 20s along with their grandfather, launched the business after several years of working on other farms in Chester since they migrated here from their native Puebla, Mexico. They are already selling at five farmer's markets and to two wholesale accounts.
Huerta Farms is also a family-led operation in the start-up phase of growth. Huerta means "vegetable garden" in English, and is indicative of the small, diversified business model the Huerta family plans to create. The operation started in 2019 and is planning to be in full production in 2021 by adding arable acres in production, farmers markets, and wholesale accounts.
Acevedo Family Farm grows diversified vegetables and Mexican specialty products in the black dirt for sale through farmer's markets. After their father passed away earlier this year, two Acevedo siblings in their 20's made the decision to keep the business going. With limited experience, the learning curve has been steep, but in 2020, through a global pandemic, they have been successful in carrying on their father's farming legacy.
They found they had to quickly adapt to changing circumstances, making alterations to their crop plans as demand changed from restaurant and wholesale clients or farmer's markets. New opportunities arose, as Chester Agricultural Center worked to support their farmers to sell in a new online sales platform, the CAC Farm Store. Pereyra supported them in real-time, addressing issues as they arose, for instance, working with the farmers to minimize production expenses or develop their branding.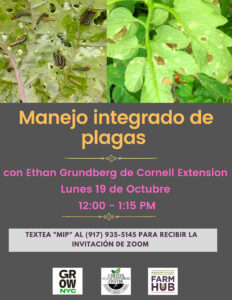 Tractor training and more
This fall, the program offered a series of workshops on several agricultural production topics, chosen based on participant interest. The three-part series included virtual workshops on Zoom on "Cultivo en invernaderos durante el invierno" (greenhouse production during the winter), led by local farmer Ashley Loehr of Sparrowbush Farm, and another on pest management based on organic principles, led by Ethan Grundberg of Cornell Cooperative Extension's Eastern New York Commercial Horticulture Program.
In November, the Farm Hub added an in-person "Capacitación del Tractor" (tractor training) covering safety and operation. The sessions were held in Spanish and offered hands-on driving practice, with some of the Farm Hub's most experienced staff operators on hand to assist.
The business planning course will resume this winter after the farmers have gained valuable experience surviving what is their first growing season as independent producers.
To learn more about GrowNYC's Beginner Farmer Program click here.
Lead Photo: The Chester Agricultural Center is located in the black dirt region in Orange County, NY, known for some of the most fertile soil in the country. Photo courtesy of Chester Agricultural Center.
---
UN PROGRAMA PARA AGRICULTORES PRINCIPIANTES SE ADAPTA A LA PANDEMIA
Por Amy Wu y Sara Katz
Sara Katz es gerente del Programa de Educación y Capacitación Agrícolas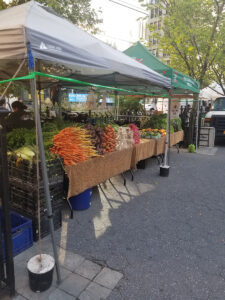 En las abundantes Tierras Negras del condado de Orange, Nueva York, unos cuantos ranchos nuevos echaron raíces este año, entre una pandemia y una recesión. Este desarrollo, bienvenido en un período difícil, fue un testamento de la fortaleza y el compromiso de estos agricultores regionales. También habla de la importancia de iniciativas sin fines de lucro como La Nueva Siembra, un curso de planificación de negocios de seis semanas para agricultores principiantes.
El curso es parte del Programa de Agricultores Principiantes de GrowNYC que lleva más de veinte años de existencia y sirve a agricultores con ayuda de negocios y capacitación como parte de su programa Food Access and Agriculture (Acceso a Comida y Agricultura) que opera más de 50 mercados agrícolas, 15 kioscos y ocho sitios Fresh Food Box (comida fresca en cajas) en la ciudad de Nueva York.
Gabriela Pereyra, gerente del Programa de Agricultores Principiantes y facilitadora de La Nueva Siembra, dice que el programa ayuda a agricultores principiantes emprendedores con un enfoque en inmigrantes y agricultores de color. Una meta principal es desarrollar la planificación del negocio y las destrezas de administración financiera que necesitan para comenzar ranchos y sostener sus negocios a largo plazo.
GrowNYC previamente ofreció capacitación de negocios agrícolas para un público agricultor de habla hispana, pero desde 2011, los cursos se hicieron principalmente en inglés para un público más amplio de agricultores principiantes, personas Negras, Indígenas y demás personas de Color [Black, Indigenous, and People of Color, o BIPOC en inglés].
"Hace dos años, se nos ocurrió la idea de ofrecer capacitaciones de negocio en español. Vimos la necesidad de la comunidad – hay ciertos conceptos e ideas que se hablan con más comodidad en español o se aprenden mejor en español", dice Pereyra, refiriéndose a la retroalimentación que recibió de los agricultores.
Una nueva colaboración
A través de La Nueva Siembra, GrowNYC ofrece una programación de negocios agrícolas a nuevos agricultores en Hudson Valley. Además del curso, los participantes reciben hasta dos años de asistencia técnica en mercadeo y administración financiera, y hasta pueden trabajar con mentores acompañantes para mejorar sus destrezas de producción agrícola.
A partir de 2020, el programa de educación de Farm Hub empezó a patrocinar a La Nueva Siembra.
Además de patrocinar el curso en el rancho, el Equipo de Justicia de Lenguaje de Farm Hub ofreció servicios de interpretación y traducción para adaptar contenido al español, mientras que el equipo de educación de Farm Hub, junto con GrowNYC, trabajó para adaptar el curso y los talleres con el fin de servir mejor a los participantes. Este año, una capacitación de tractores se diseñó para los participantes que querían aumentar la mecanización en sus ranchos.
"La agricultura en Estados Unidos en gran parte la hacen agricultores inmigrantes que tienen toda una riqueza de experiencia en producción y negocios, pero a quienes se les niegan sistemáticamente oportunidades para comenzar sus propios ranchos. Programas como La Nueva Siembra ofrecen asistencia de lenguaje para ayudarles a comenzar, crear equidad y ejercer su independencia", dice Chris Wayne, director de GrowNYC Farmer Assistance.
En 2020, surgió una oportunidad única de acceso a tierras para varios participantes agricultores con experiencia a través de la organización sin fines de lucro, Chester Agricultural Center (CAC). Ubicada en 180 acres de tierras ricas de una forma única (hasta 40% de materia orgánica), las tierras fueron el fondo de un lago ancestral cuando los glaciares cubrían la región. CAC se enfoca en la preservación de tierras agrícolas y en la provisión de alquileres asequibles y a largo plazo para agricultores principiantes. CAC también brinda acceso a infraestructura, como lavado y embalaje, almacenamiento en frío e invernaderos.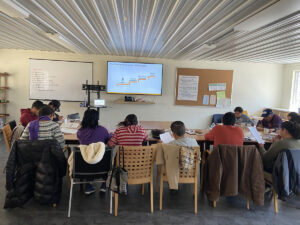 El tiempo fue fortuito. Cuatro participantes de los 16 de la cohorte de 2020 ya estaban planificando la inauguración de sus ranchos. A tres de ellos, la asistencia para el desarrollo de un negocio de GrowNYC, junto con una oportunidad de alquilar en CAC, les ayudaría a llevar a cabo sus planes en un tiempo sin precedentes.
Después de una sesión en persona para comenzar el programa en marzo, la pandemia obligó a GrowNYC a hacer cambios rápidos al programa, según se había planificado originalmente.
Con invernaderos llenos de trasplantes verdes y planes de vender a mercados agrícolas en la ciudad de Nueva York y la región, los agricultores todavía tenían planes de lanzar sus negocios este año.
GrowNYC adaptó el programa, en gran parte al brindar asistencia técnica individual sobre temas como mercadeo –ayudar a productores a solicitar para vender en mercados agrícolas del área, desarrollar elementos clave de sus planes de negocio y hacer del mantenimiento de registros financieros esenciales algo rutinario–.
En muchos casos, Pereyra trabajó con los agricultores individualmente. "Crear relaciones ha sido clave para servir a los agricultores y mantenerlos activos el programa", dice Sara Katz, gerente del Programa de Educación en Farm Hub.
En CAC, Grandpa Farm, dirigido por dos hermanas en sus 20, junto con su abuelo, inauguraron su negocio después de trabajar durante varios años para ranchos en Chester, después de migrar a este lugar de su lugar de origen, Puebla, México. Ya están vendiendo en cinco mercados agrícolas y a dos cuentas al por mayor.
Huerta Farms también es una operación en su fase inicial de crecimiento que está dirigida por una familia. Huerta, que significa "jardín de vegetales", es indicativo del modelo de negocios, pequeño y diversificado, que la familia Huerta piensa crear. La operación comenzó en 2019 y está pensando estar en plena producción en 2021, añadiendo acres arables en producción, mercados agrícolas y cuentas al por mayor.
Acevedo Family Farms siembra vegetales diversificados y productos de especialidad mexicanos en las tierras negras para vender a través de mercados agrícolas. Después de que su padre falleciera a principios de este año, dos hermanos Acevedo en sus 20 tomaron la decisión de mantener el negocio en operación. Con experiencia limitada, la curva de aprendizaje ha sido empinada, pero en 2020, a través de una pandemia global, han tenido éxito en mantener vivo el legado agrícola de su padre.
Encontraron que tenían que adaptarse rápidamente a circunstancias cambiantes, hacer alteraciones a sus planes de siembra según la demanda cambió de clientes que eran restaurantes a compradores al por mayor o mercados agrícolas. Surgieron nuevas oportunidades, a medida que Chester Agricultural Center trabajó para apoyar a sus agricultores para vender en una nueva plataforma en línea, CAC Farm Store. Pereyra apoyó en tiempo real, atendiendo asuntos a medida que surgieron, por ejemplo, trabajando con los agricultores para minimizar los gastos de producción o desarrollar su marca.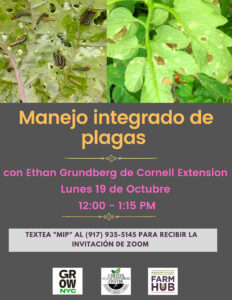 Capacitación del tractor y más
Este otoño, el programa ofreció una serie de talleres sobre varios temas de producción agrícola, escogidos según el interés de los participantes. La serie de tres partes incluyó talleres virtuales de Zoom sobre el "Cultivo en invernaderos durante el invierno", liderados por la agricultora local Ashley Loehr, de Sparrowbush Farm, y otro sobre el manejo de plagas con principios orgánicos, liderado por Ethan Grundberg, del Programa de Horticultura Comercial del Este de Nueva York de Cornell Cooperative Extension.
En noviembre, Farm Hub añadió una capacitación en persona, llamada "Capacitación del Tractor", que cubrió cuestiones de seguridad y operación. Las sesiones se hicieron en español e incluyeron prácticas de conducir, con la ayuda de algunos de los conductores con más experiencia en el personal.
El curso de planificación de negocios empezará de nuevo este invierno después de que los agricultores hayan obtenido valiosa experiencia de supervivencia de su primera temporada de cosecha como productores independientes con experiencia.
Para aprender más sobre el Programa de Agricultores Principiantes de GrowNYC, haga clic aquí.