By Amy Wu
On any given day, farming can start with a smartphone. One late summer morning, Jeff Arnold, the vegetable production manager, slips an iPhone from his back pocket and clicks on the iGrow 800 app. He scrolls through the dashboard, a checkerboard of information including temperature, humidity, ventilation status, outside weather, and much more.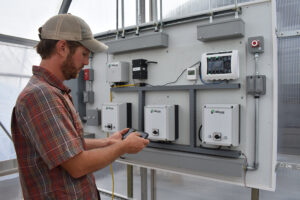 The iGrow, a cloud-based software platform that allows farmers to monitor data with mobile devices, is synced via WiFi to a tablet-sized monitor mounted on a wall inside the greenhouse. Just as easily as Arnold can be anywhere on the farm and monitor the greenhouse, he can be at home, in his car, or at the gas station. Arnold clicks again and the ridge vent on the roof of the greenhouse begins opening, exposing a slant of sky. In case it rains, he has the software programmed so the vents will automatically close. In July the iGrow package was made complete with a weather station that is connected with the software.
While the system was only introduced this year, Arnold likes what he sees so far.
"The system so far has been great; the automated ventilation saves us tons of time and gives us much more consistent environmental conditions," says Arnold. "The peace of mind is huge as well – I can monitor conditions and make changes when I'm not on the farm. The system will text me when temperature or humidity becomes excessive and I can manually open or close vents and turn the heat on or off from anywhere with internet or cell service."
The iGrow is one example of how the Farm Hub, and agriculture as a whole, are increasingly adopting technology when it comes to producing food.
The combination of agriculture and technology, sometimes referred to as agtech, is helping address challenges that growers face including labor shortages, water, and land management problems, and the pressure to feed what is forecasted to be a world population of nearly 10 billion by 2050, according to the United Nations. Growers of all sizes may turn increasingly to innovative technology as a means of improving efficiency and quality on their farms.
Farming and machinery have always gone hand in hand. Many newer tractors include GPS systems or functions that calculate the exact amount of fuel needed per acre. But new agricultural technology extends to everything from drones, sensors, and robotics to new ways of soil sampling, and the Internet of Things (IoT), referring to physical devices now connected to the internet.
Here at the Farm Hub, some technology is being incorporated into operations. A few years ago, the production team adopted AgSquared, a cloud-based workflow management system that helps farm managers with record-keeping fertilizers, pests, and costs. Arnold says the system has been helpful in organizing information for budgeting and estimating costs.
Embracing innovation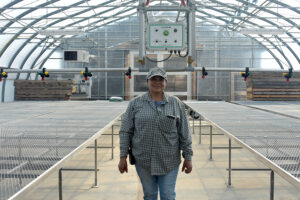 Last spring the Farm Hub opened two new greenhouses for production. These were built to enhance year-round productionand they proved critical in our ability to meet the demand for food donations related to COVID-19.
The new greenhouses are three times larger than the older ones, each 216 feet long and 42 feet wide. Rosa Villegas, the Farm Hub's greenhouse coordinator, is optimistic that the new tools will help with efficiency and lead to higher yield and higher quality produce. Over the course of the season, Villegas oversees the production of over half a million vegetable starts.
The new greenhouse includes a rolling benchtop system to maximize the available growing space. A watering boom that resembles a fine-toothed comb runs up and down the length of the greenhouses, eliminating the need for hand watering and giving a more consistent watering pattern across the greenhouse. The Aquaboom controls the speed of watering as well as the amount, which helps guarantee quality transplants.
"Healthy transplants are one of the most important pieces of a successful vegetable operation so we are always looking for ways to streamline and improve our greenhouse systems," Arnold says.
Villegas has embraced the new watering system, noting that it allows her to juggle the increased number of greenhouses. This past August, it proved useful for the seeding of winter greens such as kale and spinach. She has also been trained in iGrow functions such as the programming of the ventilation equipment.
At first, she was hesitant as she questioned when she'd be able to grasp it.
"Once I learned how to operate the system I said I `oh that's easy,' but at first when you don't know how it works it's kind of scary," Villegas says.
Digital camera weeding
The vegetable production crew has also adopted a digital camera cultivation (or mechanical weeding) system called Vision PV, made by the German company K.U.L.T.. This helped the team decrease the hours spent weeding this past season.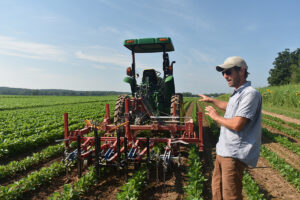 The digital camera, which distinguishes between crops and weeds, is mounted to the cultivation toolbar of the tractor. The system's camera, computer, and hydraulics communicate in harmony and make adjustments automatically so that only weeds are removed and no crops are lost. Camera controlled weeding allows the tractor driver to set the equipment up with a small margin of error, greatly reducing the need for hoeing or hand weeding.
While it is too early to gauge the overall impact of these developments on the 2020 growing season, Arnold estimates the new innovations have helped increase yield by over 10 percent.
"We are increasing our production, so it takes a lot more time to weed and to cultivate, but I think with the new technology, if we use it well, then we will be on track," says Jaime Cardoso, assistant vegetable manager.
Arnold agrees and says: "With vegetable crop acreage significantly increased, we are spending more time planting and harvesting and less time managing the weeds, which is always a challenge when the season gets busy."
He continues:
"The camera weeding system should really pay off in a few years' time. Compared to traditional cultivation equipment, an operator can drive faster and set the equipment with a much smaller margin of error – we have seen close to 100% weed kill if we get the timing right," Arnold says.
Despite the advantages of technology, it's not without its own set of headaches. Sensors fail, internet connectivity can be lost, and computer programs malfunction. These issues often leave growers hanging until specialized support technicians can diagnose the problem.
"The more technological a system is, the harder it can be to fix," says Arnold. "If the computer on our camera weeder goes down, chances are it's not an in-house repair and I'm not using that machine until I can talk to a programmer remotely. If I have an issue with one of the specialized greenhouse controllers, I'm on the phone with tech support in California to troubleshoot."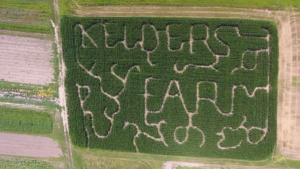 Arnold notes that: "Most growers are actually quite tech-savvy, and in order to be successful they have to be good at troubleshooting the myriad problems that arise on a daily basis on a working farm. But with many of the newer technologies, you either need specialized training and tools or a background in computers to diagnose issues."
John Kelder, the owner of Kelder's Farm in Kerhonkson, invested in a drone several years ago and found that it has not only been helpful for marketing, but also for crop management. The drone, a DJI Phantom, is able to capture different angles of crops including in the early stages of growth. Kelder's 100 acres includes a significant amount of sweet corn, and Kelder says the drone saves time and also manpower as it can be hard to cover an entire cornfield by foot.
"With the different angles of photos, there are certain things you can tell. Maybe a section looks a little behind in leaf fullness and that information might be helpful," says Kelder. "I could see that a spot of corn didn't come out good." Kelder forecasts that technology will increasingly be welcome into farming.