By Sara Katz, Program Manager, Agricultural Education & Training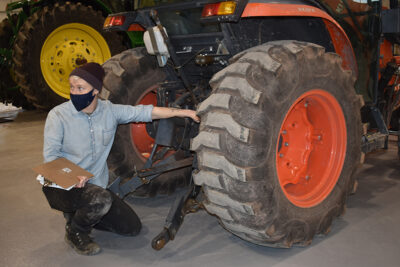 On a series of Saturdays this winter, one absolutely glistening with the ice and snow of a now-infamous storm that hit Ulster County (75 electrical poles down, 2,000 felled trees), a group of young farmers nestled around tractors and implements in a sprawling machine shop. We could hear as chunks of ice slid off the roof in large tracts, amidst discussion of the solenoid's function within the starter system of a tractor. This is a glimpse of Farm Mechanic Basics, the Farm Hub's new 72-hour training program that covers the fundamentals of tractor operation, maintenance, troubleshooting, and basic repair.
Led by instructor Sarah Groat, a farm mechanic with a traveling roadshow of a business servicing regional farms, the program was conceived in the pandemic years through the Farm Hub's Agricultural Education and Training program. Other instructors include local farmer Jayne Henson, of Transgenerational Farm, in Accord; John DiMarco, a mechanic at Stone Barns Center for Food & Agriculture; along with seasoned equipment operators on the Farm Hub's own staff.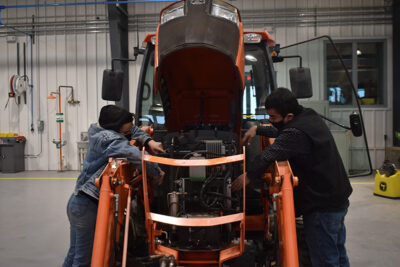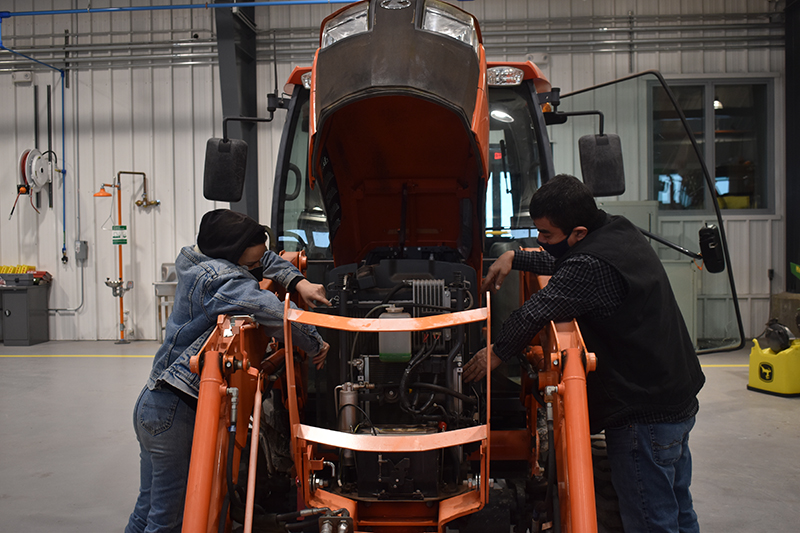 With a fleet of tractors and a range of implements, as well as a new farm mechanic shop complex, the Farm Hub designed the program to offer training where a gap existed in the "pipeline" of offerings in the Hudson Valley—the apprenticeships, workshops, farmer social networks, Cornell Cooperative Extension services, all the myriad ways that one gain skills in agriculture. Our vision for the program is to increase professional development around farm mechanization so that farmers and other agricultural workers can make their farms more efficient, scale up if desired, make expensive equipment last, be safe in a dangerous profession, and save money.
Few farmers newer to the profession in the region tend to hold much mechanic experience. We chose participants from a range of backgrounds and skill levels in agriculture and mechanics, some holding very little experience other than the basic operation of a tractor; others are the main operators on the small farms they work. We were also guided by popular education philosophy, whereby adult participants come in with a wealth of life experience that fosters shared learning if encouraged and built in to the programming. In one of the early sessions covering the "Farmer's Toolbox", students got to know one another at various tool stations, while practicing a task, like using an air compressor to inflate a tractor tire, or discovering the difference between metric versus SAE (Society of Automobile Engineers) fasteners and bolts.
"I've been wanting an opportunity to do something like this since I've been working on farms for the past 11 years," shared participant Adam Mahon, Farm Manager at SPACE on Ryder Farm in Westchester County. "There's still a barrier of information depending on where you are in the country and depending on the type of operation…I didn't have people in my immediate circle with a foundation in mechanics or even farm equipment beyond operation. There were massive gaps in my experience and knowledge. Right now I'm in the middle of servicing our tractors and it's like 800 hours and I now have some of the confidence, as a lot of the stuff we're doing now has been reviewed in this class, whereas I didn't have a lot of confidence before. Those are life skills to build on."
To gather again in-person after nearly two years in the virtual program space was an additional reward for all of us, instructors, participants and host alike. Even masked and spaced six feet apart, we laughed, we socialized, we asked questions, tinkered with tools and changed oil.
To learn more about this program, which we plan to offer each winter, please click here.