Leer en Español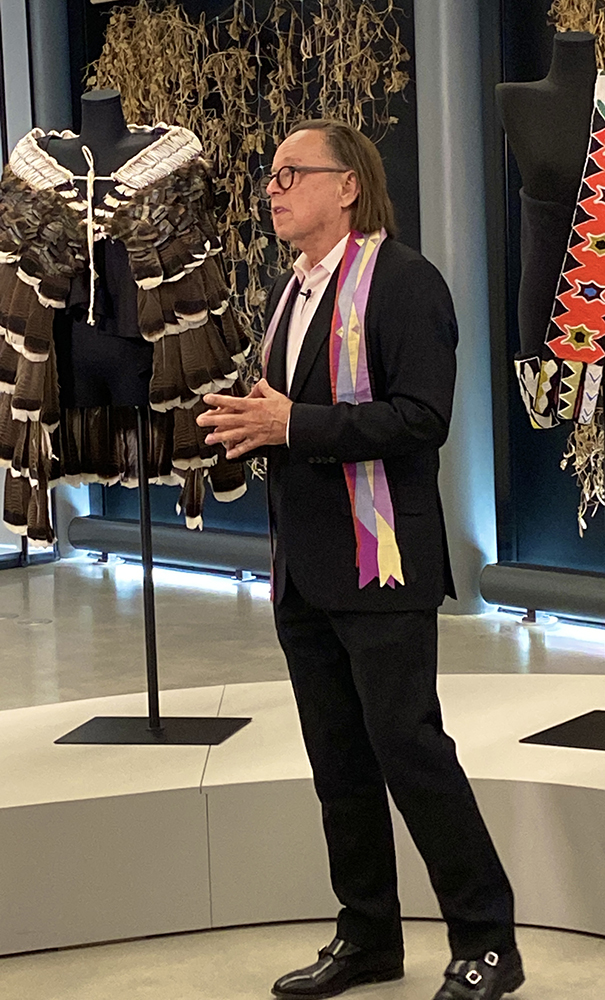 Joe Baker recently curated "Lenapehoking," the first Lenape-curated exhibition of its kind in New York City. The Exhibition opened at The Brooklyn Public Library on June 28, 2022 and runs through April 30. Baker, the co-founder of The Lenape Center, is an artist, scholar and an enrolled member of the Delaware Tribe of Indians. The exhibition includes a series of initiatives such as talks, poetry readings and the planting of Indigenous fruit trees on the library's rooftop teaching garden. The Hudson Valley Farm Hub celebrates the new exhibition and its continued partnership with The Lenape Center, which includes the growing of ancestral seeds at the Farm Hub. During our conversation we touched on the inspiration for the exhibition and the process of curating the artworks. 
What was your inspiration to create an exhibition and is it your first?
It is the first Lenape curated exhibition within the City of New York. And it's extremely meaningful in that it fulfills a lifelong dream to be recognized within the cultural arts and cultural institutions within the City of New York, which we Lenape have not been, up until this point in time. So, on a personal level this is a very exciting moment. The art that was chosen for the exhibition is all about the return – the return of the bandolier bag, an important element of Lenape men's dress. There is also the turkey feather cape, and also the seeds–the seed tapestry walls. It's also about the return of our ancestral seeds to the homeland.
When did you first come up with the idea of having an exhibition? Has it always been in your mind that you'd like to present it through this platform?
We have been actively pursuing exhibition space within New York City, at the various museums and cultural institutions, for the past 12 years. And Brooklyn Public Library was the first to open their doors and say, "Let's do this." And I will say that the professionalism and the support they have given this project, it's really impressive. Not only do we have the exhibition, we have forthcoming a published anthology of essays by Native scholars and artists and cultural workers. We have extensive programming that will run throughout the course of the exhibit.
It's been a wonderful, wonderful relationship.
Can you share a little bit about how that vision came about?
The programming and the anthology (the publication of the essays) really have been a result of our collaboration, our sort of ongoing conversations about how we can provide the best possible resource for teachers, for schools, for interested parties who really want to know the true history of Lenape presence in Manhattan or in the City of New York. Because we're often asked, "Where do we go for information? What books can you recommend?" There are few, but not that many resources to refer people to. We feel very excited about the fact that we will have what I believe will be the first publication of first-person voice.
Can you share a bit about your process of curating this?
I wanted to present both historic and contemporary voices. There are two beaded bandolier bags that are from the 1850s, that time period, and then contemporary bags, 1999 through 2021. The turkey feather cape is very new. It was just completed by tribal member Rebecca Haff Lowry and her mother-in-law, Christmas this year.
And the story of the bandolier bags, there are traditional values for the Lenape, and those values are beauty, generosity, and relationships, relations. There was great chaos. There was great upheaval, there had been five removals from the homeland up until that point in time, and then the final removal to Indian Territory in 1867. But throughout all this chaos and violent history, there was the creation of beauty and that beauty is expressed in the beaded bandolier bag. That, to me, is so powerful, it's such a powerful message. It's about continuance. It's about survivance, and it's about resistance. And by the early 1900s, this important element of dress, this important work had been collected heavily by collectors, and they had been removed from the community. There was an absence of beaded bandolier bags among our community members. I had never seen one growing up in Oklahoma, except through books and photography. I'd never seen one, an actual bandolier bag. I was determined to educate myself about them and to attempt to bring them back to the community. This exhibit (showcases) the first bandolier bag that I created, which was in 1999.
Is there anything else that you'd like to add about the exhibit?
It's exciting for me as a curator to have brought organic material into this conversation, and that material is in the form of the bean tapestries, which are presented in this space. That would never happen in a traditional museum setting. I love the idea that the exhibit is in a non-hierarchical museum setting, is in a very democratic space, it's at the ground level of a community, and it's accessible without hesitation to all people. I love the fact that it's not in a traditional museum setting, and it has allowed us to do things in the way that probably would not have happened otherwise.
Can you talk a bit more about the turkey feather cape? I found the history and the story of the turkey cape fascinating, especially as there are so few of them.
Yes. Rebecca Haff Lowry, together with her mother-in-law, of the Yurok nation created this turkey feather cape which is really spectacular. They have incorporated a bead and shell motif which you would not see normally on a Lenape turkey feather cape, but it really is a recognition of the Yurok culture and their tradition. It combined two different cultural groups, one on the east coast and the other on the west coast. And I love that kind of conversation.
You noted the partnership with the Hudson Valley Farm Hub that started three years ago. Joe, how did it start? And can you describe the partnership between the Farm Hub and the Lenape Center?
We began the conversation three years ago with K (Greene) about the possibility of Farm Hub making land available for the growing of ancestral seeds, and it began as an exploratory conversation because Farm Hub was already working with the Akwesasne. And it was very important to me, the potential, the possibility of that was a very important moment because I was aware of the fact the tribal elder, Nora Thompson Dean, a member of our community (she passed in 1984) was a traditional woman, she carried plant medicine, she was a fluent speaker, and she was a seed keeper. And she had, within her family, original seed of the Lenape corn. And upon her death, that was placed in the seed bank. We started the first small grow out of the Delaware corn three years ago. The other thing Farm Hub has allowed us to do, is they've allowed us to cry and to laugh. Because this whole issue of returning seeds to the ancestral land, there's an emotional element to that. And they've allowed that expression, they've understood that, and they've supported that.
As we look ahead, although the year is still young, what are some of your hopes and vision for the partnership?
Looking ahead, we have expanded the growing space for both corns and beans. We just met, recently, to review and talk about the layout of the new garden space, which is shared with Akwesasne. And we look forward to that, to singing the seeds awake in the spring and getting in the dirt. It's going to be a great season. Every year, we triple or quadruple our product. It's a growing, thriving enterprise and with the expressed goal of being able to have enough seeds to begin to return these seeds to the home communities in the diaspora.
I understand that the exhibition will close at the end of April. Are you considering future exhibitions?
We are told that at the Brooklyn Public Library the attendance has been overwhelming. They're seeing around a hundred visitors per day. What this has demonstrated to everyone in the community is that there is interest and people do want this experience and this knowledge. We laughingly told Brooklyn Public Library that they were going to have to create a space for a permanent exhibit. We aren't there yet but we are hopeful. Ultimately, our goal for Lenape Center is to have a physical space, and that space would have an exhibition gallery, it would have a space for community, for community events, for public programming, for a library and archives. That's where we would like to be eventually – is to have a physical space, a cultural center that would celebrate Lenape art, and culture and life ways.
When it comes to art overall, why do you feel this is a good way to talk about the history?
Through the arts, we can come to discover and understand complex history. I think the arts are a language of communication that allows for a better understanding, a new pathway of knowledge.
Finally, is there anything that you'd like to add regarding the exhibition itself or the partnerships that have been involved?
I want to commend and celebrate the beauty and the energy of our current partners, Farm Hub and Brooklyn Public Library. Without them, none of this would be possible, and we are eternally and forever grateful. And we look forward to expanding this conversation for the future.
–-Interview by Amy Wu