Event Invitation: Seeds of Hope
The Hudson Valley Farm Hub is a proud supporter of the following event. For more information, visit SeedShed.
Planting Sacred Seeds in a Modern World: Restoring Indigenous Seed Sovereignty 
with Rowen White, Mohawk Seed Keeper and Indigenous Seed Food Sovereignty Activist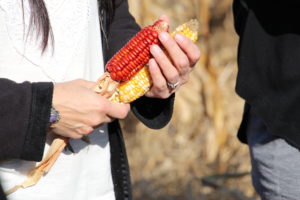 Marbletown Community Center 
3564 Main St, Stone Ridge, NY 12484
Through her work with the Indigenous Seed Keepers Network, Rowen White is helping indigenous communities cultivate culturally appropriate solutions to restoring seed stewardship of traditional foods. One of these projects is taking place right here in the Hudson Valley in collaboration with the Farm Hub.
Rowen and a panel of indigenous and local seed keepers, including Ken Greene of Seedshed, will share powerful and inspiring stories of the rematriation of traditional seeds back into the reverent care of indigenous women and regional heirlooms back into our local communities.
Come learn about the beautiful seed legacy of the indigenous people of this land and see how you can be a part of the Native American Seed Sanctuary next season. Together we will explore how can we use the process of caring for traditional seeds and food as a powerful means of cultural restoration to collectively revitalize the ancient web of relationships that comes with being seed stewards.
DISCUSSION AND SEED STORIES WITH:
Rowen White Mohawk Seed Keeper and Indigenous Seed Food Sovereignty Activist
Kenny Perkins Ohero:kon rites of passage, Akwesasne Task Force on the Environment Horticulturist
Mary Arquette Akwesasne Cultural Restoration, Ahkwesáhsne Task Force on the Environment
Karakwino Tina Square Native North American Traveling College, Ohero:kon rites of passage
Ken Greene Seedshed Co-Director and Hudson Valley Seed Company Founder
Eddie Clevenger Hudson Valley Farm Hub Farm Manager
This event is free.
ABOUT SEEDSHED AND THE NATIVE AMERICAN SEED SANCTUARY
Seedshed and the Hudson Valley Farm Hub have formed a partnership with the Saint Regis Mohawk Tribe to protect, honor, and return sacred seeds to the tribe by establishing a Native American Seed Sanctuary on Farm Hub land. Now in its second year, the Seed Sanctuary has produced and shared thousands of pounds of seeds and food of Mohawk Red Bread Corn, Buffalo Creek Squash, Canada Crookneck Squash, Cranberry Bean, Buckskin Brown Bean, and Onondaga Sunflowers.