By Sara Katz, Education Program Manager
Our Farm Mechanic Basics Program (English) returned this past January, bringing area farmers and agricultural workers together for 9 full-day sessions of hands-on experience with tractor operation, maintenance, and basic repair. Please enjoy some highlights of this winter's program in a photo essay. Learn more about our program here.
Photos by Sara Katz and Amy Wu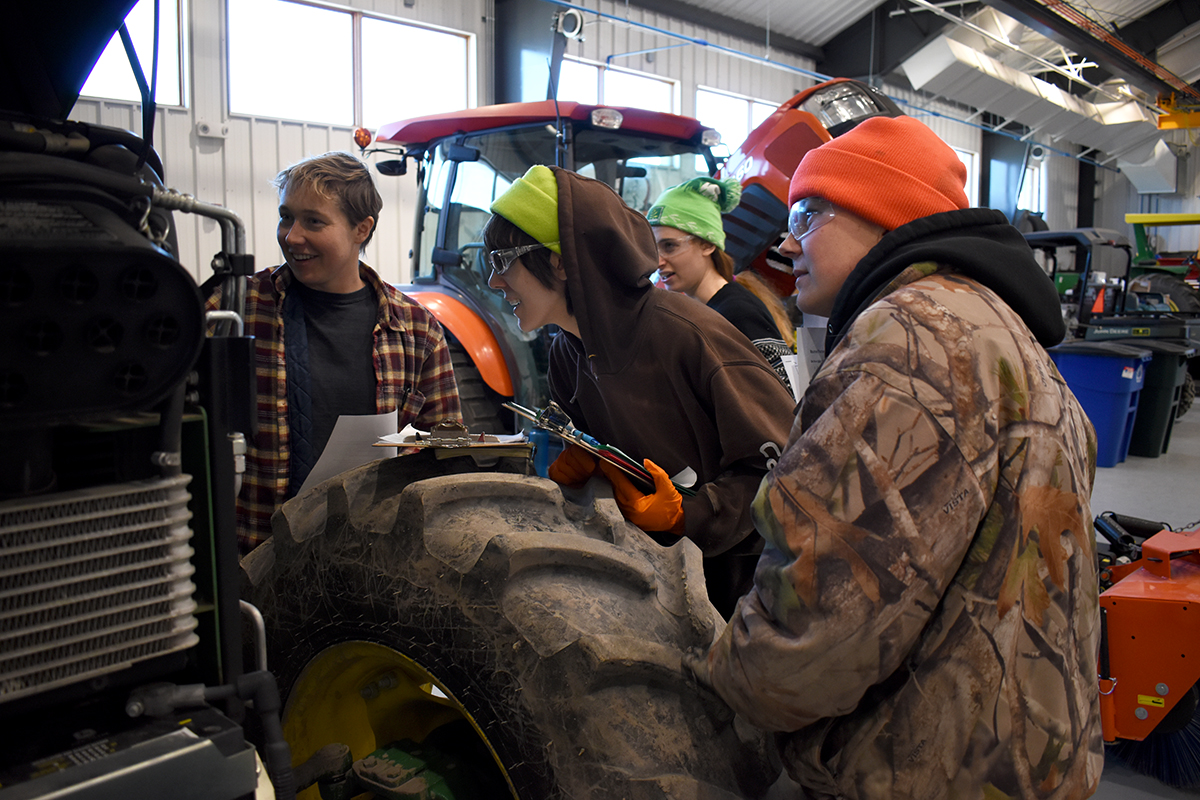 Sarah Groat (left), a regional farm equipment educator who helped design the program, reviews maintenance tasks before participants change engine oil on the tractors.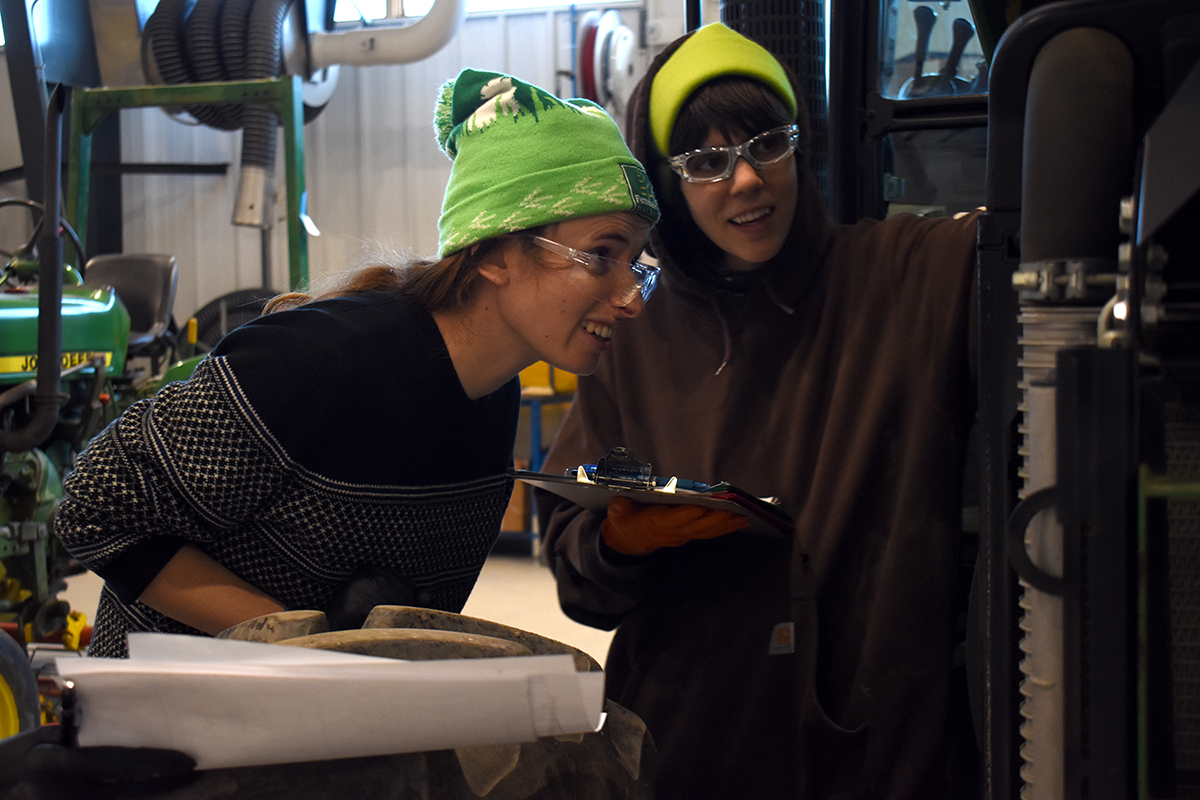 Jamie Nadler and Parisa Yekalamlari conduct routine tractor service checks as part of the training in Service and Maintenance I.
"I was inspired to attend because working and maintaining a tractor or equipment is generally a barrier to moving up in the farm world. This class offered an amazing opportunity to understand equipment better and has given me more applicable skills to hold more responsibility on farms," says Jamie. This coming season she is launching her own operation, Dancing Greens Farm, in Great Barrington, MA.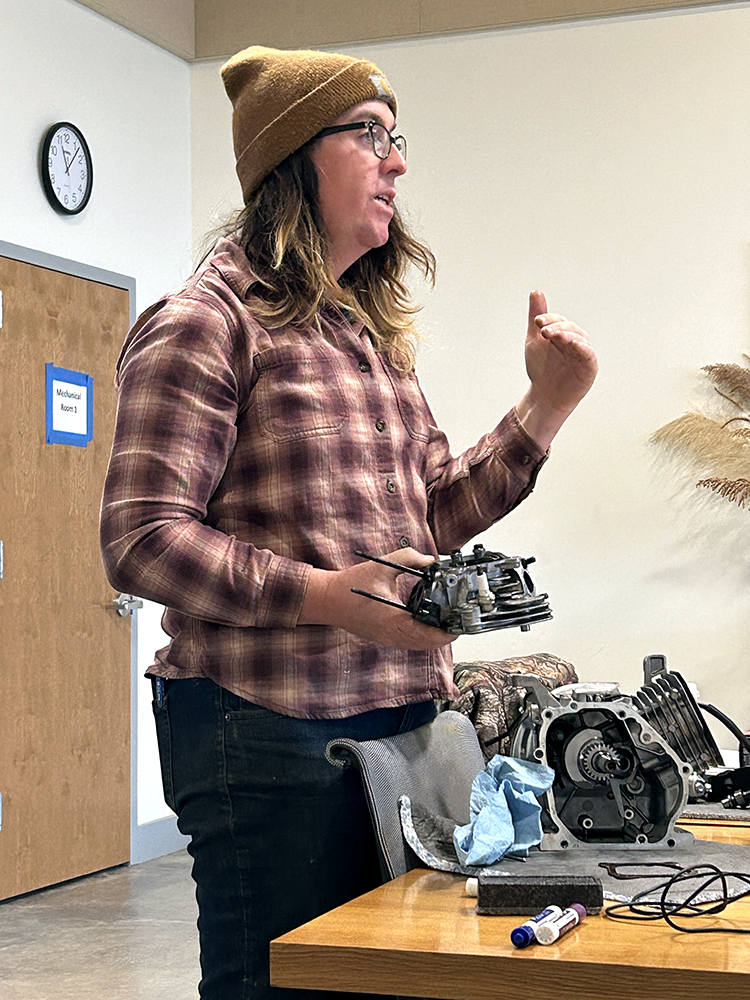 A key element of the program is to develop an understanding of the 2- and 4-stroke engine. Jayne Henson, founder and farmer at Transgenerational Farm, in Accord, leads us through a discovery of the engine's parts and function in the classroom. Later in the day, she supports Jeff Silberman, a retired professor and farmer, with small engine maintenance. Jeff grows indigo for dye, as well as flax for linen. Students from the Fashion Institute of Technology come to harvest and process the indigo each year at his small farm in Westchester County.
As students and instructors reflected on their experience in the course, Jayne said she could "see the wheels turning, see things coming together for people as systems and that is very rewarding for a facilitator."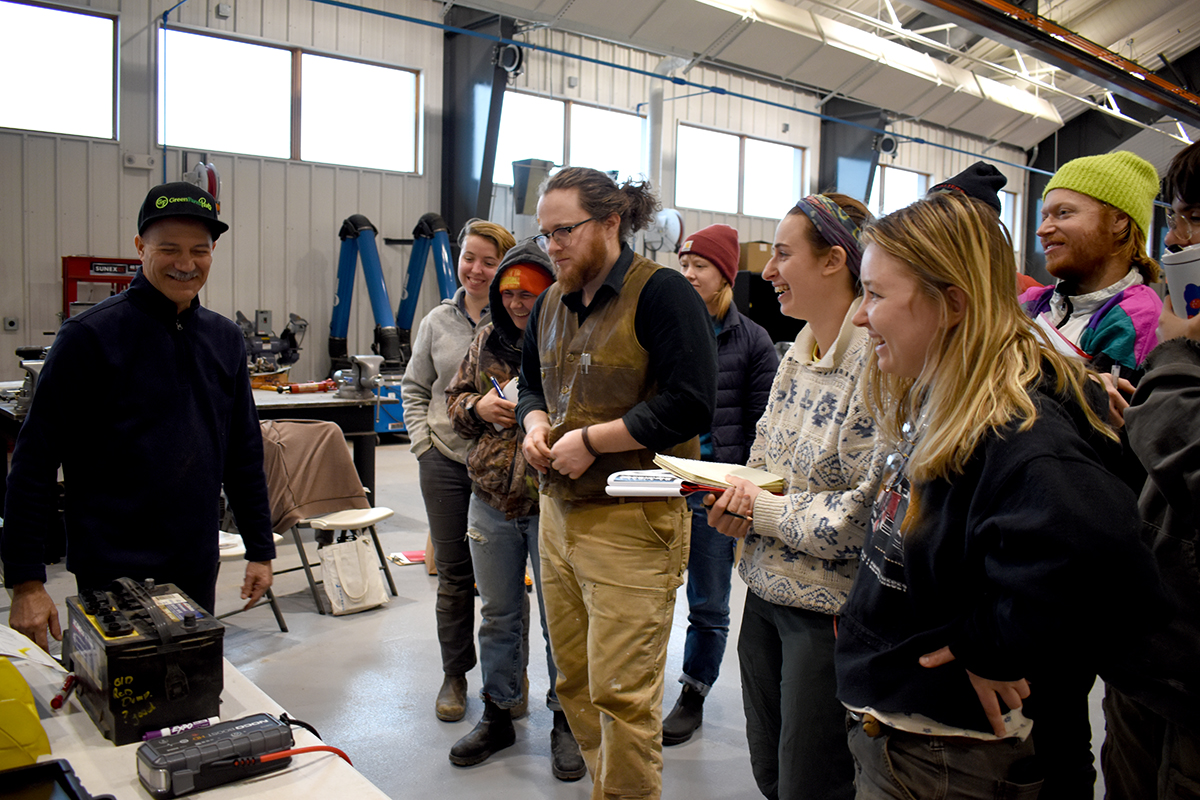 John DiMarco (left), a guest instructor, and the Facility Manager at Stone Barns Center for Food & Agriculture, brought a morning of new content to the program this year, covering the basics of the electrical system of the tractor, with a focus on the battery. "It can be a very expensive part of their equipment but also can be dangerous if they are not taken care of properly," he says. "What I would like them to walk away with today is a great understanding of what to do with your battery to recharge it, so that they don't burn it out or break it and so they don't have to buy a new one prematurely." John has 45 years of experience in the fields of auto and truck mechanics and heavy equipment operation.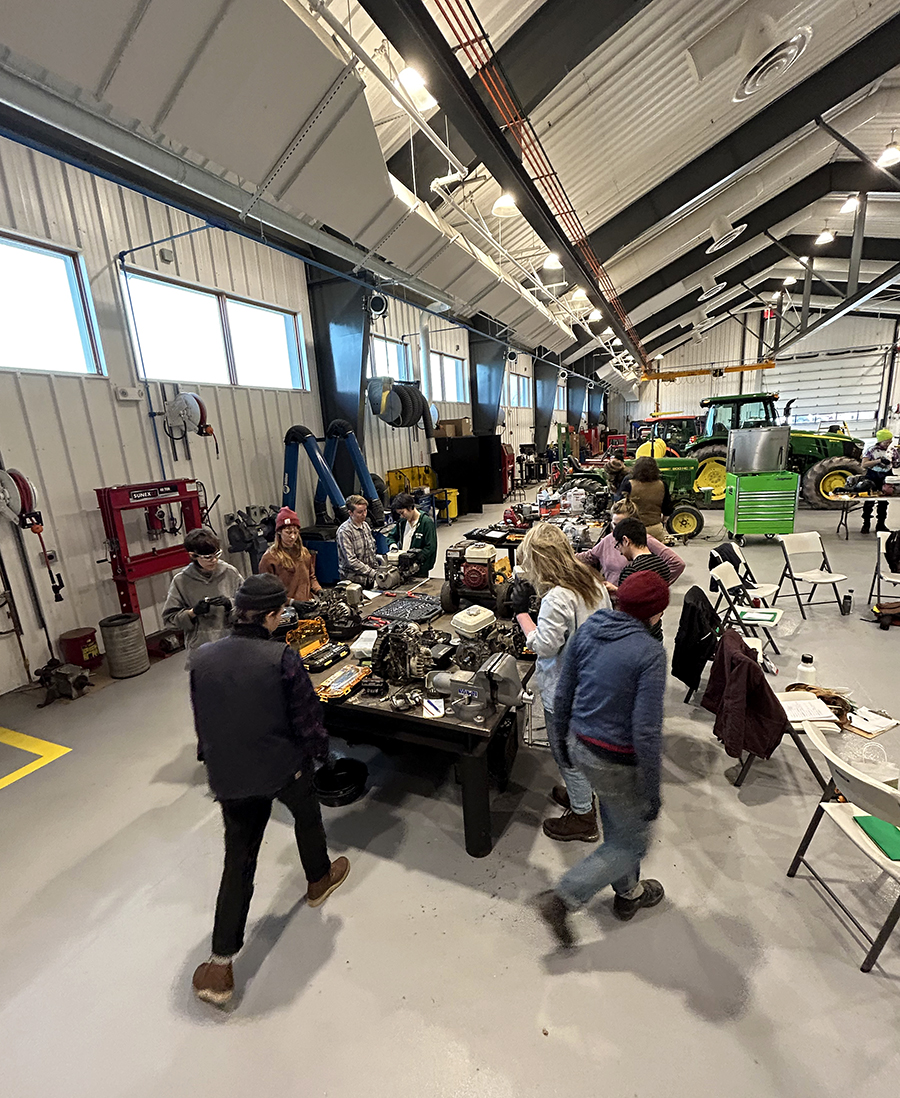 The program features a number of rotating stations where students first explore the parts and then work hands-on with the equipment. Here, teams work to perform basic service on small engines, which included changing the engine oil, checking and cleaning the spark plug and adjusting the carburetor.
"A success for me was in small engines…as we took things apart and discovered the various parts, the equipment was no longer completely inaccessible for me. I have more confidence and knowledge than I pictured ever having, which is a nice change to realize in myself," said one student as we reflected on the program as a group.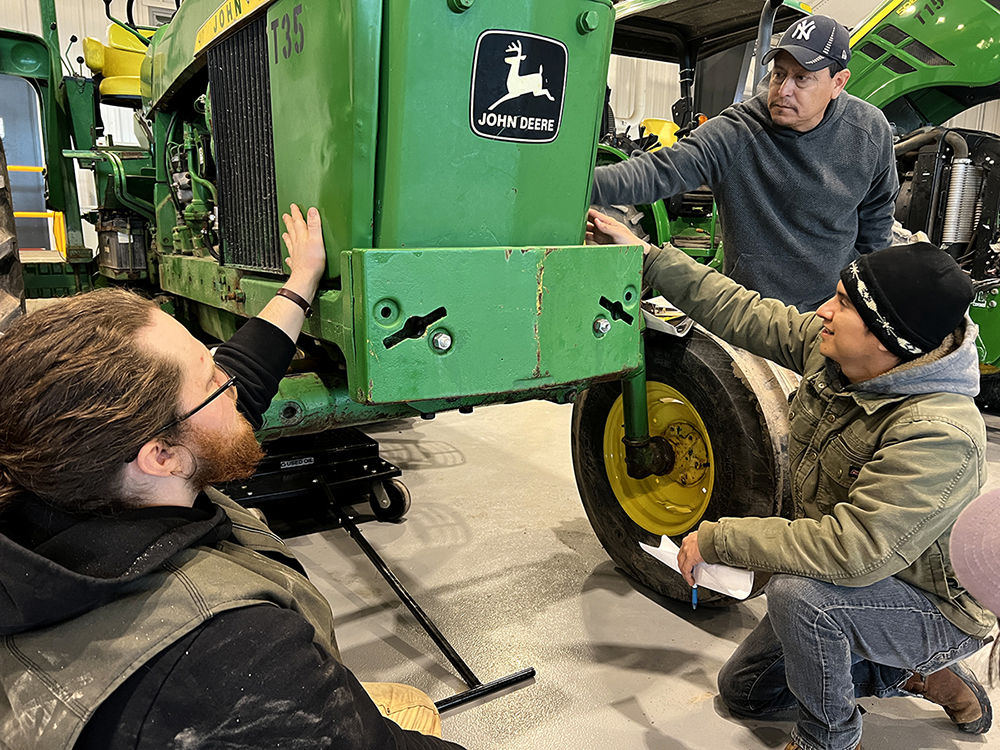 At left, Kincaid Schmitz, a driver and farm hand at Roxbury Farm in Kinderhook, NY, conducts hands-on maintenance on the John Deere 4020 with instructor and (father-son) team Jesus Gonzalez and Jesus Gonzalez Negrete. "I wanted to both learn more for my own personal knowledge and edification to understand the tools I use and just use them better," Kincaid says. "I appreciate the space where it's ok to not know something. I could admit what I don't know, be honest."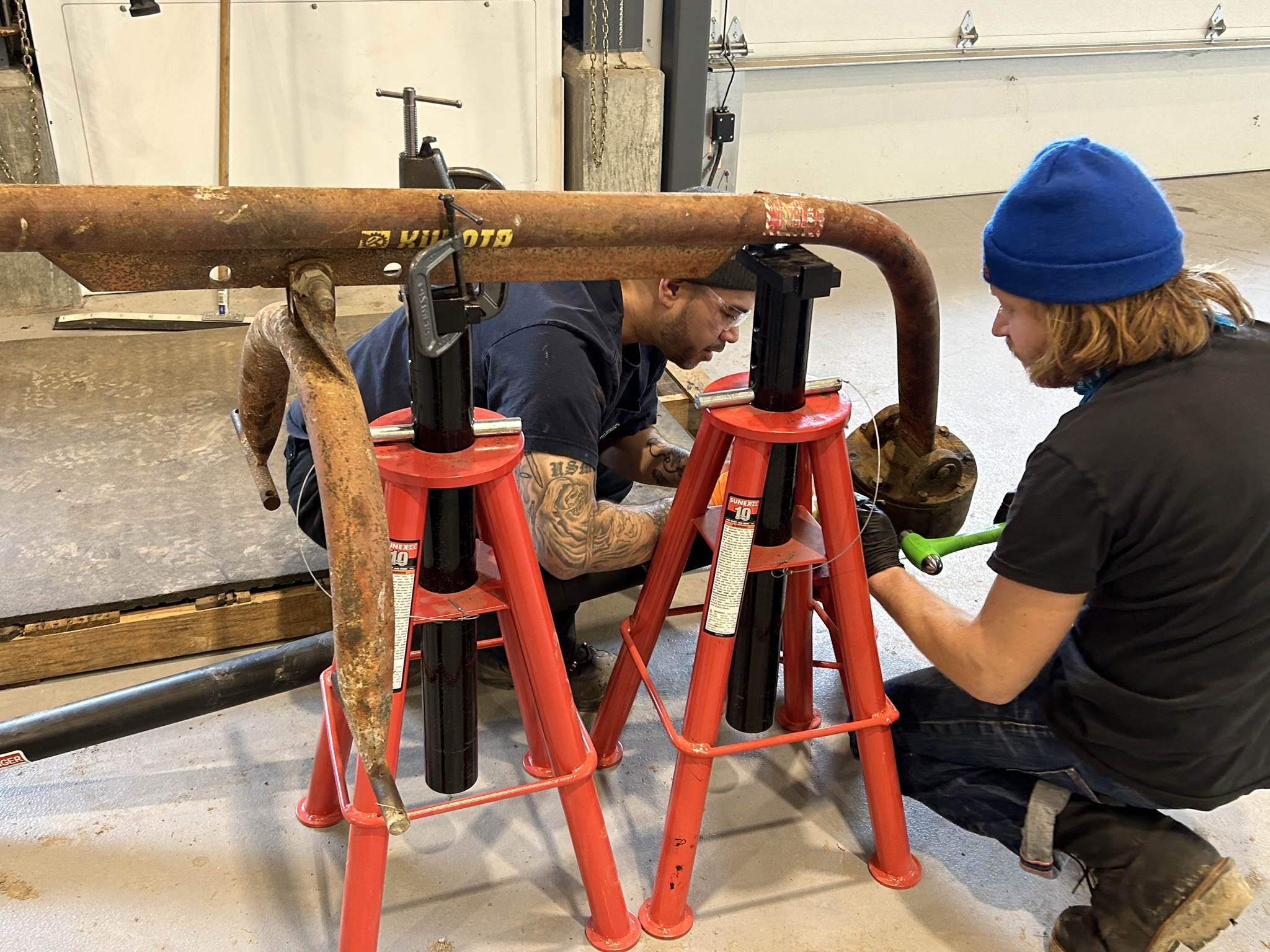 In the final session of the program, Do It Yourself, students complete their own projects. Brian Rady, of Munner Farm in Germantown, works on inspecting, cleaning and installing a replacement shear pin on an implement, a posthole digger.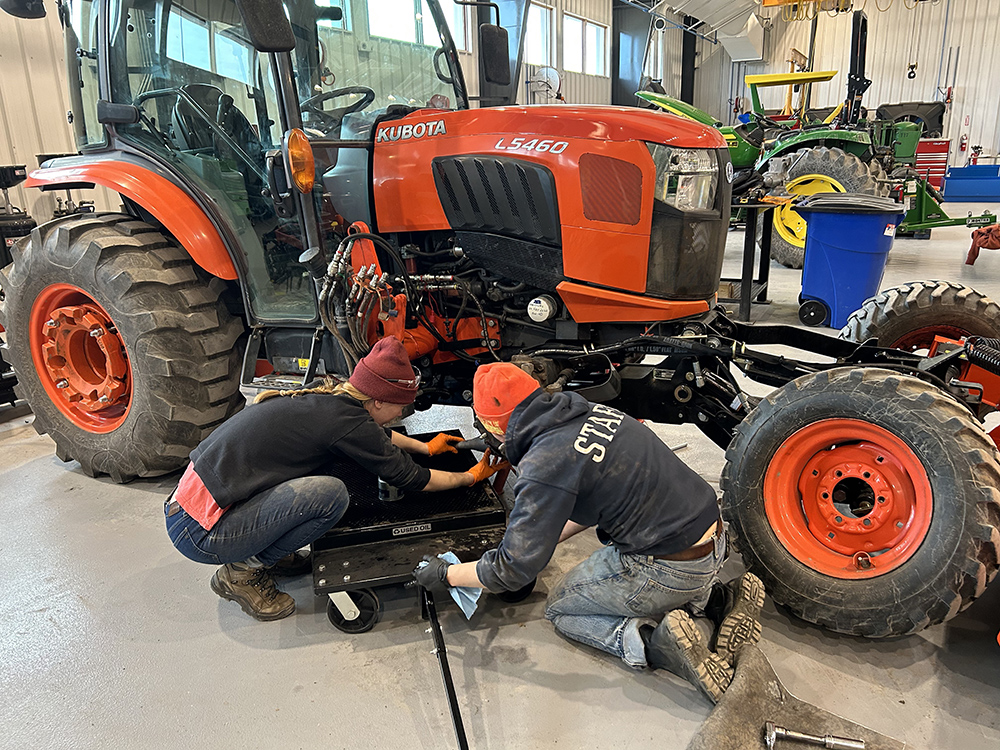 In another DIY project, Genevieve Harding, left, and Maggie Thomas of Great Song Farm, conduct a front axle oil change on our training tractor, the Kubota L5460.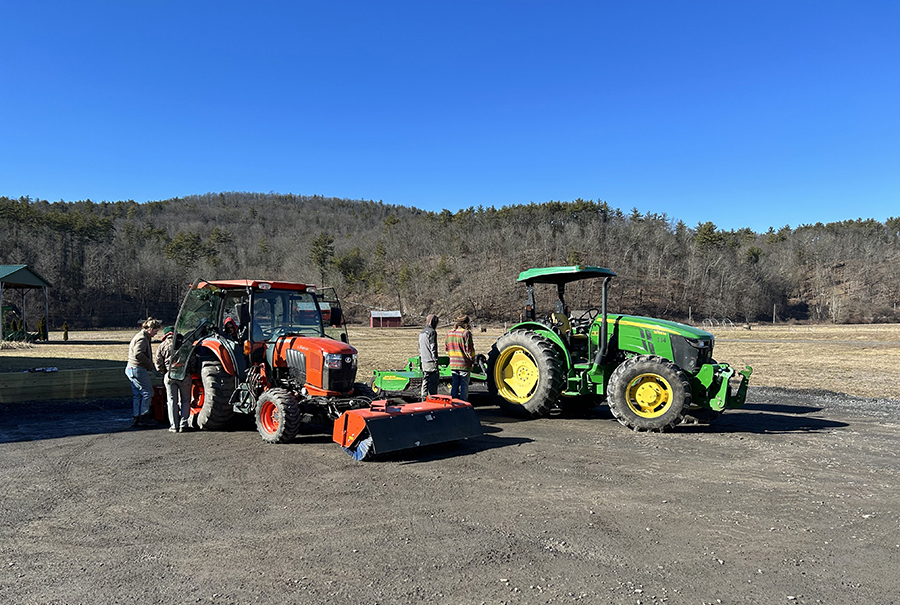 In addition to tractor service, maintenance, and troubleshooting, the program covers basic operation. On this seasonably warm winter day, students practiced attaching and detaching PTO-driven implements. ("PTO" stands for power take-off)