Farm Hub hosts social justice interpretation workshop for community organizations
(Spanish translation to follow/traducción en español abajo)
Creating a multilingual space is not as simple as translating or interpreting one language into another. It is also important to consider that language justice principles are being followed.
In February, the Hudson Valley Farm Hub hosted a 2-day intensive workshop on interpretation for social justice for staff and members of partner organizations in the region. The workshop was facilitated by Caracol Language Cooperative, a Brooklyn-based worker-owned company that provides Spanish-language translation and interpretation services with a focus on social justice.
The Farm Hub's Language Justice team (see "Best of Both Worlds") and representatives from the following organizations participated: Soul Fire Farm, Nobody Leaves Mid-Hudson, The Kingston Land Trust, White Pine Community Farm, and the Worker Justice Center of New York.
Attendees also brainstormed critical components of language-justice and learned about components of a multilingual workspace including interpretation, translation, equipment, communication and documentation, planning and evaluation.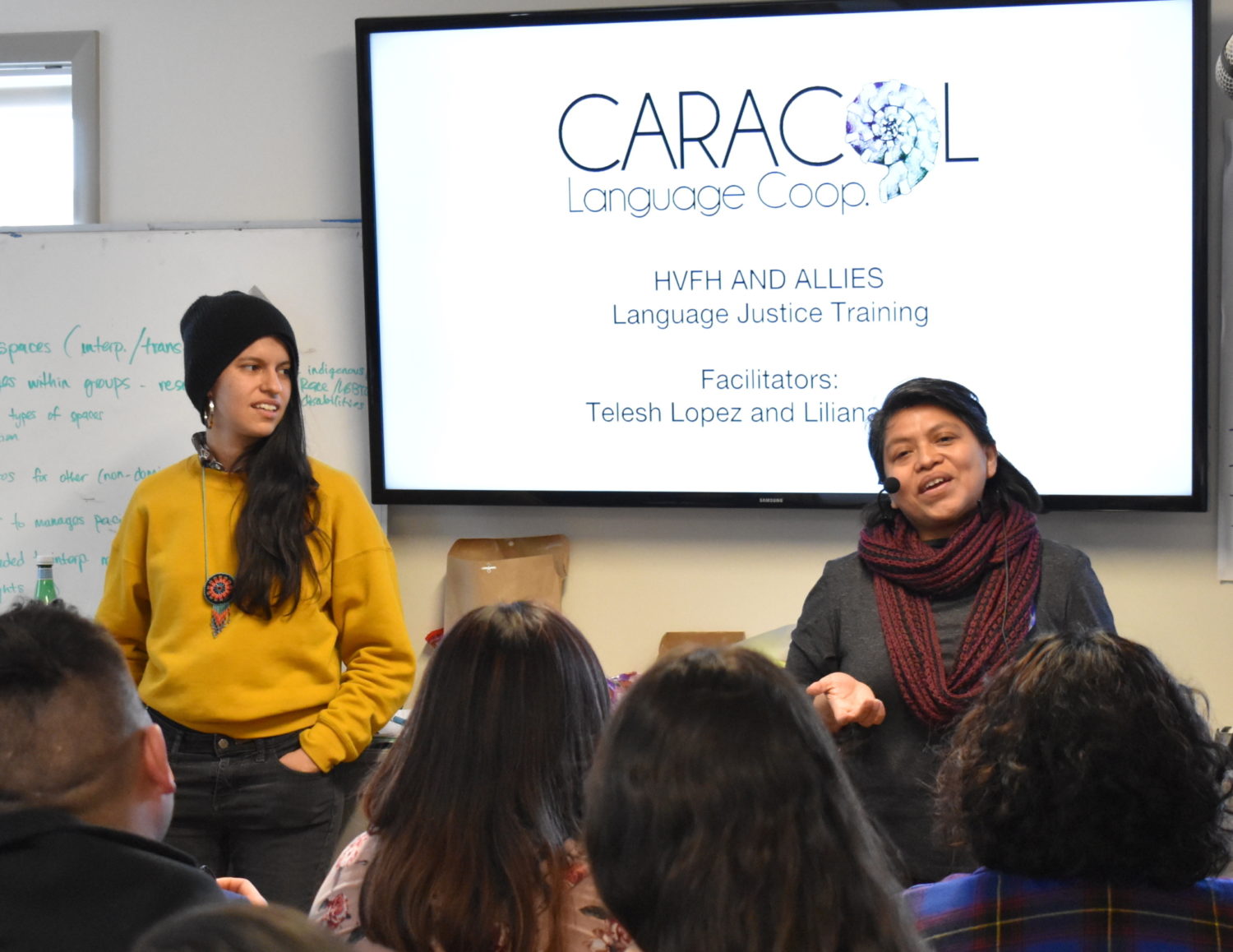 Suggestions on how to apply language justice principles to multilingual spaces included:
Creating a space where no language is superior
Resisting the dominance of any one language
Active commitment to respond to the needs of a multilingual space
Creating a space that is truly welcoming to varied perspectives
Access to knowledge and other's contributions benefits all
The training included a rundown of techniques and strategies surrounding interpretation such as how to read an audience, the importance of using facial expressions, how to interpret through whispering, and how to interpret sayings such as "raining cats and dogs" that don't exist in other cultures.
The afternoon session also covered simultaneous interpretation with the use of equipment and included a scenario in which the speaker's words are interpreted in real-time using special auto-transmitters, microphones, radios, and earphones.
Erick, a Farm Hub production staff member and a member of the Language Justice team, says offering multilingual access allows English learners access to everything from conferences and workshops to safety trainings. It also encourages English learners to ask questions and participate in discussions.
Diana Lopez Martinez, an organizer at Nobody Leaves Mid-Hudson in Ulster County, says she was quickly able to put the training to use. Lopez Martinez is a native Spanish speaker and learned English when she was three. Since she was a child she was called on to interpret for family, but she was never formally trained. On the job nowadays or these days, she often finds herself having to interpret at leadership meetings or public hearings.
"I learned [that] translation isn't the same thing as interpretation. I'd always hear 'can you translate for me,' but that's really a written document whereas interpretation is verbal," says Lopez Martinez. Now more familiar with the equipment, she has her hopes set on bringing the equipment to her own organization. "I already told them that interpretation has to be a part of our budget," she says.
---
Interpretando para la justicia social
Farm Hub lleva a cabo un taller de interpretación para la justicia social para organizaciones comunitarias
Crear un espacio multilingüe no es tan simple como traducir o interpretar de un idioma a otro. También es importante considerar que se estén siguiendo principios de justicia de lenguaje.
En febrero Hudson Valley Farm Hub auspició un taller intensivo de 2 días de interpretación para la justicia social para el personal y miembros de organizaciones colaboradoras en la región. El taller fue facilitado por la Cooperativa Caracol Language, una compañía de trabajadores dueños, con sede en Brooklyn, que proporciona servicios de traducción e interpretación del idioma español con un enfoque en la justicia social.
Participaron el equipo de Justicia de Lenguaje de Farm Hub (vea "Lo mejor de ambos mundos") y representantes de las siguientes organizaciones: Soul Fire Farm, Nobody Leaves Mid-Hudson, The Kingston Land Trust, White Pine Community Farm y el Worker Justice Center of New York.
Los asistentes también idearon componentes críticos de la justicia de lenguaje y aprendieron sobre los componentes de un espacio de trabajo multilingüe incluyendo la interpretación, la traducción, los equipos, la comunicación y la documentación, la planificación y la evaluación.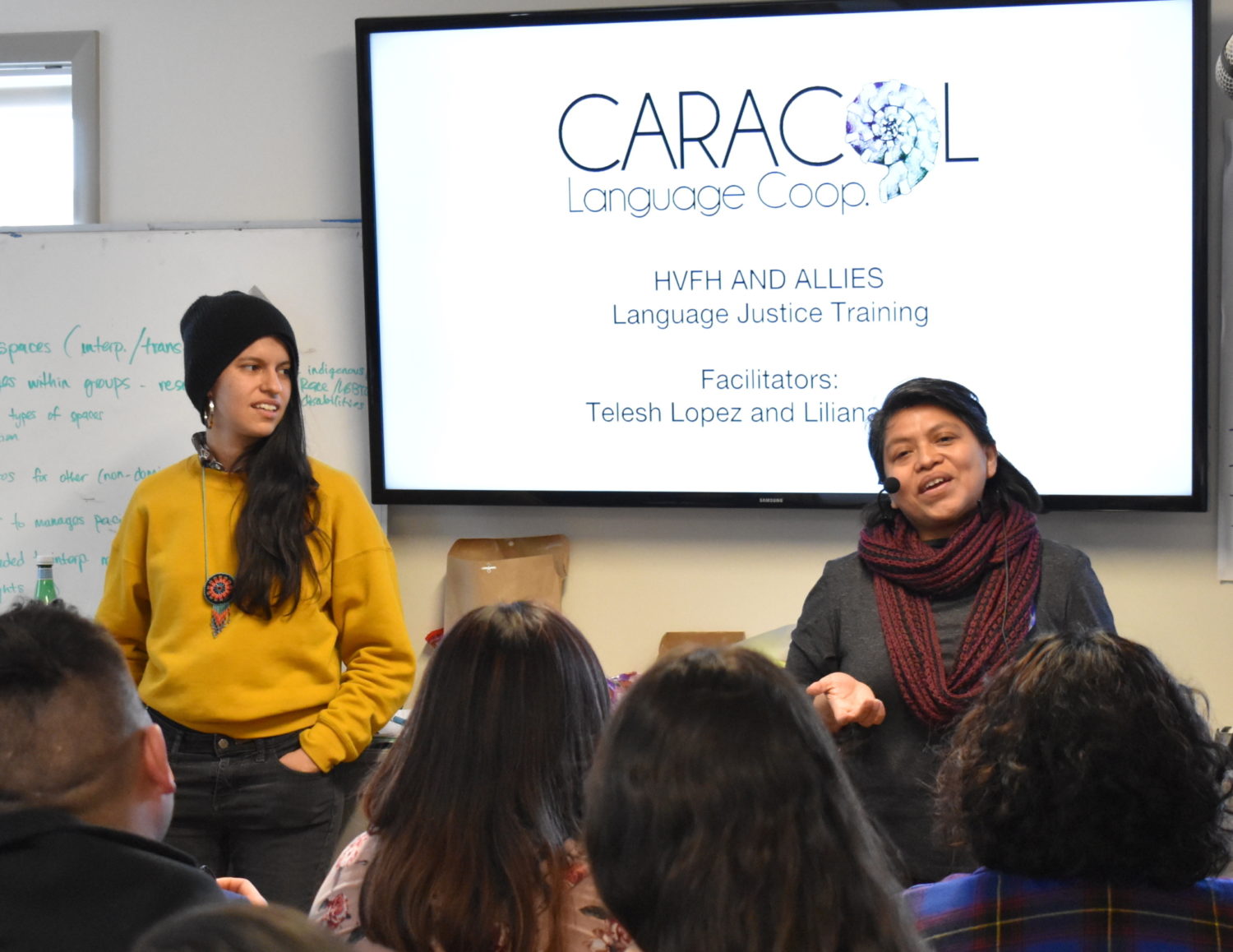 Algunas sugerencias sobre cómo aplicar principios de justicia de lenguaje en espacios multilingües incluyeron:
Crear un espacio donde ningún idioma es superior

Resistir la dominación de cualquier idioma

Compromiso activo de responder a las necesidades de un espacio multilingüe

Creación de un espacio que realmente le de la bienvenida a perspectivas variadas

El acceso al conocimiento y las contribuciones de los otros beneficia a todos
La capacitación incluyó un resumen de técnicas y estrategias alrededor de la interpretación como cómo leer a un público, la importancia de usar expresiones faciales, cómo interpretar susurrando y cómo interpretar dichos como "está lloviendo a cántaros" que no existen en otras culturas.
La sesión de la tarde también cubrió la interpretación simultánea con el uso de equipo e incluyó una situación hipotética en la cual las palabras del orador son interpretadas en tiempo real utilizando auto trasmisores especiales, micrófonos, radios y auriculares.
Erick, un miembro del personal de producción de Farm Hub y un miembro del equipo de Justicia de Lenguaje, dice que brindar acceso multilingüe permite a los aprendices de inglés acceso a todo desde conferencias y talleres hasta capacitaciones de seguridad. También anima a los aprendices de inglés a hacer preguntas y participar en las discusiones.
Diana López Martínez, un organizadora de Nobody Leaves Mid-Hudson del Condado de Ulster, dice que pudo rápidamente poner en práctica la capacitación. López Martínez es una hispanoparlante nativa y aprendió inglés cuando tenía tres años. Desde que era muy niña la llamaban para interpretar para la familia, pero nunca tuvo una capacitación formal. Hoy en día en el trabajo, con frecuencia se encuentra teniendo que interpretar en reuniones de liderazgo o en audiencias públicas.
"Aprendí [que] la traducción no es lo mismo que la interpretación. Siempre escuchaba 'me puedes traducir', pero eso realmente se trata de un documento escrito mientras que la interpretación es verbal", dice López Martínez. Ahora más familiarizada con el equipo, aspira a conseguir equipos para su propia organización. "Ya les dije que una parte del presupuesto tiene que ir dirigido a la interpretación", dice.