A Kingston health clinic offers patients access to fresh locally grown vegetables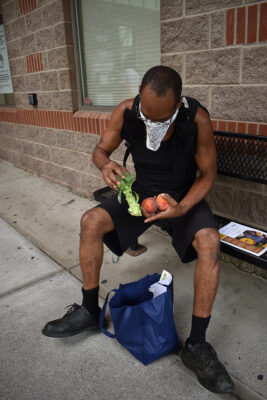 With access to fresh locally grown vegetables a continued challenge for many people, a new initiative at the Kingston Family Health Center offers patients easy access to ripe fruits and just harvested vegetables. Twice a month, patients who visit the clinic can pick up bags of free produce matched with recipes curated by Cornell Cooperative Extension of Ulster County.
KINGSTON – Frankie Lawyer's recent trip to the Kingston Family Health Center was not exactly routine. He was greeted at the clinic entrance with a folding table packed with tote bags filled, to his surprise, with fresh vegetables. Peering inside, Lawyer discovered cauliflower and broccoli heads, a bowling ball sized squash (he'd later learn it was kabocha–a winter melon), tomatoes, garlic, peaches, and a carton of plums.
Smoothies are a favorite of the Kingston resident who boasts about his creations and his new blender.
"I make smoothies — all sorts of smoothies, said Lawyer, his eyes lighting up.
He loves vegetables; supermarkets are a go-to for vegetables but he's limited by transportation. His main mode of transport is his bicycle and then taxi come winter. "This program is very helpful," he said.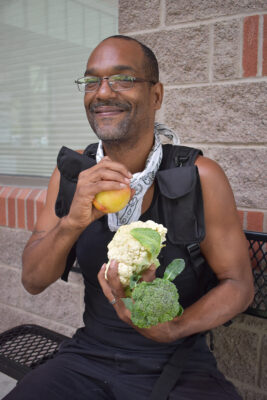 He was one of dozens of patients that morning who left the center after routine exams with a bag of produce. The 25 bags were rapidly gone. It is estimated that the bags feed some 40 individuals and 22 households.
The initiative, also known as the Local Produce Prescription Program, first launched in July at the Kingston Family Health Center.
Here's how it works: patients can pick up a free bag of fresh produce when they visit the center. No questions asked. The bags include health information (some recent ones themed around diabetes or heart conditions), and a booklet of recipes curated to match the vegetables/fruits. Since its inception, the Hudson Valley Farm Hub and a handful of other farms in the region have consistently donated produce.
"The whole idea is to bring healthy food and fresh food, I also have patients who say 'I don't eat a single vegetable a week.', Even to get them to get to eat one vegetable a week is a success," says Asha Sarnacka a lead care navigator at the Kingston center, who came up with the idea for the program.
"It is one thing to tell people what they should eat but it's another thing if they can't afford it. We are teaching people how to eat well so they can take good care of themselves and their children. We are what we eat," she says.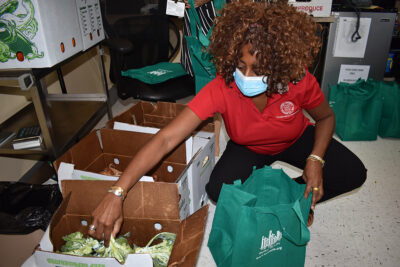 Earlier this year Sarnacka was given an opportunity to develop a special project. It did not take her long to come up with the idea of distributing fresh produce to patients fueled by personal passion and as a form of community outreach. She was driven to do so by her clients whose struggles include the basic necessities of food, housing, heat, water and often transportation.
The center, one of 30 in the tri-state area and mid-Hudson, is run by the Institute for Family Health with headquarters in New York City. The Institute's website notes that its policy is to not turn anyone away even if they lack health insurance, and they work with a sliding scale. The majority of the 98,000 clients it serves tend to be members of the underrepresented community, many with disabilities and limited income. The Kingston center includes general practice, behavioral services and dental care.
This is not the first time the Kingston health center has engaged in free food distribution for patients. In 2020 it partnered with Kingston YMCA Farm Project to hold a "free farm stand," which ran from July through October. The farm stand provided free vegetables for the community in response to the growing need for fresh and local food seen at the height of the COVID-19 pandemic. The produce was grown by the Farm Hub and Kingston YMCA Farm Project.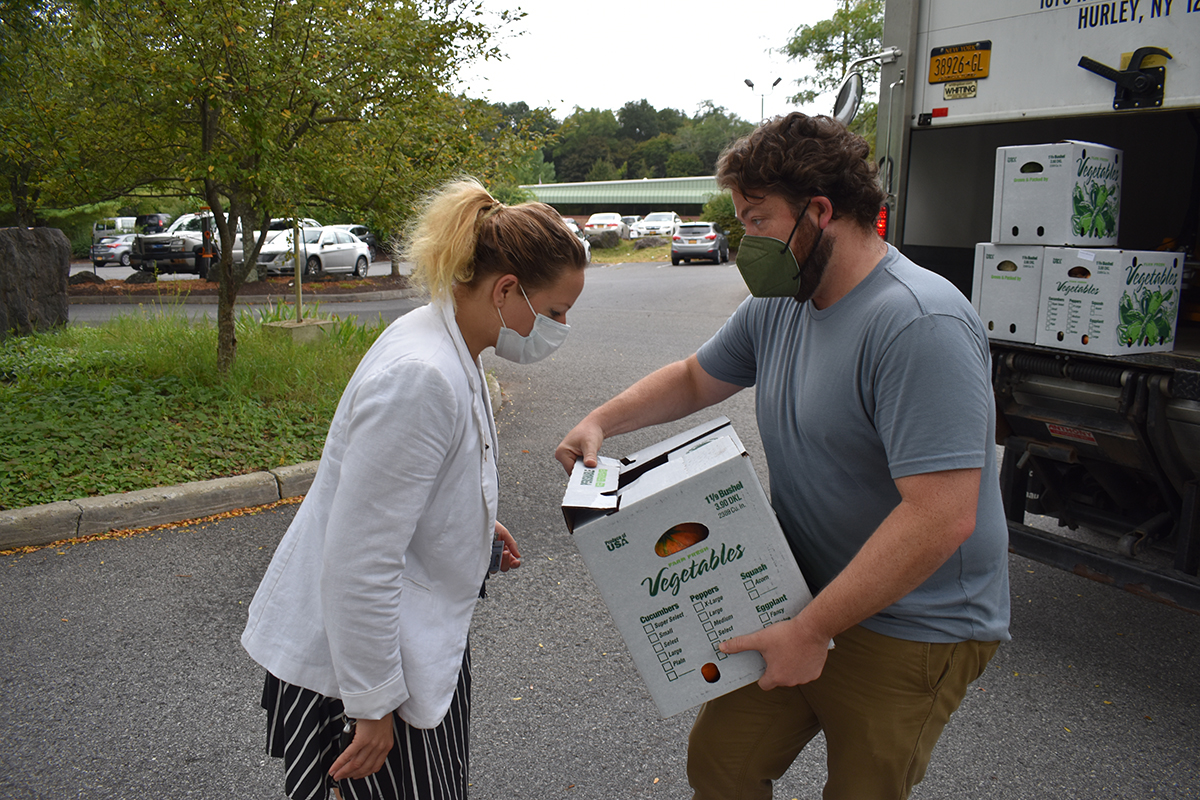 Sarnacka's inspiration for the program came from seeing a need from her clients, and also seeing the opportunities to connect food programs with patients and patient navigators who could spread the word.
Sarnacka is a nutritionist by training, motivated by "sharing good food with community." In 2019 she joined the Institute as a diabetic navigator and was promoted to lead navigator where she oversees dozens of caseloads. Many of the patients she serves have diets virtually void of fresh vegetables and fruits, especially organic.
After Sarnacka received the greenlight from her supervisor she went into action and started reaching out to farms in early 2021.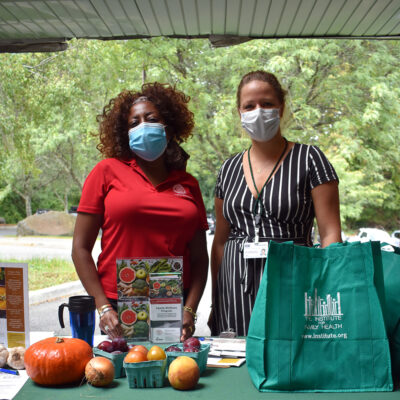 The Farm Hub respond enthusiastically to Sarnacka's request for support. The Institute for Family Health is only one of dozens of organizations that the Farm Hub donates to on a regular basis. Others include Catholic Charities, Community Foundation, the Kingston YMCA Farm Project, Tilda's Kitchen and People's Place.
Jeff Scott, Distribution Manager at the Farm Hub, says the initiative aligns with the Farm Hub's mission.
"One of our primary goals is to increase food access to food insecure communities here in the Hudson Valley," Scott says. "While the majority of our donations are channeled into the emergency feeding system, for whatever reason not everyone who needs food is able to access that network of food providers. Partnering with the Institute for Family Health in this way allows us to extend our reach beyond the typical emergency feeding system and to get good, healthy food into the hands of people that need it most."
As of the end of October the Farm Hub has donated 264,084 pounds of food, including vegetables, beans, corn and flour, to the emergency feeding system. All produce is certified organic.
With the goal of incorporating health and wellness into the program, Sarnacka also reached out to Marsha Sebro the nutrition educator at Cornell Cooperative Extension of Ulster County (CCEUC) to partner on providing information on diet and nutrition to patients. Sebro sees the program as a win-win for all stakeholders.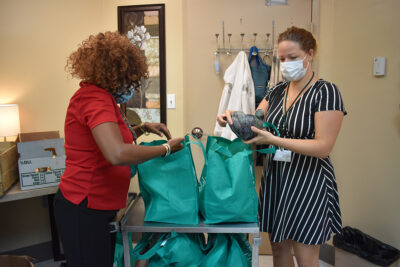 "With the support of Farm Hub and other area farms, I'm able to partner with IFH during their fruit & vegetable distribution. We offer healthy recipes and information on free nutrition lessons. Distributing fresh fruits and veggies at a healthcare site is a brilliant way to encourage patients to eat healthier. It reinforces wellness recommendations from their healthcare team, and they don't have to make an extra trip to the supermarket," Sebro says.
From the program's beginning, the produce giveaway has been a success, and typically the stand draws a queue of people. During a visit all of the patients who we spoke with said they were pleasantly surprised to receive organic produce.
As for the program, Sarnacka says she's surprised by how quickly it has taken off.
"It's working really beautifully," says Sarnacka. "We wanted to build a community and people are very excited and very surprised. We see their beautiful smiles — we live in a world that there aren't many opportunities where we get things for free." In some cases, patients have turned down the free produce noting that they are in the financial position to purchase food and it might be better served giving it to someone in greater need.
A Vision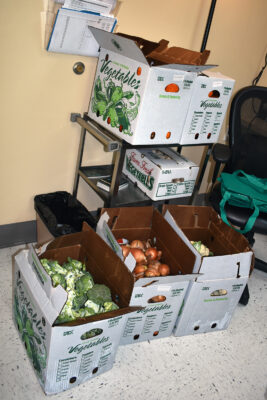 At least three other farms in the Hudson Valley region have joined the bandwagon to donate produce. On produce stand mornings, Sarnacka's office transforms into a packing warehouse of sorts filled with crates of fruit and cardboard boxes of vegetables. Sarnacka bags vegetables along with colleagues amid banter and laughter.
The program will continue as long as there are donations; Sarnacka expects the need for vegetables will escalate during the winter months when transportation is most challenging.
"It's great to have local partners who share our commitment to promoting the health of community residents," says Dr. Wesley Ho, MD, medical director of the Institute's Kingston Family Health Center. "The Farm Hub project supports an important goal of the Institute for Family Health and the Kingston Family Health Center — after all, so much of keeping people healthy happens outside of the doctor's office, and fresh produce is an essential ingredient. We would love to expand this project to all of our centers."
Sarnacka's vision is that the initiative in Kingston will be year round and eventually incorporate nutrition education and cooking classes. And there are future plans to extend to other locations in the Hudson Valley.
A native of Poland, Sarnacka grew up in a culture where it was commonplace to shop for fresh food daily. Culturally there was an emphasis on fresh, locally produced and homemade foods. It is little surprise that gardening and cooking are her personal passions.
At home she and her 8-year-old son tend to the garden. She continues, "I truly believe in 'do what I say see what I do,' I am also a gardener and we eat from the garden and I love to cook and I understand how important it is to health."
Finally, at the Kingston Family Practice a single bag of produce can also serve as platform for paying it forward. After the produce pickup in late September, Frankie Lawyer found success with a new smoothie recipe. "It was a plum, peach and apple smoothie and I gave some to my elderly neighbor, she loved it," he says, eyes lighting up.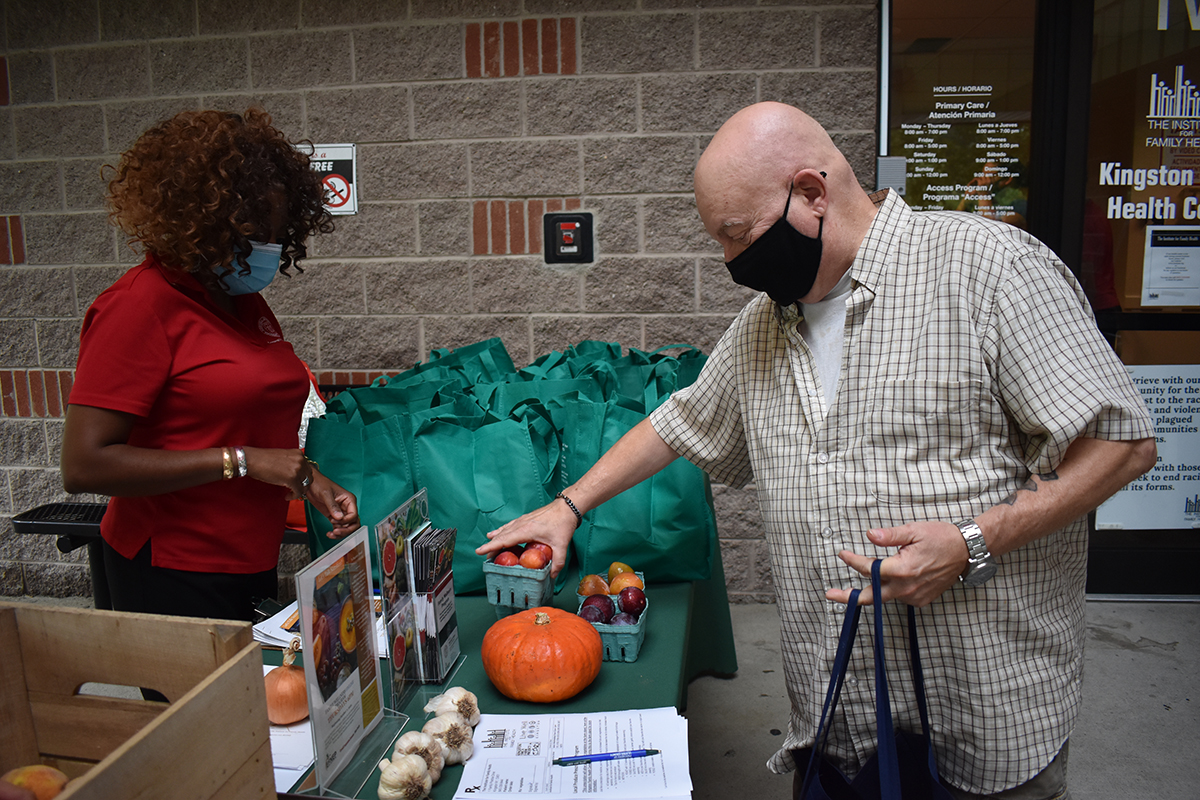 Michael Allocca, the unofficial chef at the Hummels Boarding Home for men in Kingston, picked up a couple of bags. The broccoli and cauliflower provided a base for a pasta dish and fruit was served for dessert.
"They liked it, it's not what they are used to," he says. A typical diet for many of the residents is "cereal in the morning, sandwiches in the afternoon and then the one hot meal."
Of farm stand days, Allocca says, "it works out great and the guys love it, so when we see something like this it's like a little gift for them."
-Amy Wu
Note: The Local Produce Prescription Program runs every other Thursday at the Kingston Family Health Center, 1 Family Practice Drive, Kingston NY 12401