This past growing season the Farm Hub hosted a research trial focused on sweet potato slip production. Sweet potato plants are grown using "slips" – or stem cuttings – grown off of a sweet potato root. The trial examined the viability of producing sweet potato slips locally from certified rootstocks. The rootstocks came from North Carolina, where the majority of potato slips planted in the northeast are currently sourced.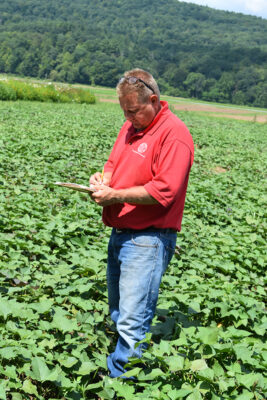 The trial, led by Cornell Cooperative Extension's Eastern New York Commercial Horticulture Program, attempted to address the challenges of relying on out-of-state sourcing by asking the following questions:
What effect do locally produced slips have on yield?
Is it economically viable to produce slips in the Hudson Valley region particularly when considering the cooler weather (when compared to North Carolina), and production costs that include the price of the slips and shipping.
Sweet potatoes are a popular crop amongst Hudson Valley vegetable growers and eaters. Success in this trial could indicate that farmers could have roots shipped in and then grow their own slips in the greenhouse, thus having greater control over their own sweet potato production, says Chuck Bornt the trial's lead researcher from Cornell.
In October the potatoes were harvested and in early December they were graded; Borndt notes that the heavy rains and overcast days throughout the summer did not have a significant impact on yield.
"I'd say yields were off just a little but not by much," he says. Borndt plans on completing a report on the findings early next year and replicate the trial at the Farm Hub over the next two years.
–Amy Wu
For more information about Cornell Cooperative Extension's sweet potato variety trials click here.