The Latest at the Farm Hub
On the farm…
Liz Hines, Michelle Romero, and Karen Rusnack join the Farm Hub Earlier this year we welcomed new staff members to our team: Finance Director Elizabeth Hines (also known as Liz) brings over 20 years of experience as a senior executive and thought leader in financial operations and management. Most recently, Liz was the Vice President of Finance for the New 42nd Street. Prior to that she was the Vice President/Controller at CBS Broadcasting in its broadcast operations & engineering division. Michelle Romero comes to us with nearly 10 years of experience working in human resources in the health care, construction, and landscaping sectors. She was most recently employed as an HR Business Partner at Wingate based in Beacon, NY. Karen Rusnack is the new payroll and HR coordinator and was previously the payroll coordinator at Marist College. We're thrilled to welcome them to our team as they help grow the organization. To learn more about Liz, Michelle, Karen, and the rest of the team, please visit our team page.
Organic certification
This past summer, the Farm Hub formally became a United States Department of Agriculture (USDA) certified organic operation through NOFA-NY. While the Farm Hub has managed its crops using organic methods organically since 2014, all farm products will now carry the USDA Certified Organic label.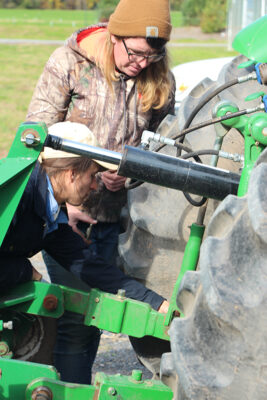 Tractor intensive
In October and November, we hosted tractor intensive workshops for growers led by Sarah Groat, a farm mechanic who runs her own farm equipment repair business in the Hudson Valley. The free, two-part workshops targeted new and beginner farmers and covered the basics of tractor safety, tractor parts and systems, and the foundations of routine maintenance. It also included a pre-scheduled two-hour tractor driving lesson. Sarah was joined by other regional farm instructors including the Farm Hub's Jesus Gonzalez Jr. and Jayne Henson of TransGenerational Farm who was previously a farmer trainee at the Farm Hub. More tractor training workshops are planned for early 2022.
Welcoming partners
This fall, we welcomed food distribution partners from several organizations for a farm tour to show how the produce is grown and to meet the folks who grow it. Organizations that joined included Community Action Services and Food Bank, Tilda's Kitchen & Market, the Kingston Emergency Food Collaborative, Dutchess Outreach, and The Institute for Family Health. As of the end of October, we donated 264,084 pounds of vegetables, flour, dried beans, and tortillas. The busiest months for food donation are October through December; in November, we donated 43,015 pounds of product and expect to donate at least another 30,000 pounds in December.
Eddie Clevenger moves west
In early October, Farm Hub staff and friends gathered to express thanks to Eddie Clevenger, Director of Farm Operations. Having served at the Farm Hub since 2016, Eddie moved with his family to Nebraska in November to start a new position as Head of Farming West for Belltown Farms. As steward of the Farm Hub's crop production and operations, land management, and a number of key on-farm infrastructure projects, Eddie was pivotal in advancing the well-being and growth of our organization over these past years. We are exceedingly grateful for his devotion to the land, the knowledge and wisdom he shared with us, and the terrific farm operation and team that flourished under his guidance here at the Farm Hub. Though he will be missed in the Hurley Flats, we are thrilled for Eddie as he makes this exciting move.
Educating ecology students
In September, the Farm Hub hosted an ecology class from neighboring SUNY Ulster. The workshop, led by Farm Hub staff members Sara Katz and Anne Bloomfield, included an introduction the Applied Farmscape Ecology Program. Students had a chance to visit the vegetable fields and irrigation pond where they examined the on-farm habitats and discussed their observations. They also stopped at the Native Meadow Trial plots, where researchers and scientists are studying the interactions between crops and beneficial insects, plants, and birds. As part of the workshop, they also held a discussion on potential career paths.
Off the farm…
Next generation farmers market
Students at George Washington Elementary School recently learned about what's growing at local farms at their very own farmers market! Organized by Rondout Valley Growers Association, the farmers market featured booths set up by the Hudson Valley Farm Hub, Kingston YMCA Farm Project, Stone Ridge Orchard, and Fiddle Head Farm. Members of the Farm Hub's Community Food program gave out Farm Hub black beans and bags of popping corn for students to make their own popcorn. Participation in this community event is part of our ongoing farm-to-school programming, aimed at getting fresh, healthy food to local kids.
"Farmscape Ecology" at Churchtown Dairy
The short film "Farmscape Ecology" screened as part of "Films in the Round Barn" series at Churchtown Dairy in Hudson, NY this past summer drawing a large crowd. "Farmscape Ecology" tells the story of the research work conducted under the Farm Hub's Applied Farmscape Ecology Program. The event was followed by a panel discussion featuring filmmaker Jon Bowermaster (whose Oceans 8 Films produced the film) and researchers Conrad Vispo and Claudia Knab-Vispo of the Hawthorne Valley Farmscape Ecology Program.
Presenting at NOFA-NY
In January 2022, Anne Bloomfied, Applied Farmscape Ecology Program Manager, Conrad Vispo and Claudia Knab-Vispo of Hawthorne Valley Farmscape Ecology program will present at the NOFA-NY Winter Conference. The workshop, Considering On-farm Wildness: Service Provider or Spiritual Underpinning? explores questions including how do habitats we intentionally and unintentionally create on farms attract a variety of wild plants and animals?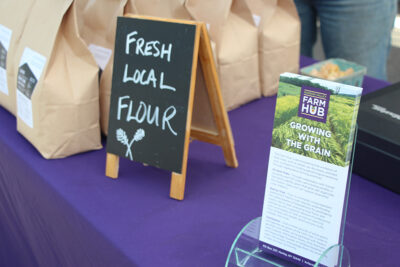 Joining the Kingston NY Farmers Market
In October, the Farm Hub participated in the Kingston NY Farmers Market to sell dry beans, flour, and other field crops products. We spent seven years trialing and growing a variety of grains and legumes on the farm and have witnessed the integral role they play in building regenerative agriculture and local, sustainable food systems. It's a lesson that can be seen across the globe, as cereal grains are the largest staple crop in the world. With the collaboration of our local co-packing partners, we are developing a nutritious array of certified organically grown and locally processed products.
Visiting Soul Fire
In mid-October, members of the Farm Hub staff visited Soul Fire Farm in Petersburg, NY for a day of learning and sharing about ancestry, culture, heritage, and language. The gathering included the opportunity to work on the farm, an introduction to Language Justice, a presentation by Leah Penniman on "Hands on the Land", and intimate conversations about race and ethnicity.
Bird Walk Peter Schoenberger of the John Burroughs Natural History Society led the annual "Sparrow Walk at the Farm" this past September at the Farm Hub. Fall migration highlights included a Sedge Wren, White-crowned Sparrows, Lincoln's Sparrows, and a Great Blue Heron capturing and eating a vole. To learn more about the John Burroughs Natural History Society and their upcoming events visit https://jbnhs.org/.
Tortilla Taste Tests
Our Community Food team has been working with Kingston City School District's Director of Food Service, Dave Dunn (also known as Chef Dave), on taste tests featuring tortillas made with Hudson Valley Farm Hub corn. Earlier this year (in August) the Farm Hub's Sarah Brannen and Meagan Cahill visited J. Watson Bailey Middle School to gather feedback from students. Chef Dave, along with the Assistant Director of Food Service, Joe Baganz, are cooking up new dishes and testing them in the school menu, including nachos, quesadillas, and tostadas.
On Zoom…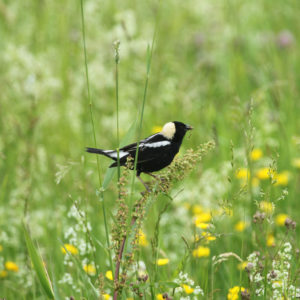 Farmscape Ecology Film Screenings
The film "Farmscape Ecology" screened virtually at a number of events including the Chesapeake Bay Film Festival." A second film that highlights the work of our Applied Farmscape Ecology Program "The Wonder of the Bobolink" screened at the Princeton Environmental Film Festival this past October. The short film follows a team of researchers who track Bobolinks at the Farm Hub, and follow their migration patterns to better understand the kind of habitats they are drawn to during nesting, migration, and in the winter across the globe. In 2022, "The Wonder of the Bobolink" will screen at the Wild & Scenic Film Festival.
Language Justice Team Certification
Earlier this year, the Language Justice team completed a virtual 25-hour interpreter training given by the University of Arizona that covered topics including exercises for memory retention and skill-building in interpretation. The Language Justice team includes seven bilingual staff, most of whom work on the farm in production and maintenance, while also providing professional translation and interpretation. They also interpret at food and farming events around the region. The team's newest members include Michelle Romero and Jenifer Negrete.