Announcing our 2016 ProFarmers
It is with great enthusiasm that we announce the selection of our first cohort of ProFarmer trainees: Jess Clancy, Jesse Goldfarb, and Andrew Pezzullo.
The ProFarmer trainees will make up a cohort that includes experienced crew members at the farm, some of whom have worked on the Farm Hub land for as many as twenty years. Through day-to-day training activities and skill-sharing workshops, together they will be informing and enriching the co-creative learning environment that is foundational to the Farm Hub's expanding farmer education programming.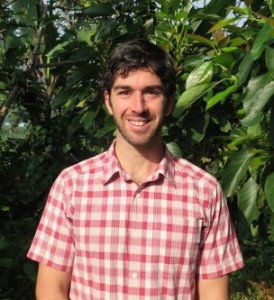 Jesse Goldfarb
"Farming is the basis of our connection to the eco-system, and our eco-system sustains life. The choices we make as farmers determine the present and future of our planet."
After living and working in East Africa for six years, Jesse Goldfarb is returning to the U.S. to join the ProFarmer program. In Rwanda, Jesse has been the Director of Impact for One Acre Fund, a non-profit organization that works with farmers to increase productivity and create pathways out of hunger and poverty. Jesse founded and managed research station farms with over 700 unique plots that serve as the basis for services and training provided to farmers across the country. He also managed a diversified research portfolio including multiple trials with over 1,000 farmers.
Although this most recent phase in Jesse's farming career has taken place on another continent, his initial exposure to farming unfolded only a few miles from the Farm Hub on a small organic vegetable farm which he started with his mother and sister in 2009. Here, Jesse designed and managed a permaculture installation, constructed greenhouses, grew a variety of vegetables, and sold food at local farmers markets.
Now, as he returns to the Hudson Valley and joins the ProFarmer program, he will undoubtedly bring a unique global view to our work in the regional food system and to the Farm Hub community itself.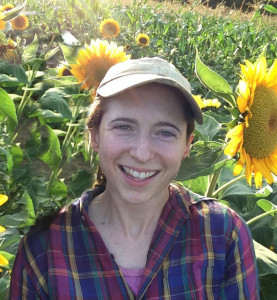 Jess Clancy
"Initially I was intrigued by farming as a way to combine my interest in plants and science with social justice and environmental goals. Then I fell in love with the work."
Jess comes to the ProFarmer program with seven years of experience in organic farming, most recently as the vegetable production manager at Fishkill Farms in Dutchess County. With a degree in environmental chemistry, Jess is interested in natural systems and ecological farming. This is one of many reasons she was attracted to the ProFarmer program's mission-driven curriculum.
At Fishkill Farms she oversaw production of organic vegetables on fifteen acres for the farm's 300-member CSA and four farmers markets. This involved extensive management responsibilities including hiring, training, and managing crew. Prior to moving to Fishkill, she worked in Massachusetts as an apprentice at Powisset Farm and as a farmers market and CSA manager at Atlas Farm in Deerfield. Originally from the Midwest (she grew up near Chicago), Jess' early farming experiences were in Wisconsin – as a farmworker at an organic farm and a student at the Michael Fields Agricultural Institute.
Jess' years as crew member, salesperson, and production and crew manager have given her a deep respect for farm work, and a solid grounding in both the practical aspects of running a farm operation and the social and economic issues that challenge the food system.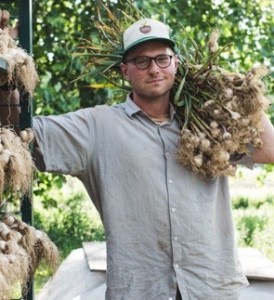 Andrew Pezzullo
"I am committed to making farming my career because it is community-focused, purpose driven, and inextricably grounded in place."
Andrew is a passionate young farmer with a solid foundation in organic agriculture and a strong personal interest in the ties between farming, ecology, and community.
Andrew grew up in southern Maine but now considers the Hudson Valley home. He has spent the last five years working on farms in our region. Most recently, he has worked at Sawkill Farm in Red Hook where he has prepped, packed, transported and sold farm products at NYC markets. Prior to working at Sawkill he was a harvest and transplant manager at Little Seed Gardens in Columbia County, a member of the Hearty Roots Community Farm field crew, and an apprentice at the Poughkeepsie Farm Project.
Community participation is integral to Andrew's approach to life and work. He has been an active member of the Hudson Valley Young Farmers Coalition. At Wesleyan University, he co-managed the student run farm and organized an effort to bring agroecological methods to campus and town landscaping. He has managed harvest and pack for soup kitchens and facilitated the delivery of excess market produce to Hudson Valley prisons. Andrew was particularly drawn to the ProFarmer program's combined emphasis on food justice and regenerative agriculture.