Chef Dave Dunn leads a program that distributes food to students and their families in Kingston
Leer en Español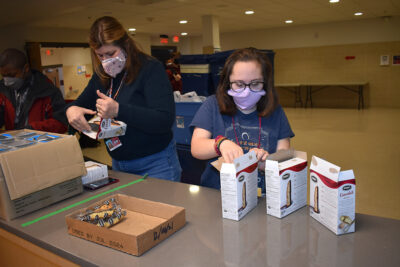 On any given week the hallways of Kingston High School serve as the base to the BackPack Program, a successful and growing initiative at the Kingston City School District that provides food to underserved students. Twice a week a crew of special education students gather to pack bags of food for fellow students for their weekend meals.
Donna Wolf leads the class who make up the "packing" crew. Freshman Gabriella "Gaby" Nelson stands at the start of the assembly line with boxes of cereal and biscotti. The program has also attracted the interest of fellow students including freshman Neveah Scheffel who pops in to help pack. "I've always loved helping with things that involve giving back," Neveah who says she has a passion for contributing to the community.
Recently the crew started including an assortment of fresh vegetables – spinach, salad greens, winter squash, in the bags. At the start of the year the Farm Hub added the Kingston City School District (BackPack program) to the dozens of organizations that it donates to on a regular basis. Others include the Institute for Family Health in Kingston, Catholic Charities, Community Foundations of the Hudson Valley, the Kingston YMCA Farm Project, Tilda's Kitchen, and People's Place.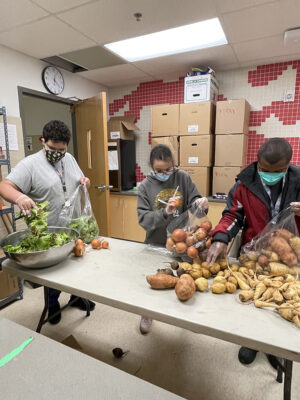 The BackThe BackPack Program is led by the Regional Food Bank of Hudson Valley and is currently active in 57 schools across 15 school districts in the region and serves some 1,226 students. The pandemic fueled an overall increase in need with some program sizes increasing up to a third, says Troy Martin who coordinates the program at the Food Bank.
Here's how it works: the majority of food – donated by food businesses and supermarkets — is distributed through the food bank. The staples include dairy products, bulk produce, and family-size frozen foods. The partner schools pick up, pack, and distribute the bags of food that are meant to provide meals for students on the weekend.
In 2021 the program launched in the Kingston school district when Dave Dunn (widely known as "Chef Dave" by teachers and students), joined the district as food services director. Dunn brought over the program that he had successfully spearheaded when he worked at the Poughkeepsie City School District. In Kingston, the BackPack Program piloted at John F. Kennedy Elementary and George Washington Elementary, two schools that have some of the highest number of students in need.
Every week 40 children take home a bag of food that covers their meals for the weekend. As an add-on during holidays including Thanksgiving and Christmas they go home with special boxes. In December the 50-pound boxes also contained fresh produce from the Hudson Valley Farm Hub.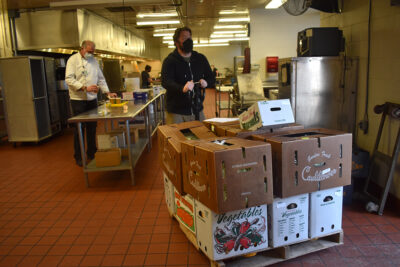 It takes a village
As part of the Program each partner school can come up with additional funding to include more students. The program has blossomed since it launched in Kingston. Dunn has garnered additional support from Community Partners, and the program also received funding from the NoVo Foundation that will allow it to feed another 160 students for the rest of the 2021-2022 school year.
Jeff Scott, the Farm Hub's Distribution Manager says he is "most excited about the fact that our produce is going home with families that might otherwise not be able to access the type of healthy produce and pantry items that we are able to provide… The food goes right home with the child who is already in school, no extra steps involved."
"This adds much needed green to the mix and will allow us to add another layer of really good nutrition to our weekend menus, while giving the children an opportunity to try new and maybe different veggies," Dunn says.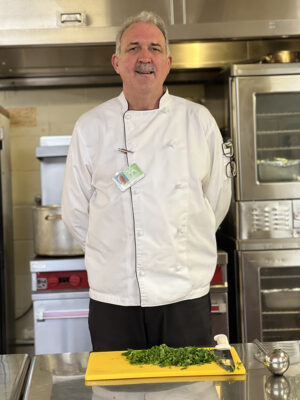 Brainchild behind the program
Dunn, 61, came to the Kingston City School District in February of 2021 with over 40 years of experience in the food service industry – not counting the years he spent working in restaurants as a teenager.
In the District he is already a bit of an unspoken celebrity. There is his towering presence. He stands 6'4 and has a booming voice. There is his name "Chef Dave" that is embroidered on his baseball cap. There is his aura. "Chef Dave is charismatic," says Neveah, who first developed a fondness for Chef Dave's food and then a curiosity for his work. There is a sparkle in his eye when he interacts with students. On "packing" days he can often be found working alongside the "crew." His loyalists include Gaby who has known Dunn since she was a student at Bailey Middle School.
"I do enjoy hanging out with Chef Dave. I like Chef Dave, he's the best – and he's the best cook," Gaby smiles, noting her favorite dishes are roasted chicken and chicken with cheese. For a group photo she and her counterparts jockey for a spot next to Chef Dave.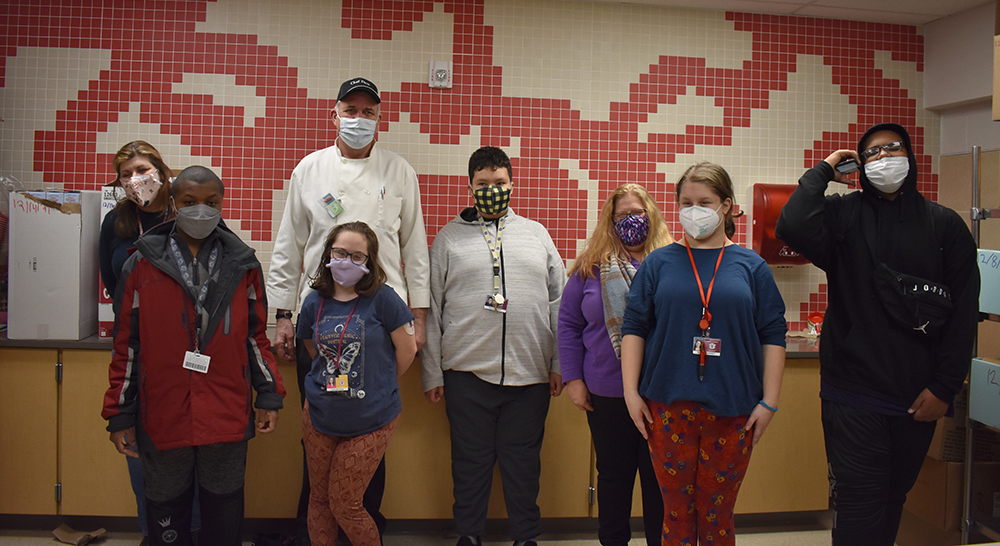 While Dunn and his team oversee well over 5,000 meals daily for students at the 11 schools in the District, Dunn has a special love for the BackPack program. It falls in line with his passion for feeding children and youth, especially those from underserved families.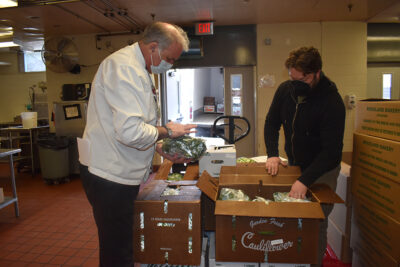 "It gives me and my staff the feeling that we have the ability to pay it forward. It makes me feel awesome," he says.
The Program offers hands on learning experience for students. "We really hope to teach them some life skills that they can take with them," says Wolf, who says that the goal is to prepare students with skills for employment.
Vincent DeCicco Principal of Kingston High School says the program is an example of a community partnership.
"The fresh food donated by Hudson Valley Farm Hub brings fresh nutrition to many families in need which provides many meals throughout the weekend," he says. "The students and staff here at Kingston High School who volunteer their time to prepare and help deliver the meals to and from the high school – it's very rewarding for them."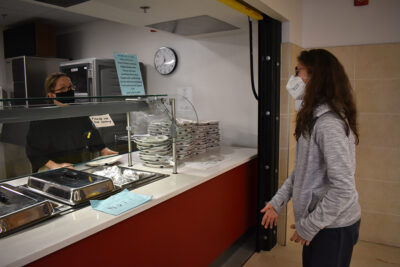 An accidental chef
Perhaps youth connect easily with Dunn as they see a bit of themselves in him and vice versa. Dunn grew up in a working-class neighborhood in Massachusetts, the eldest of six children in a single parent family. His mother Patricia Dunn, a nurse, urged Dunn to get a job dishwashing when he was old enough to work.
"We were a little light on food," Dunn says matter-of-factly. After school and during summer break he washed dishes at restaurants where his meals were taken care of. While he fast understood the value of food, he also developed an interest in working in food service. The two are a combination of doing "something that you love and are passionate about and you have a sustaining living wage. There's the job satisfaction piece of feeding people," he says.
In high school he attended a regional vocational technical high school with a focus on food services. He later graduated from Cornell University where he majored in food industry management. After working at Aramark for 20 years he decided to move from the private sector to K-12 education.
On the horizon
Dunn plans to expand the program to more students and eventually scale the program to six schools in the district. He also working on developing a food pantry at the high school this year open to all students. The reality is that the need for food runs across the board from elementary school to high school.
His perennial energy is impressive and the line between his passion and job can be hard to separate. For him food is livelihood and a passion.
"I have really good work to do here and I am lucky because I love doing what I do. It's almost like it's not really work for me," he says.
At home Dunn enjoys gardening (he has a spacious garden in the backyard) and yes, cooking. He laughs when asked if it is true that most professional cooks and chefs are not interested in cooking at home.
"No, I like to cook, there is something about it when it is just the two of us. It's not cooking for 5,000 or 6,000, it's cooking for two and it's enjoyable and relaxing," he smiles.
-Amy Wu 
If you are interested in donating to the BackPack Program or in learning more about the program email Dave Dunn at ddunn@kingstoncityschools.org