The Farm Hub and the Kingston YMCA Farm Project Partner on New Winter Market
The Hudson Valley Farm Hub and The Kingston YMCA Farm Project are partnering to make fresh produce available to all Kingston residents through the fall and winter months.
This new winter market will begin on November 15 and will run every Thursday through the month of January 2019 from 3:30-6:00 pm in the lobby of the Kingston YMCA at 507 Broadway in Kingston.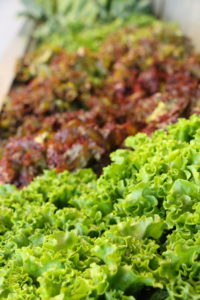 This collaboration is part of the Farm Hub's effort to extend its growing season and experiment with year-round growing and harvesting. Produce sold at the market will include organically grown carrots, sweet potatoes, spinach, cooking greens, baby herbs, salad mixes, parsnips, and more.
A portion of the market's sales will support the YMCA Farm Project's programming. The market accepts cash, checks, debit/credit cards, and SNAP.
Sarah Brannen, associate director of programs at the Farm Hub, said "We are excited to be partnering with the Kingston YMCA Farm Project to bring healthy, fresh, and local produce to the midtown Kingston community. We encourage everyone in the community to visit the stand this winter."
KayCee Wimbish, project director and farmer at the Kingston YMCA Farm Project, said "This new partnership allows us to continue our youth programming outside of the traditional growing season. We hope everyone in the Kingston community takes advantage of this new opportunity to receive fresh produce in the winter months."
For more information, see this event on Facebook.