Farmscape Ecology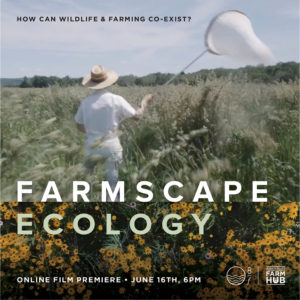 "Farmscape Ecology" film premieres
On June 16
th
, the Farm Hub hosted a virtual film premiere of the new short film "Farmscape Ecology." The short film follows the work of the Farm Hub's Applied Farmscape Ecology Research Collaborative. This is the third film that the Farm Hub has made with Oceans 8 Films as part of filmmaker Jon Bowermaster's "Hope on the Hudson" series.
Applied Farmscape Ecology explores the interface between farming and wild nature. This includes the documentation of on-farm biodiversity and its various roles for agricultural production. It also includes the development of techniques for managing on-farm habitats so as to support ecological services to the farm (e.g., pollination, pest control, carbon sequestration, soil health and erosion control) and the conservation of native biodiversity. This research is jointly coordinated by Farm Hub staff and the Hawthorne Valley Farmscape Ecology Program and involves a variety of collaborators.
Farming plays a significant role in shaping our communities and livelihood. It affects our economy, our well-being, and the natural world, both on and off the farm. In turn, each farm operates within a cultural, economic, and ecological context which facilitates and limits farming options.
The Applied Farmscape Ecology team at the Hudson Valley Farm Hub examines nature's interaction with farming through two related questions: 'how does wild nature affect agricultural production?' and 'how is wild nature shaped by farming?'
"Asking questions, seeking answers"
At the Farm Hub, we ask ourselves these questions to help inform our production decisions. We also strive to create well-documented demonstration areas that can illustrate the synergies between farming and wild nature.
Farms are a mosaic of intensively managed areas (pastures, crop fields, hayfields) and wilder areas (hedgerows, forests, riparian areas). All these on-farm habitats affect wild creatures from small insects to larger mammals, along with fish in the creek and native plants living around the farm.
The Applied Farmscape Ecology team explores how the management of on-farm habitats influences biodiversity at the Farm Hub. For example, how does hay field management influence the survival of the Bobolinks nesting in those fields? How does the juxtaposition of crop field and stream corridor shape the ecology of resident Wood Turtles? How do plowing and fertilization regimes not only influence crop growth but also the microbial ecology of the soils and the adjacent water quality?
Conversely, the Ecology team also examines how wild organisms influence production, not only as pests and weeds, but also as pest predators, crop pollinators, and soil engineers.
Which on-farm habitats maximize the net positive effects of wild organisms on production? For example, many birds and insects are avid consumers of crop pests. How can we support these beneficial birds and insects? When considering what methods work best for farmers, there are ecological aspects and also cultural aspects to consider.
Gauging the influence of wild organisms on farm production and economics is challenging, but we are beginning to gather the pieces by following the populations and activities of select pests and beneficials (e.g., pollinators, pest predators and a variety of bugs that can be helpful and keep pests under control) in and around crops and, likewise, in and around wilder habitats.
Based on these observations, we can use patches of sparsely-used land to boost populations of beneficial organisms. The challenge is to not elevate pest population in the process. The Farm Hub is testing this with the Native Meadow Trial.
To some degree our work is observational and revolves around which organisms we see, where, when, and what they are doing. However, it is also experimental, and involves the creation and manipulation of on-farm habitats and tracking their effects on biodiversity and crop production.
By test-driving potential management approaches, our hope is to hone techniques and, ultimately, decrease farmer's risk, increase their utility, and enhance their applicability.
In asking questions and continuing on the quest for answers we aspire to contribute knowledge that will benefit growers and those interested in the intersections between ecology and agriculture.
The Applied Farmscape Ecology work at the Hudson Valley Farm Hub is ultimately a platform that invites us to observe, imagine, trial, share and listen to the needs and nuances of both agriculture and ecology. Our goal is not to make farms into nature preserves, but to create a landscape where the need for such preserves is limited because our human use of the land supports both ourselves and many of the land's other creatures. Our vision is of an agrarian landscape where humanity and wild nature behold each other, not as unavoidable adversaries, but rather with a mutual respect that recognizes challenges and seeks synergies.
Ongoing Ecology Research and Demonstraton Projects
Long-term Monitoring of Soil Health, coordinated by Anne Bloomfield (Hudson Valley Farm Hub)
On-farm Bird Habitat Use, coordinated by Anne Bloomfield (Hudson Valley Farm Hub)
Monitoring of Benefical Insects, coordinated by Conrad Vispo (Hawthorne Valley Farmscape Ecology Program)
Water Quality in Relation to Land Use, coordinated by Shafiul Chowdhury (SUNY – New Paltz) will bring students during the summer
Turtle Interactions with Agriculture, coordinated by Jason Tesauro and Erik Kiviat (Hudsonia, Ltd.)
On-farm Soil Microbial Ecology, coordinated by Gabriel Perron (Bard College) newer collaborator
Corn as a Habitat for Wild Creatures, coordinated by Conrad Vispo (Hawthorne Valley Farmscape Ecology Program)
Experimental Establishment and Monitoring of On-farm Habitats for Beneficial Insects and Native Biodiversity coordinated by Claudia Knab-Vispo (Hawthorne Valley Farmscape Ecology Program), Anne Bloomfield (Hudson Valley Farm Hub) and Conrad Vispo (Hawthorne Valley Farmscape Ecology Program) in collaboration with the Farm Hub farmers.
Discover the latest findings of the Native Meadow Trial here..
Grassland bird projects
Habitat Management for grassland birds
Compatibility of American Kestrel Nest Boxes in Organically Managed Hops coordinated by Anne Bloomfield, Jayne Henson and Zach Smith
Photo Credit: Hawthorne Valley Farmscape Ecology Program, unless otherwise given
Resources
To get involved and learn more about the Applied Farmscape Ecology Program go to the What Can I Do document.