Summer 2020: In Brief / Verano 2020: En resumen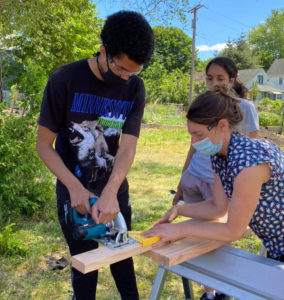 (Spanish translation to follow/traducción en español abajo)
Kingston Garden Bed Project launches
As part of a new urban gardening effort and in response to the COVID-19 crisis, the Kingston YMCA Farm Project, Hudson Valley Farm Hub, Hudson Valley Seed Company, and Kingston Land Trust are installing vegetable garden plots at 20 residential locations in the City of Kingston. The urban gardening collective will offer materials, labor, and mentorship to support folks in the City of Kingston to start growing their own food. In June, Sara Katz, education program manager, led a train-the-trainer raised bed workshop, preparing the Farm Project's youth staff to construct and install the beds in their community. On July 8, the Collective is also holding a build day to put together the wooden bed components, and on July 13 there will be 10 garden beds installed. (Note: At this time there is a waiting list and the Collective is not able to accept new requests).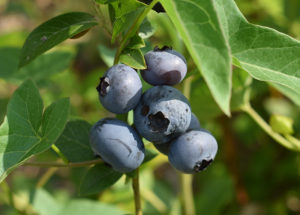 Blueberries return
This spring we once again welcomed Family of Woodstock/UlsterCorps to utilize our building on Route 209 for food processing and storage. In addition, the organization will also be harvesting blueberries at this location and distributing them to various emergency feeding programs.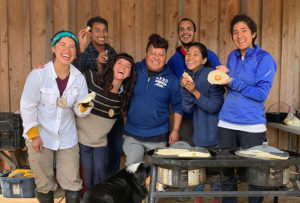 Language Justice `Skillshare'
Our Language Justice Program has been working closely with Soul Fire Farm on the BIPOC Farmers Skillshare on COVID-19, a special series of bimonthly meetings launched in March to provide supportive networks and learning during the pandemic. BIPOC farmers and food sovereignty activists across the country have met every other week to share skills, ideas, and mutual support. The Farm Hub's Language Justice Program helped sponsor and coordinate the interpretation of seven events. The series was hosted by Soul Fire Farm, Northeast Farmers of Color, Black Farmer Fund, HEAL Food Alliance, & Castanea Fellowship.
The Farm Hub is hiring!
We are currently accepting applications for Associate Director, Human Resources (bilingual), and Distribution Coordinator (temporary). Check out our employment page which is continually updated as open positions are announced.
To read In Brief: Winter 2020 click here
---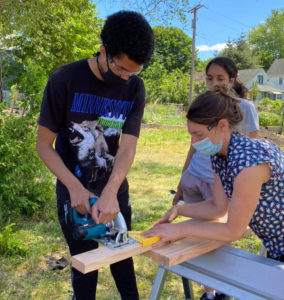 Lanzamiento del proyecto de bancales de Kingston
Como parte de un nuevo esfuerzo de jardinería urbana y en respuesta a la crisis de COVID-19, Kingston YMCA Farm Project, Hudson Valley Farm Hub, Hudson Valley Seed Company y el Fideicomiso de Tierras de Kingston están instalando bancales (o canteros) de vegetales en 20 lugares residenciales en la ciudad de Kingston. El colectivo de jardinería urbana ofrecerá materiales, mano de obra y mentoría para apoyar a la gente de la ciudad de Kingston con el fin de que comiencen a cultivar su propia comida. En junio, Sara Katz, gerente del Programa de Educación, dirigió un taller sobre bancales para capacitar capacitadores y preparó al personal joven de Farm Project con el fin de construir e instalar bancales en su comunidad. El 8 de julio, el Colectivo también tendrá un día de construcción para armar los componentes de madera de los bancales y el 13 de julio habrá 10 bancales instalados. (Nota: En este momento, hay una lista de espera y el Colectivo no puede aceptar nuevos pedidos por ahora.)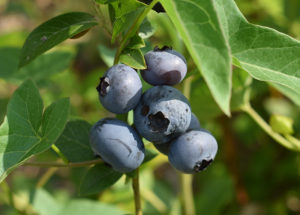 El regreso de las moras azules
Esta primavera daremos la bienvenida nuevamente a Family of Woodstock/UlsterCorps para que utilicen nuestro edificio en Route 209 para procesar y almacenar alimentos. Además, la organización también estará cosechando moras (o arándanos) azules en esta ubicación y los distribuirán entre varios programas de alimentación de emergencia.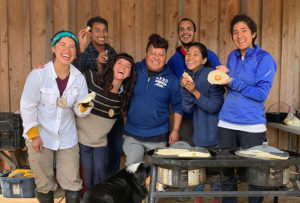 Compartir destrezas de Justicia de Lenguaje
Nuestro Programa de Justicia de Lenguaje ha estado trabajando estrechamente con Soul Fire Farm para compartir destrezas relacionadas con COVID-19 a través de BIPOC Farmers Skillshare, una serie especial de reuniones bimensuales que comenzó en marzo con el propósito de ofrecer redes de apoyo y aprendizaje durante la pandemia. Los agricultores y activistas de la soberanía alimentaria negros, indígenas y demás identidades de color (BIPOC, por sus siglas en inglés), provenientes de todo lo largo y ancho del país, se han reunido cada dos semanas para compartir destrezas, ideas y apoyo mutuo. El Programa de Justicia de Lenguaje de Farm Hub ayudó a patrocinar y coordinar la interpretación de siete eventos. La serie fue ofrecida por Soul Fire Farm, Northeast Farmers of Color, Black Farmer Fund, HEAL Food Alliance y Castanea Fellowship.
¡Farm Hub está contratando!
Actualmente, estamos aceptando solicitudes para director asociado, Recursos Humanos (bilingüe) y coordinador de Distribución (temporal). Mire nuestra página de empleo, que se actualiza continuamente a medida que se anuncian posiciones abiertas.
Para leer En resumen: Invierno 2020, haga clic aquí.