Announcing Our 2017 ProFarmers
We are pleased to introduce Andrew Casner, Nailah Marie Ellis, Jesus Gonzalez, Jayne Henson, and Briana Quinn, five exceptional young farmers who have been selected to enter the Farm Hub's ProFarmer Program this spring. Under the direction of Jean-Paul Courtens, the Farm Hub's associate director for farmer training, they will be joining ProFarmers Jess Clancy, Jesse Goldfarb, and Andrew Pezzulo, who began in 2016 and are now entering their second year of the program.
We look forward to welcoming Andrew, Nailah, Jesus, Jayne, and Briana to the Farm Hub in April!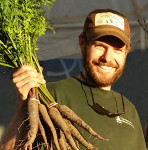 ANDREW CASNER
"To farm at a scale that makes organic regional food available to more folks at a lower cost—this is a big reason why I am where I am today, farming in the Hudson Valley."
Originally from: Massachusetts.
Started Farming: In New York City's urban farms.
Aspires to: Own a certified organic vegetable farm that is active in the wholesale market and emphasizes ecological farming practices.
Andrew's career in farming began in New York City, when, not long after graduating from the Rhode Island School of Design, he began working with gardeners and composters transforming neglected sites into productive green spaces for recycling waste and growing food. He worked for GrowNYC's Open Space Greening and Learn it Grow it Eat it programs, and in 2010 he joined the staff of Active Citizen Project's Project EATS program, which creates urban farms to serve working class neighborhoods throughout New York. As the farm manager, Andrew established and managed the farm at a men's shelter on Wards Island. He also trained shelter residents, volunteers, staff, and high school students in vegetable production and soil health in an urban landscape.
Andrew was most recently employed as a farm worker at Roxbury Farm in Columbia County. There, he was exposed to efficient, ecological systems of production at a larger scale. As he prepares to join the ProFarmer program, he looks forward to focusing on farming at scale and to exploring innovative approaches to food production and soil building. As for his artistic talent, he notes, "I see farming as a way to more deeply connect to the biological systems I bore witness to in painting."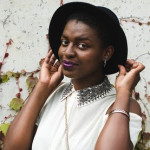 NAILAH MARIE ELLIS
"My relationship to farming is important because it allows me to be connected to something way bigger than myself."
Originally from: Chicago.
Started farming: As a farm apprentice in 2013.
Aspires to: Own a farm with a focus on vegetables, grains, and youth education.
Nailah Marie comes to farming and the ProFarmer program with a passion for food, nature, and youth education. A graduate of the Culinary Institute of America (CIA), she has worked as a baker, chef, cooking instructor, and volunteer teaching inner-city youth how to garden, harvest, and cook. As her talent for food began to intersect increasingly with a love of working the land and a desire to connect to her family's past (she spent summers working on her family's pecan farm in the South), she made the decision to pursue farming as a profession. In 2013, she began a series of farm apprenticeships. The most recent of these landed her at the biodynamic Kimberton CSA in Phoenixville, Pennsylvania.
Nailah Marie's dream is to own and operate a Hudson Valley farm together with her sister, who is training to become a veterinarian. Their farm will focus on vegetable and grain production while serving as an educational platform for young people of color. She is looking forward to gaining business acumen while advancing her knowledge of farm infrastructure and organic growing methods. Nailah Marie is a member of the Black Culinary Alliance and Women Chefs & Restaurateurs (WCR).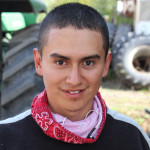 JESUS GONZALEZ
"I have a strong desire to learn everything about agriculture—I love learning new things. My ideal farm has a little of everything and makes a contribution to the community."
Originally from: New York.
Started Farming: As a teenager on the Gill Farm.
Aspires to: Manage or own a farm.

Jesus spent much of his youth on the Gill Farm with his father and mother, who are now members of the Farm Hub team. A graduate of Kingston High School, Jesus worked on the farm in Hurley during summers from 2008 to 2013, and worked as a forklift driver in Florida during the off-season. He is currently employed in the nut processing and packing division at Farm Bridge in Kingston.
With strong family roots in farming (his grandfather has a grain corn and sorghum farm in Mexico), Jesus is looking forward to learning more about growing crops organically and strengthening his knowledge of farm equipment. Another goal for Jesus is to acquire solid management skills. He plans to become a farm manager or farm owner. Jesus is bilingual in Spanish and English.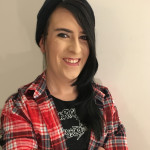 JAYNE HENSON
"I moved to the city in search of a different life but have always felt the pull of the land and the country and the addiction of my hands in the soil."
Originally from: Kansas.
Started farming: In childhood on her family farm.
Aspires to: Own a farm with a focus on grains, hops, and diversified vegetables with an internship program for homeless youth.
Jayne grew up on a farm in Emporia, Kansas. Her earliest memories are of family cattle drives and learning to drive a tractor on her grandfather's lap. She was a 4H participant for 11 years, and as a young adult she took on the management of the 300-acre family farm and cow/calf operation. Jayne's extensive experience includes planting and harvesting crops, maintaining farm equipment, and overseeing the care of 400 heads of cattle.
After college, Jayne left Kansas for New York City, where she worked first for GrowNYC and later for God's Love We Deliver, a food access program that delivers prepared meals to clients living with terminal illnesses. These experiences, combined with her work as a residential counselor, activated her interest in the connection between food, farming, and social issues. Now, after five years in New York, she is excited to reconnect with agriculture and to learn about diversified vegetable production and organic methods at the Farm Hub. Her vision for the future is to own a Hudson Valley farm that provides internships for LBGT youth.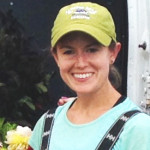 BRIANA (BRIE) QUINN
"I find the puzzle of creating a farming enterprise that is both sustainable for the community you serve, as well as personally sustainable, an intriguing challenge and a way to directly connect with people."
Originally from: New Jersey.
Started farming: As a child via backyard gardening.
Aspires to: Own a farm that focuses on vegetables, herbs, flowers, and organic seed.
In 2015, Brie took a bold step, leaving a successful, decade-long career in finance to become a full-time farmer. A few years earlier, as a side venture, she and her partner started a two-acre vegetable farm in New Jersey that produced and distributed vegetables, cut flowers, and herbs. This experience solidified not only her ambition to farm, but also the realization that she would need more advanced hands-on training before venturing into ownership of a larger long-term farming operation.
Brie will be moving to Hurley from Maine, where she has spent the 2016 season as an apprentice at Broadturn Farm. She is looking forward to immersing herself in field management on a large scale and developing technical skills while refining her vision for her future farm. A self-described "people person," she loves the combination of working outside, connecting with people, and being constantly challenged. With a degree in economics from Oberlin College, she is committed to creating "a business that can provide accessibility to fresh food for people of all income levels."
The ProFarmer Program is a multi-year, salaried, residential program at the Farm Hub offering classroom education and hands-on training, with an emphasis on teaching ecological farming; technical, agricultural, and mechanical know-how; and small business and leadership skills. To learn more, click here.