(Spanish translation to follow/traducción en español abajo)
Growers experiment with minimum to no-till to enhance soil health
"The soil is the great connector of lives, the source and destination of all. It is the healer and restorer and resurrector, by which disease passes into health, age into youth, death into life. Without proper care for it we can have no community, because without proper care for it we can have no life," — Wendell Berry, The Unsettling of America: Culture and Agriculture
On a spring day the sun is shining and it is all blue skies in Hurley. At the helm of the tractor is Jesus Gonzalez, a Hudson Valley Farm Hub field crops team member, who is working his way through the near 200 acres that border Route 209. Gonzalez's goal is to plant a layer of cover crops – red clover and oats.
The coulters on the drill loosen the soil, and the double disc opener drops the seed in the trench. The cover crop, once established, will provide ground cover to keep weeds at bay while adding nutrients to the soil in preparation for next year's grain corn.  This is one example of the farm's efforts to reduce tillage and in doing so, boost soil health. 
Tilling — the practice of digging, overturning or stirring soil to prepare it for a new planting of crops — is a norm in farming. While it is primarily used as a tool for weed management, excessive tillage disturbs the soil (in other words – disrupts the soil balance) and can lead to a decline in organic matter and soil that is more vulnerable to water and wind erosion.  Tillage also contributes to soil compaction, which can lead to water run off.  
To be sure, there is rising concern amongst growers across the country over soil health, and the loss of fertile land. This is fueled in part by extreme weather such as flooding and wild temperature fluctuations.  
To address soil health, the Farm Hub is one of a growing number of farms in the country practicing minimum tillage and exploring no-till (commonly referred to as no-till).  The idea is to promote soil biodiversity, generating more of the carbon needed for fungi and bacteria critical to soil livelihood and ultimately adopt more ecologically resilient ways of farming.
The key terms are defined as follows:
Reduced tillage – using equipment only when it is necessary, and only using equipment that non-aggressively disturbs (other words – breaks apart, loosens) the soil, and gets an efficient kill. An example of this is vertical tillage. 
Minimum tillage (sometimes called rotational no-till) – this can include a crop rotation that doesn't  require tillage and or using equipment such as a roller/crimper, a piece of equipment attached to a tractor that flattens cover crops, leaving them to transform into mulch that kills weeds. 
No-till – no tilling involved at all. This uses a variety of methods to seed the crop into the soil and utilize equipment such as the broad fork to loosen the soil before planting.
Alternative methods
For organic growers who do not spray herbicides, the key is to engage in alternative strategies in weed management including crop rotation and using minimum tillage tools or no-till equipment. Another way to control weeds is to plant perennials such as clover and alfalfa. Addition of livestock is another approach that has been noted to have various benefits.  
Cover cropping is also considered one of the most effective ways to achieve healthy soil without tilling. The key to success is timing, says Emmanuel Omondi, director of the farming systems trial at Rodale Institute. 
"They say timing is everything and you need to terminate the cover crop at the right time. If you terminate too late then it goes into seed," he says.
Growers agree that benefits include: 
Supporting more of the carbon needed for fungi and bacteria critical to soil vitality
Reducing soil compaction, which allows fungi, bacteria and earthworms and roots to move more naturally and freely
Attracting earthworms and other beneficials that naturally help break up the soil 
Reducing tillage that can eventually save time and fuel costs by eliminating steps such as plowing and discing, and going straight into seeding
2019 growing season
Over the past several years, the Farm Hub has been practicing minimum till with the idea that no-till farming will be the preferred approach for the majority of the farm in the future.  In the long run "we hope to be no till as much as possible," says Farm Manager Eddie Clevenger. "For us it is about regenerating the soil. This is a long-term investment and not something we are going to do overnight," he says. 
Field crops
With the 2019 growing season in full swing, the field crops team moves forward with 200 acres of no-till fields out of a total of 450 acres of cover crops. The team designed a four-year crop rotation, which involves a mix of cover crops and cash crops. 
Off Route 209 between Kingston and Hurley, a passerby will catch a glimpse of a field of cover crops that are building the soil for next year's organic grain corn crop. The crew planted a blend of oats and red clover in the southern half of the field; as of late July the oats were mowed and the clover will be diced up next spring to ready it for the corn. The northern half of the field is a medley of 14 species of cover crops, which include a six-way spring mix (oats, peas, phacelia, sugar beet, kale, and faba bean) that was rolled and crimped in late June. This was followed by the seeding of an eight-way summer mix of Sorghum Sudan grass, Sunn hemp, sunflower, buckwheat, cowpea, teff, radish, and turnip. 
The mix was carefully chosen based on its value as a cover crop. Legumes such as faba beans and peas bring in much needed nitrogen. Kale and sugar beets add diversity. The team also made their decisions based on past experience, research, and information gleaned at conferences and workshops they attended in the past. Other Farm Hub staff contributed as well.  Andrew Casner, a grower and member of the Farm Hub's ProFarmer Training Program, recommended stepping up the number of varieties for diversification and promoting an active bacterial and fungal exchange beneath the surface. 
"We wanted a diverse mix to create soil health and we're experimenting with creating a diverse multi-species mix out there in the field, trying to imitate what naturally happens out in a native pasture,"says  Jay Goldmark, field crops manager. 
This year's plan also included a no-till planting of a 120-acres of soybeans into roll and crimped rye. A no-till drill and roller/crimper implement designed for no-till farming were in the process. As of mid-June, success could be seen with straight rows of emerald-colored soybeans surfacing through a field of flattened rye into which they had been planted. Soy beans and rye are good companions, with the rye suppressing weeds.
With the goal of growing no-till corn, there is a separate experiment that examines the economics of no-till corn and monitors net profit and crop yield. This involves planting corn into vetch and cereal grains. The team established the cover crop on five acres the previous fall: vetch, oats and peas. Vetch can be an important player in no-till corn and feeding the corn with much-needed nitrogen. 
The downside, however to pairing vetch with corn is the timing.  Because the vetch has to be terminated at the just the right moment before it starts to set seed, the roll and crimp happens late in the corn planting window which generally results in lower yield.  This year, in order to allow for the cover cropping and resulting shortened time-frame, the field crops team chose an 88-day corn variety instead of one of the more typical 95 to 107-day varieties.   In June, the team terminated the vetch by running the no-till drill coulters through the ground, and then used a no-till corn planter to seed the corn into the vetch.
Vegetables
At the Farm Hub the move toward minimum tillage for both field crops and vegetables occurred at the beginning of 2016, a year which saw heavy rainfall.  
Jean-Paul Courtens, an organic grower in New York who previously worked at the Farm Hub, and the Farm Hub's ProFarmers began exploring the use of legumes mixed with cereal grain cover crops such as winter rye, vetch and Austrian winter peas by rolling and crimping on land they divided into tilled versus untilled soil. They incorporated the no-till transplanter — a machine commonly used by tobacco growers for no-till — and learned that it required some modifications to avoid the cover crop residue clogging the machine. They found untilled soil had better water holding capacity and structure, and held visible signs of health including the presence of bountiful earthworms. They experimented with rotational no-till vegetables and field crops, and for the first time used the no-till transplanter on vegetables. The process has been refined through trial and error; one improvement involves alternating certain machines such as the no-till transplanter to strive for less soil disturbance. 
Since then the Farm Hub has continued to experiment with no-till methods. In the 2019 growing season, roughly 2.5 acres of the Farm Hub's 25 acres of vegetable production is allotted for no-till farming. Among the staple vegetables, no-till vegetables include green beans, sweet corn, broccoli and winter squash.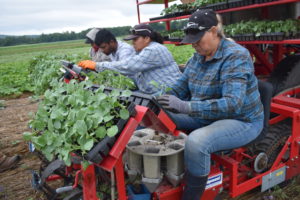 Jeff Arnold, vegetable production manager, explains that the vegetables that were already transplanted were selected for no-till. Green beans are a good fit as they can easily push their way through three inches of mulch. The vegetable production team is refining the equipment used in the field as well.  The no-till transplanter, for example, has the function of cutting through the mulch to create a trench, drop the plant in, and close the trench. In 2018 the equipment had mixed results so modifications were required; the team replaced the wavy coulters with straight coulters "that would slice right through between the rye plants and it won't make that wide trench." 
This year Arnold and his crew hand-planted a number of the vegetables such as winter squash, but also used the modified no-till transplanter with vegetables such as sweet corn and broccoli.
The Big Picture
The plan is to continue refining no-till strategies. While too early to forecast the end results, Clevenger notes there are already noticeable differences in the soil. Based on data from regular soil monitoring, the Farmscape Ecology team has reported soil quality improvement, and the farmers have seen a growing population of earthworms.
On a recent weekday in late June, Goldmark drove out to the field where the six-way mix of cover crops had grown out. Under bright sun and blue skies, white butterflies fluttered and insects took flight among the mosaic of cowpeas, kale, and phacelia, marked by spiky phacelia flowers. From a distance, a Great Egret walked gingerly across water, at times stopping to soak up the sun. The bounty of butterflies, bees, and earthworms were a sign of soil vitality.  
This field, which has not been tilled since 2017, has undergone a slow and steady transformation from what it once was. There are signs that farming and wildlife are moving towards a balance, which involves the delicate art of sharing the land.  Since no-till started, the land has yielded fall rye, no-till soybeans, the six-way cover crop mix and in the future, a summer mix of cover crops followed by corn. 
While experimentation continues and is ever-evolving, the spotlight is always on the soil. 
"Most important is not breaking up the soil structure. We'd like to keep something growing on the land at all times. If you don't grow crops then weeds grow," Clevenger says. Critical too is a switch in mentality, says Clevenger. "You have to totally rethink the way you are doing things," he points out. Ultimately at the Farm Hub, he says, the journey from tillage to no-till is one of knowledge exchange and communicating what has been tried and tested with a larger community.
–Amy Wu 
In practicing minimum tillage or achieving no-till a goal that many growers aspire to from the standpoint of sustainability. Ben Dobson, farm manager at Stone House Farm in Hudson, NY, has been transitioning the farm from conventional no-till to organic no-till since 2014. The farm, which encompasses 2,000 acres of grains and perennials, practices minimum tillage and no-till through methods such as rolling and crimping and using a no-till planter. To boost no-till practices, Dobson also incorporates livestock, specifically cattle and sheep, to assist with manure application. Dobson says he has seen tangible results from no-till practices.
"The major benefit is of building soil organic matter, our input costs are generally reduced, we don't use any chemicals," he says. "We'd love to be totally no-till, but we rotate perennials through the farm to kill weeds and we do plow those under the ground." He adds that major challenges to attaining no-till are weed management and data collection. 
About an hour south of Hudson in Gardiner, grower Jay Armour and his wife mark 18 years and counting of practicing no-till farming at Four Winds Farm. The farm has a diversified crop across four acres including heirloom tomatoes and lettuce. The impetus to go no-till started 23 years ago when the farm had significant weed problems.   The couple met Lee Reich the author of "Weedless Gardening," who recommended they stop tilling and tackle the weed problem by using compost. Armour says most effective has been the compost layer (the farm now makes their own), and manure from the farm's cows. 
"We set out doing no-till as a way of weed control and it helped tremendously, but we didn't realize we were building organic matter in soil. We stopped tilling and we lay compost on top of growing area and that way we can control the weeds. In the first couple of years we had a lot fewer weeds, and there was no turning back at that point," he recalls. Tests show the soil organic matter has hovered between 8 percent to 10 percent over the past eight years, and the soil appears to stay moist during the dry periods. 
Armour observes the plants appear to be healthier. "For us, it was a gradual change, we didn't realize what was happening and now we sort of take it for granted," he says.
Experimento de cultivadores que hacen labranza mínima o cero labranza para mejorar la salud del terreno
"La tierra es la gran conectora de vidas, la fuente y el destino de todos. Es la sanadora y restauradora y resucitadora, por la cual la enfermedad pasa a ser salud, lo viejo a juventud, la muerte a la vida. Sin el cuidado adecuado de ella no podemos tener ninguna comunidad, porque sin el cuidado adecuado de ella no podemos tener vida". — Wendell Berry, The Unsettling of America: Culture and Agriculture
Es un día de primavera y el sol brilla y todo es cielo azul en Hurley. Al timón del tractor está Jesús González, un miembro del equipo de cultivo de campo de Hudson Valley Farm Hub, que está trabajando el área de casi 200 acres que colinda con la ruta 209. El objetivo de González es sembrar una capa de cultivos de cobertura de trébol rojo y avena.
El abresurcos afloja el terreno y el sembrador de doble disco deja caer las semillas en las zanjas. El cultivo de cobertura, una vez establecido, proveerá una cubierta a la tierra para mantener las malas hierbas al margen mientras se le agregan los nutrientes al terreno en preparación para los granos de maíz  del próximo año.  Este es un ejemplo de los esfuerzos del rancho por reducir la labranza y, al hacerlo, aumentar la salud del suelo.
La labranza —la práctica de cavar, volcar o agitar el terreno con el fin de prepararlo para una nueva siembra de cultivos— es una norma en la agricultura. Aunque se usa principalmente como una herramienta para el manejo de las malas hierbas, la labranza excesiva perturba el suelo (en otras palabras – altera el equilibrio del terreno) y puede conducir a una disminución de la materia orgánica, y el terreno queda más vulnerable a la erosión por agua y por viento.  También contribuye a la compactación del suelo, lo que puede hacer que el agua se escurra.  
Sin duda alguna, existe una creciente preocupación entre los productores de todo el país por la salud del suelo y la pérdida de tierras fértiles. Esto es fomentado en parte por las condiciones climáticas extremas, como las inundaciones y las fluctuaciones violentas de temperatura.
Para abordar la salud del suelo, Farm Hub es parte de un creciente número de ranchos en el país que practican la labranza mínima y exploran el no labrar (que se conoce comúnmente como siembra directa, labranza cero o cero labranza).  La idea es promover la biodiversidad del terreno, generando más del carbono necesario para los hongos y las bacterias fundamentales para el sustento del suelo, y así adoptar formas de cultivo que sean más robustas ecológicamente.
Los términos clave se definen de la siguiente manera:
Reducción de labranza – usar equipo sólo cuando sea necesario y sólo usar equipos que no perturben agresivamente (en otras palabras – desmoronen, aflojen) el suelo y conseguir un arado eficiente. Un ejemplo de esto es la labranza vertical.
Labranza mínima (a veces llamada siembra directa rotacional) – esto puede incluir una rotación de cultivos que no requiera labranza y/o el uso de equipos como un rodillo/plegador, un equipo unido a un tractor que aplana los cultivos de cobertura, dejándolos para transformarse en rastrojos que matan a las malas hierbas. 
Siembra directa – ninguna clase de labranza involucrada en lo absoluto. Esto utiliza una variedad de métodos para sembrar el cultivo en el suelo y utilizar equipos como el rastrillo ancho para aflojar el suelo antes de sembrar.
Métodos alternos
Para los cultivadores orgánicos que no rocían con herbicidas, la clave es participar en estrategias alternas para el manejo de las malas hierbas, que incluyen la rotación de cultivos y el uso de herramientas mínimas de labranza o equipos de siembra directa. Otra forma de controlar las malas hierbas es sembrar plantas perennes como el trébol y la alfalfa. La adición del ganado es otro enfoque que se ha observado que tiene varios beneficios.
El cultivo de cubierta también se considera una de las formas más efectivas de lograr un suelo saludable sin labrar. La clave del éxito es el tiempo, dice Emmanuel Omondi, director de experimentos en sistemas agrícolas de Rodale Institute.
"Dicen que el tiempo lo es todo y es necesario terminar el cultivo de la cubierta en el momento adecuado. Si terminas demasiado tarde, entonces entra en semilla", explica.
Los cultivadores están de acuerdo en que los beneficios incluyen:
Apoyar más el carbono necesario para hongos y bacterias fundamentales para la vitalidad del suelo
Reducir la compactación del suelo, que permite que hongos, bacterias y lombrices de tierra y raíces se muevan de forma más natural y libre
Atraer lombrices de tierra y otros beneficios que naturalmente ayudan a romper el suelo
Reducir la labranza que eventualmente puede ahorrar tiempo y costos de combustible al eliminar pasos como arar y rotar el terreno, y entrar directamente en la siembra
Temporada de cultivo 2019
Durante los últimos años, Farm Hub ha estado practicando la labranza mínima con la idea de que la agricultura de siembra directa será el enfoque preferido para la mayoría del rancho en un futuro.  A largo plazo, "esperamos funcionar con labranza cero lo mayor posible", dice el gerente general del rancho, Eddie Clevenger. "Para nosotros se trata de regenerar el suelo. Esta es una inversión a largo plazo y no es algo que vamos a hacer de la noche a la mañana".
Cultivos de campo
Con la temporada de crecimiento 2019 en pleno apogeo, el equipo de cultivos de campo avanza con 200 acres de campos de siembra directa de un total de 450 acres de cultivos de cobertura. El equipo diseñó una rotación de cultivos de cuatro años que implica una mezcla de cultivos de cobertura y cultivos comerciales.
Al lado de la Ruta 209 entre Kingston y Hurley, se puede ver un campo de cultivos de cobertura que están preparando el suelo para la cosecha del grano de maíz orgánico del próximo año. El equipo sembró una mezcla de avena y trébol rojo en la mitad sur del campo; a finales de julio, la avena fue cortada y el trébol será cortado en cubos la próxima primavera con el fin de preparar para el maíz. La mitad norte del campo es un popurrí de 14 especies de cultivos de cobertura que incluyen una mezcla de primavera de seis especies (avena, guisantes, facelia, remolacha, col rizada y frijoles faba) que se le pasó rodillo y plegador a finales de junio. Esto fue seguido por la siembra de una mezcla de verano de ocho especies de semillas que incluyen el sorgo del Sudán, el cáñamo de Sunn, el girasol, el alforfón, el guisante, el tef, el rábano y el nabo.
La mezcla fue cuidadosamente elegida en función de su valor como cultivo de cobertura. Legumbres como los frijoles faba y los guisantes aportan el muy necesario nitrógeno. La col rizada y la remolacha añaden diversidad. El equipo también tomó sus decisiones basadas en las experiencias pasadas, la investigación y la información obtenida en conferencias y talleres a los que había ido. Otro personal de Farm Hub también contribuyó. Andrew Casner, un cultivador y miembro del Programa de Capacitación ProFarmer de Farm Hub, recomendó intensificar el número de variedades para la diversificación y promover un intercambio activo de bacterias y hongos bajo la superficie.
"Queríamos una mezcla diversa para crear la salud del suelo y estamos experimentando con la creación de una mezcla diversa de múltiples especies en el campo, tratando de imitar lo que ocurre naturalmente en un pastizal nativo", dice Jay Goldmark, gerente de Cultivos de Campo.
El plan de este año también incluyó una siembra directa de 120 acres de soya en centeno rodado y cortado. Un sembrador sin arado y un implemento de rodillo/plegador diseñado para la siembra directa fueron parte del proceso. A mediados de junio, el éxito se podía ver en las filas rectas de soya de color esmeralda que brotaban a través de un campo de centeno aplanado en el que habían sido plantadas. Las habas de soya y el centeno son buenos compañeros, con el centeno suprimiendo las malas hierbas.
Con el objetivo de cultivar maíz sin arar, hay un experimento separado que examina la economía de cultivar maíz sin arar y monitorea el beneficio neto y el rendimiento de los cultivos. Esto implica la plantación de maíz en cereales y arveja. El equipo estableció el cultivo de cobertura en cinco acres el otoño anterior: arveja, avena y guisantes. La arveja puede ser un componente importante en el cultivo del maíz sin labranza y alimenta el maíz con el nitrógeno, que es muy necesario.
La desventaja, sin embargo, en combinar la arveja con maíz es la sincronización.  Debido a que hay que detener la arveja antes de que eche semilla, el rodillo/plegador ocurre tarde en el periodo de la siembra del maíz que generalmente resulta en un menor rendimiento.  Este año, con el fin de permitir el cultivo de cobertura y el período de tiempo acortado resultante, el equipo de cultivos de campo eligió una variedad de maíz de 88 días en lugar de una de las variedades más típicas de 95 a 107 días. En junio, el equipo le puso fin a la arveja al pasar el abresurcos de siembra directa a través del suelo y luego utilizó una plantadora de maíz para sembrar el maíz en la arveja.
Vegetales
En Farm Hub, el movimiento hacia la labranza mínima para los cultivos de campo y los vegetales ocurrió a principios de 2016, un año de lluvias fuertes.
Jean-Paul Courtens, un cultivador orgánico en Nueva York que trabajó anteriormente en Farm Hub, y los ProFarmers de Farm Hub comenzaron a explorar el uso de legumbres mezcladas con cultivos de cobertura de cereales, como el centeno de invierno,  la arveja y los guisantes de invierno austriacos al pasar rodillo/plegador en un terreno divido entre labrado y no labrado. Incorporaron el trasplantador de siembra directa, una máquina comúnmente utilizada por los cultivadores de tabaco para no labrar — y aprendieron que requería algunas modificaciones para evitar que los residuos de los cultivos de cobertura obstruyeran la maquinaria. Encontraron que el suelo no arado tenía mejor capacidad y estructura para el mantenimiento del agua, y tenía señales visibles de salud, incluso una presencia abundante de lombrices de tierra. Experimentaron con hortalizas y cultivos de campo rotacionales y, por primera vez, usaron el trasplantador de siembra directa con los vegetales. El proceso se ha perfeccionado a través de prueba y error; una mejora implica alternar ciertas máquinas como el trasplantador de siembra directa para hacer un esfuerzo por no perturbar tanto el suelo. 
Desde entonces, Farm Hub ha continuado experimentando con métodos siembra directa. En la temporada de crecimiento de 2019, aproximadamente 2,5 acres de 25 acres de producción vegetal de Farm Hub se asignaron para la agricultura de siembra directa. Entre los vegetales básicos, los vegetales de siembra directa incluyen las habichuelas verdes, el maíz dulce, el brócoli y los calabacines de invierno.
Jeff Arnold, gerente de Producción de Vegetales, explica que los vegetales que ya fueron trasplantados fueron seleccionados para no labrar. Los frijoles verdes son un buen ajuste, ya que pueden fácilmente hacerse camino a través de tres pulgadas de acolchado. El equipo de Producción de Hortalizas también está perfeccionando el equipo utilizado en el campo.  El trasplantador de siembra directa, por ejemplo, tiene la función de cortar a través del acolchado para crear una zanja, dejar caer la semilla y cerrar la zanja. En 2018, el equipo tuvo resultados mixtos y hubo que hacer modificaciones; el grupo reemplazó los abresurcos ondulados con abresurcos rectos "que cortaban directamente a través de las plantas de centeno y no hacían esas zanjas anchas".
Este año, Arnold y su grupo plantaron a mano una serie de vegetales como la calabaza de invierno, pero también utilizaron el trasplantador modificado de siembra directa para vegetales como el maíz dulce y el brócoli.
El panorama completo
El plan es seguir perfeccionando las estrategias de siembra directa.  Es demasiado pronto como para pronosticar los resultados finales, Clevenger señala que ya hay diferencias notables en el suelo. Con base en los datos del monitoreo regular del suelo, el equipo de Farmscape Ecology nos dejó saber que hay una mejora en la calidad del suelo y los agricultores han visto una creciente población de lombrices de tierra.
Hace poco, en un día de semana a finales de junio, Goldmark se fue al campo donde la mezcla de seis especies de cultivos de cobertura había crecido. Bajo el sol brillante y cielos azules, las mariposas blancas revoloteaban y los insectos volaban entre el mosaico de vacas, col rizada y facelia, marcado por las flores puntiagudas de facelia. En la distancia, una garceta grande caminaba con delicadamente a través del agua, a veces deteniéndose para tomar sol. La abundancia de mariposas, abejas y lombrices de tierra eran una señal de la vitalidad del suelo.  
Este campo, que no ha sido labrado desde 2017, ha tenido una transformación, lenta y constante, de lo que era antes. Hay señales de que la agricultura y la vida silvestre se están moviendo hacia un equilibrio, es la importancia del delicado arte de compartir la tierra.  Desde que se puso en pie este proceso, la tierra ha producido centeno de otoño, soya sin algodón, la mezcla de cultivos de cobertura de seis especies y, en un futuro, una mezcla de verano de cultivos de cobertura seguidos de maíz.
Aunque la experimentación continúe y esté en constante evolución, el foco siempre está en la salud del suelo.
"Lo más importante es no romper la estructura del suelo. Nos gustaría mantener algo creciendo en la tierra en todo momento. Si no siembra cultivos, las hierbas crecen", dice Clevenger. También es muy importante un cambio de mentalidad, dice Clevenger. "Tienes que repensar totalmente la forma en la que haces las cosas", señala. En última instancia, en Farm Hub, dice, el camino de la labranza a la siembra directa es uno de intercambio de conocimientos y comunicación de lo que se ha intentado y comprobado con una comunidad más grande.
–Amy Wu
 LOS AGRICULTORES DE HUDSON VALLEY 
Practicar la labranza mínima o lograr cero labranza es una meta a la que aspiran muchos agricultores desde el punto de vista de la sustentabilidad. Ben Dobson, gerente general del Rancho en Stone House Farm en Hudson, NY, ha estado convirtiendo el rancho de siembra directa convencional a siembra directa orgánica desde 2014. El rancho, que abarca 2.000 acres de granos y plantas perennes, practica labranza mínima y siembra directa a través de métodos como pasar rodillo y cortes, y utilizar una plantadora de siembra directa. Para impulsar las prácticas de siembra directa, Dobson también incorporó la ganadería, específicamente vacas y ovejas, para ayudar con la aplicación de estiércol. Dobson dice que ha visto resultados tangibles de prácticas de cero labranza.
"El principal beneficio es la construcción de materia orgánica del suelo, nuestros costos de insumos generalmente se reducen, no usamos ningún producto químico", dice. "Nos encantaría ser totalmente sin labranza, pero rotamos perennes a lo largo del rancho para matar las malezas y las aramos por debajo del suelo". Añade que los principales desafíos para lograr la siembra directa es el manejo de las malas hierbas y la recopilación de datos.
Aproximadamente una hora al sur de Hudson en Gardiner, el agricultor Jay Armour y su esposa llevan 18 años, y contando, en la práctica de la agricultura sin labranza en Four Winds Farm. El rancho tiene una cosecha diversificada a lo largo de cuatro acres, inclusive tomates Heirloom y lechuga. El ímpetu de la siembra directa comenzó hace 23 años cuando el rancho tenía problemas significativos de malas hierbas. La pareja conoció a Lee Reich, el autor de "Weedless Gardening", quien les recomendó que dejaran de labrar y abordaran el problema de las malas hierbas usando composta. Armour dice que lo más efectivo ha sido la capa de composta (el rancho ahora hace la suya) y el estiércol de las vacas del rancho.
"Nos propusimos no hacer nada como una forma de control de las malas hierbas y esto ayudó enormemente, pero no nos dimos cuenta de que estábamos cimentando materia orgánica en el suelo. Dejamos de labrar y ponemos composta en la parte superior de la zona de cultivo y, de esa manera, podemos controlar las malas hierbas. En los primeros dos años, teníamos muchas menos malas hierbas y, desde entonces, no hubo vuelta atrás", recuerda. Las pruebas muestran que, en los últimos ocho años, la materia orgánica del suelo ha fluctuado entre 8 y 10 por ciento, y el suelo parece permanecer húmedo durante los períodos secos.
Armour observa que las plantas parecen estar más saludables. "Para nosotros, fue un cambio gradual, no nos dimos cuenta de lo que estaba sucediendo y ahora lo damos por sentado", dice.